Over the past two years, the COVID-19 pandemic has had a huge impact on the way business is conducted around the world, including a significant shift toward automation in many industries. With the first quarter of the year behind us, Meili Robots has compiled a list of some of the most noteworthy robotics trends for the rest of 2022.
Will robotics hardware become commoditized? The answer is debatable, but software and artificial intelligence promise to make automation more flexible, even as new business models could make robots more affordable. Larger fleets of autonomous mobile robots (AMRs), collaborative robots, and new applications are leading to new business requirements.
Here are four trends Meili Robots has observed:
1. Process automation, RaaS become more popular
Business or robotic process automation (RPA) is the next step in software as a service (SaaS). Enterprises such as hospitals are adopting RPA to deal with repetitive tasks like inventory management, appointment scheduling, and invoice management.
The rise of "everything as a service" has removed barriers for smaller firms that want to add robots to their facilities—such as the need for in-house technical expertise and a high initial investment.
Industries such as construction and hospitality are already familiar with renting or leasing equipment. While the robotics-as-a-service (RaaS) model is a different financing model from RPA and SaaS and involves both hardware and software support, it is similar in that it offers to move capital expenditures to operational expenses. Meili FMS is but one example of what's available.
2. AMRs as data-acquisition platforms
The global market for mobile robots has seen a sharp increase over the past few years, according to Interact Analysis (see below). It projected the AMR hardware market alone to grow from $1 billion (U.S.) in 2017 to $7 billion in 2022, and that was even before the pandemic.
The shift by automotive manufacturers to electric and autonomous vehicles, the mass personalization of goods and services, worldwide e-commerce growth, and worsening labor shortages are driving this growth.
In addition, AMRs are starting to provide more value for end users by collecting data to be shared and analyzed in close to real time. This is helpful for inventory management, knowing the state of the production line, and orchestrating robots and people.
In the uncertain, ever-changing world we live in, this could prove to be especially beneficial for companies in terms of optimizing efficiency and productivity levels.
2. Demand rising for robot interoperability
It is not just AMRs that have experienced a lot of growth, but the demand for robotics in general has been increasing steadily across many industries over the past decade — and most industry analysts expect it to continue to grow over the next decade.
In addition, developments in AI, machine learning, simulation, and the industrial Internet of Things (IIoT) are leading not just to smarter robots, but are also contributing to smarter industries. Increased levels of automation plus AI are resulting in faster, more accurate, and more efficient operations.
However, robot makers are not able to keep up with this ever-increasing demand, which has resulted in manufacturers specializing in certain types of robots. This in turn has led to companies adopting different types and brands of robots for adjacent tasks.
As these different robots tend to come with their own, individual operating systems, there is an increased need for interoperability.
"If not tackled, it can be a crippling pain point that halts the productivity of the facility—or even grinding it to a halt as some, if not all, robots start obstructing or interfering with each other," explained Aldus von der Burg, CEO of Meili Robots. He is also a member of the Robot Operations Group (ROG).
Even though 2021 already brought a lot of attention to the diversification of robot fleets and the lack of interoperability, it remains a major challenge that organizations such as ROG and MassRobotics are beginning to address.
4. Cobots, delivery robots, and multi-purpose systems multiply
As a result of the increased specialization described above, we are also seeing new types, ranging from inventory and cleaning robots in supermarkets or retail stores to collaborative robots (cobots) working alongside people. Cobots are intended to be safer and easier to program and commonly take over monotonous, repetitive, or dangerous tasks, freeing up humans to focus on more valuable jobs.
Analysts expect the delivery robot market to grow at a compound annual growth rate (CAGR) of 35.1% over the next few years — from $213 million in 2021 to $964 million in 2026. The demand for this type of robot has expanded significantly, thanks to the acceleration of e-commerce, which experienced five years' of expected growth in less than two.
Although it's still early days for mobile manipulation, the potential of multi-purpose robots to carry out different tasks and create easier-to-manage digital workflows is attracting interest in retail and other service industries.
Just about every type of robot—from AMRs to multi-purpose systems—will see increased adoption this year. As for which ones will grow the most in number, that will depend on the attractiveness of pricing models, ease of deployment and management, and economic conditions.
About the author
Michelle Schlechtriem is the content manager at Meili Robots, which provides universal fleet management system Meili FMS. The company designed it to enable operators to collate and optimize their entire fleets onto one platform, regardless of robot types or brands. It includes features such as automated task allocation and traffic control to help optimize efficiency and operational safety. Schlechtriem has written about robotics, automation, technology, and sustainability.
Article topics
Email Sign Up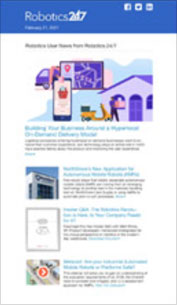 Get news, papers, media and research delivered
Stay up-to-date with news and resources you need to do your job. Research industry trends, compare companies and get market intelligence every week with Robotics 24/7. Subscribe to our robotics user email newsletter and we'll keep you informed and up-to-date.
Getty Images