Advanced Navigation, which develops artificial intelligence for robotic and navigation technologies, today announced the expansion of its Boreas digital fiber-optic gyroscope, or DFOG, range with the new A Series.
"The Boreas A90 and A70 are strategic-grade inertial measurement units (IMUs) that deliver acceleration and orientation with superior accuracy, stability, and reliability under all conditions with no reliance on GNSS [global navigation satellite systems]," claimed the company in a release. "They also feature automatic gyrocompassing with industry-leading reductions in size, weight, power and cost (SWaP-C) compared to competing systems on the market."
"Our world-first Boreas DFOG technology represented a step-change for fiber-optic gyroscopes," stated Xavier Orr, co-founder and CEO of Advanced Navigation. "The addition of the A Series ensures we have greater ability to meet the rapidly growing demand for ultra-high-accuracy solutions, even in the most demanding conditions."
"The A Series is an embodiment of industry-leading performance and cost-effectiveness, he added. "We look forward to seeing this technology unlock new possibilities across an expanse of fields, from autonomous vehicles and land surveying to subsea navigation and mining."
A series offers small form factor, high performance
The Boreas A90 and A70 IMUs contain high-performance, closed-loop accelerometers. Boreas A90 offers ultra-high-performance, while the A70 offers high performance, said Advanced Navigation.
Featuring ultra-fast gyrocompassing, both systems can acquire and maintain an accurate heading under all conditions without relying on GNSS, the company asserted. This makes them suitable for for surveying, mapping, and navigation across subsea, marine, land, and air applications, Advanced Navigation said.
It added that the Boreas A90 and A70 also offer an optional license to add inertial navigation system (INS) capabilities and can be integrated with external GNSS receivers using its interfaces and communication protocols.
Boreas A90
0.005° roll and pitch
0.01° seclat latitude heading (gyrocompass)
0.001° per hour bias instability
1,000-Hz update rate
Boreas A70
0.01° roll and pitch
0.1° seclat latitude heading (gyrocompass)
0.01° per hour bias instability
1,000-Hz update rate
Advanced Navigation supports robotic navigation
Orr and fellow engineer Chris Shaw founded Advanced Navigation in 2012 to commercialize university research on AI-based inertial navigation. Since then, the Syndey, Australia-based company said it has progressed into several deep and new technology fields. They includes underwater acoustics, GNSS antennas and receivers, radio frequency systems, inertial sensors, robotics, and quantum-enhanced inertial navigation.
Today, Advanced Navigation said it supplies some of the biggest companies in the world, including Airbus, Boeing, Google, Apple, and General Motors. Advanced Navigation has carbon-neutral operations, including manufacturing and research facilities throughout Australia and sales offices around the world. Last week, it received $5.2 million from the Australian Space Agency for lunar exploration.
Advanced Navigation claimed that Boreas is "the world's only fully digital FOG." The company said it is targeting the product range is targeted at applications requiring always-available, ultra-high-accuracy orientation and navigation.
The Boreas line contains Advanced Navigation's sensor-fusion algorithm, which it said "is more intelligent than the typical extended Kalman filter and is able to extract significantly more information from the data by making use of human-inspired artificial intelligence." The company designed it for control applications, with a high level of health monitoring and instability prevention to ensure stable and reliable data.
Advanced Navigation also said it has designed and tested both hardware and software to meet safety standards. In addition, they have been environmentally tested to MIL (U.S. military) standards.
Digital FOG increases accuracy
DFOG is Advanced Navigation's patented technology that was developed over 25 years involving two research institutions. DFOG was created to meet the demand for smaller and more cost-effective FOGs, while increasing reliability and accuracy.
The first generation of FOG made available in 1976 used analog signals and signal processing. The second generation was developed in 1994 and is still used to this day. It improved upon the first generation with a hybrid approach using an analog signal in the coil with digital signal processing, said Advanced Navigation.
In 2021, FOG evolved into DFOG. By being completely digital, the third generation of FOG can provide higher performance and reliability while enabling up to 40% reductions in SWaP-C, the company said.
To achieve this improvement, Advanced Navigation said it developed three different yet complementary technologies.
Digital modulation techniques: DFOG uses a digital modulation technique passing spread spectrum signals through the coil. The modulation technique introduced in DFOG technology allows in-run variable errors in the coil to be measured and removed from the measurements. This makes DFOG "significantly more stable and reliable than traditional FOGs," said Advanced Navigation. It also allows for a smaller FOG with reduced coil length to achieve the accuracy of one with a longer coil.
"Revolutionary" optical chip: By integrating five sensitive components into a single chip and removing all the fiber splices, the size, weight, and power are reduced considerably while significantly improving reliability and performance, the company said.
Specially designed optical coil: DFOG uses a closed-loop optical coil, developed to take advantage of the digital modulation techniques, said Advanced Navigation. The design allows for optimum sensing of in-run variable coil errors using the new digital modulation technique. It also provides a high level of shock and vibration protection for the optical components.
Distinguished Professor Arnan Mitchell, the director of the Integrated Photonics and Applications Centre at RMIT University, was a key partner in developing DFOG technology with Advanced Navigation. He is a noted authority on microtechnology and nanotechnology whose work on shrinking the components of a fiber-optic gyroscope onto a single chip proved to be one of the key aspects of DFOG's revolutionary technology.
This innovation allows DFOG to have a significantly lower SWaP-C than other similar FOGs, all the while delivering higher accuracy and reliability, noted Mitchell.
"By printing optical components onto a tiny chip, we are creating more compact and reliable fiber-optic gyroscopes with Advanced Navigation," he said.
Article topics
Email Sign Up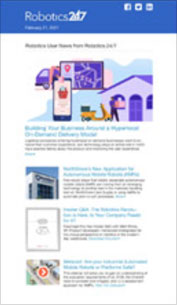 Get news, papers, media and research delivered
Stay up-to-date with news and resources you need to do your job. Research industry trends, compare companies and get market intelligence every week with Robotics 24/7. Subscribe to our robotics user email newsletter and we'll keep you informed and up-to-date.
Advanced Navigation