During its "Delivering the Future" event at its robotics manufacturing facility yesterday in Westborough, Mass., Amazon.com Inc. announced Sparrow, its new robotic arm designed to complete product-handling tasks.
"Sparrow is the first robotic system in our warehouses that can detect, select, and handle individual products in our inventory," the company said in a blog post. "Sparrow represents a major advancement in the state-of-the-art technology of industrial robotics. Leveraging computer vision and artificial intelligence (AI), Sparrow can recognize and handle millions of items."
An Amazon spokesperson told TechCrunch the robot can recognize about 65% of the company's product inventory and takes advantage of sensors to identify the objects based on "size, shape, and barcodes."
Amazon said Sparrow will complement its existing Robin robot arm, which is used for induction, and Cardinal, which places heavy and complicated packages into Amazon GoCarts for shipment.
"We have millions of products of all shapes and sizes in our inventory, and we recognized the opportunity to invent new technology that could help handle them at Amazon's scale," the company added.
Last year, Amazon said its employees packed about 5 billion packages, which comes out to about 13 million packages a day. By using robots like Sparrow, the company said it is enabling employees to work more safely and efficiently.
"Working with our employees, Sparrow will take on repetitive tasks, enabling our employees to focus their time and energy on other things, while also advancing safety," it said. "At the same time, Sparrow will help us drive efficiency by automating a critical part of our fulfillment process so we can continue to deliver for customers."
Amazon announces new Prime Air drone
The e-commerce company also announced that it is developing a new delivery drone for Prime Air called the MK30, which is due to enter expanded service by 2024. Amazon was light on specifics but noted the drone is lighter and smaller than the MK27-2, which is going to be used to make deliveries in Lockeford, Calif., and College Station, Texas.
The new drone will also have "increased range, expanded temperature tolerance, safety-critical features, and new capability to fly in light rain," according to Amazon. MK30 will also be 25% quieter than the MK27-2.
MK30 will take advantage of Amazon's sense-and-avoid system, which the company said will help it avoid other aircraft, people, pets, and obstacles.
"While it's impossible to eliminate all risks from flying, we have taken a proven aerospace approach to design safety into our system," said Amazon in a blog post. "As always, our newest drone will go through rigorous evaluation by national aerospace authorities like the Federal Aviation Administration to prove its safety and reliability."
Robot use grows in Amazon's supply chain
Amazon also highlighted the strides it has made in adopting robotics throughout its facilities. More than 300 Amazon facilities across the world use robots, the company said, and 75% of orders are processed, at least partially, by robots. These systems range from robot arms and mobile robots to shuttle systems and automated workstations.
Since starting Amazon Robotics in 2012, the company said it has deployed more than 520,000 robotic drive units and has created hundreds of robotics positions.
"The design and deployment of robotics and technology across Amazon operations have created more than 700 new job categories within the company," Amazon said. "These jobs include highly specialized engineering roles in hardware and software as well as maintenance technician, and operational positions."
The company's 350,000-sq.-ft. Westborough facility, also known as BOS27, opened in October 2021. The teams there tackle a range of robotics research and develpment topics including "autonomous movement and mobility, artificial intelligence and machine learning, robotics manipulation, simulation, robotic management software, and predictive analytics."
The company has also announced plans to buy consumer robotics company iRobot and mechatronics provider Cloostermans. The Boston Globe reported today that iRobot has terminated about 100 employees because of slow sales.
Amazon continues teaming with Rivian for EV delivery
Amazon is continuing its relationship with Rivian for its electric vehicle (EV) delivery project. About 1,000 custom EVs made by Rivian are making deliveries in 100 cities across the U.S. The companies have committed to having 100,000 of these vehicles in use by 2030.
Amazon said that since using Rivian's vehicles, collision rates have decreased 48% in its test group. The company said it has developed an in-vehicle computer that features a street-view camera and GPS device called Fleet Edge.
"We have already added more than 120,000 new signs to Amazon's mapping system using Fleet Edge," it said. "With these combined technologies, we are creating a safer experience for drivers and eliminating our carbon footprint in the communities where we deliver."
About the Author
Cesareo Contreras
Cesareo Contreras was associate editor at Robotics 24/7. Prior to working at Peerless Media, he was an award-winning reporter at the Metrowest Daily News and Milford Daily News in Massachusetts. Contreras is a graduate of Framingham State University and has a keen interest in the human side of emerging technologies. Follow Cesareo:
Follow Robotics 24/7 on Facebook
Article topics
Email Sign Up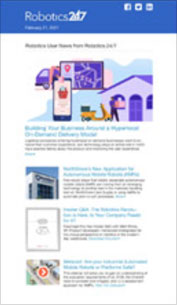 Get news, papers, media and research delivered
Stay up-to-date with news and resources you need to do your job. Research industry trends, compare companies and get market intelligence every week with Robotics 24/7. Subscribe to our robotics user email newsletter and we'll keep you informed and up-to-date.
Amazon