American Robotics Inc. grew in 2022, reflecting the maturing aerial drone space. The company acquired fellow drone providers through parent Ondas Holdings Inc., received FAA approval for unlimited commercial operations, and added features to its Scout system.
The Waltham, Mass.-based company and MassRobotics member this year acquired Airobotics and Ardenna. While it has received approvals for beyond visual line-of-sight (BVLOS) flights, American Robotics continues to work on making commercial drones more accessible.
Reese Mozer, co-founder and CEO of American Robotics, replied to the following questions from Robotics 24/7 about 2022 achievements and 2023 prospects:
Uncertainty heightens drone demand
How have drone suppliers responded to challenges such as chip shortages, geopolitical uncertainty, and shifting market demand?
Mozer: Supply chain disruptions have certainly made the job of our manufacturing department more challenging, but not impossible. Part shortages can often be solved with forward-looking buying practices and clever sourcing strategies.
Geopolitical uncertainty has likely improved the outlook for advanced technology markets like drones, where companies and governments look to reduce uncertainty and costs through automation and AI.
Where is uncrewed aerial system (UAS) use most mature—agriculture, construction, delivery, or infrastructure and utilities? Where does it need work, and why?
Mozer: In commercial UAS markets, adoption of drones is increasingly driven by demonstrable ROI [return on investment] for customers. To that end, American Robotics is seeing UAS maturity in critical industries with high-value use cases, including oil and gas, bulk materials, and mining.
Our customer base in these critical industries continues to grow as some of the largest companies in these markets adopt autonomous drone technology. Autonomous drones enable these companies to automate inspections, keep employees safe, and monitor their carbon footprint, all while collecting and analyzing critical data to improve business operations.
In the oil and gas space specifically, autonomous drones are being used to monitor assets and prevent leaks and dangers. This enables the industry to reduce methane emissions, which is a key focus following the Biden administration's policy around decreasing methane emissions.
In the U.S. alone, there are over 900,000 oil and gas wells and over 500,000 miles of pipeline. Autonomous drone technology enables companies in the oil and gas industry to achieve compliance, safeguard the environment, and maintain profitability by inspecting assets more frequently.
The bulk materials and mining industries are taking advantage of the technology to reduce employee exposure to dangerous situations while executing cost-effective and accurate volumetric analysis on a frequent basis.
If you can pair these high-value use cases with autonomy, you have good product-market fit, and thus the ability to market and sell this technology at scale. We believe that we are currently executing a path where, eventually, all oil and gas, stockpile, and mining sites will be monitored on a daily basis by autonomous drone systems.
American Robotics made 'great strides'
What American Robotics accomplishments from this past year are you most proud of?
Mozer: In the past year, American Robotics has made great strides in all aspects of our business. We have introduced new features to the Scout System to benefit our new and existing customer base, matured our operations and manufacturing infrastructure substantially, received new exemptions and waivers from the FAA [Federal Aviation Administration] to increase operations in the U.S., and pursued key mergers and acquisitions [M&A] to grow our offerings and make strides in the autonomous drone space.
The top M&A example is Israeli-based Airobotics, one of the world's leading drone-in-a-box, or DIB, manufacturers. Together, we combine best-in-class technologies and the opportunity to accelerate our offerings in new markets and new regions. Expect some exciting news from Airobotics soon.
With all of these developments in mind, American Robotics is most proud of our continued work with the FAA to make operating autonomous drones without human operators on-site a reality. Since our initial approval in 2021, we have continued to make strides in the regulatory space by increasing the number of sites our autonomous technology can operate in.
This year, the FAA approved American Robotics to deploy our technology without operators on-site at seven additional sites, bringing our total portfolio of sites approved for automated BVLOS drone operation to 10.
In August, American Robotics was granted a Part 107 Waiver for expanded automated BVLOS by the FAA, enabling us to operate autonomously over larger areas with the ability to customize range based on the unique geography of industrial sites.
We also received a new FAA exemption approving the Scout System for unlimited commercial operations, removing the conditions and limitations set in our previous exemption, which restricted operations to research and development.
We are proud of our continued work with the FAA, as it is critical to realizing the vision of nationwide autonomous commercial drone operations.
What does your relationship with Ondas enable American Robotics to do?
Mozer: As leading innovators in next-generation, mission-critical industrial data solutions, Ondas and American Robotics both provide advanced data capabilities to critical infrastructure markets. Combined with Ondas' FullMAX technology, the Scout System is better equipped to inspect and manage large field assets and critical infrastructure.
By combining our platform with Ondas', we give customers access to a fully integrated, end-to-end solution that utilizes edge computing and sensor technologies to their fullest extent. The integrated technology from both companies increases automation, data collection, and AI-powered analytics in industrial markets, enabling improved monitoring and operation.
FAA works with partners on safety
The FAA has tried to balance its safety responsibilities with the needs of a growing industry—where has there been progress?
Mozer: The relationship between the drone industry and the FAA continues to evolve and mature. Before the two parties started working together, the FAA was focused solely on manned flight.
There have been significant strides within recent years that have changed this mindset as companies like American Robotics continue to work closely with the FAA to progress this technology and its use cases.
The FAA's responsibility is the safety of the National Airspace System, or NAS, and prior to American Robotics' waiver and exemption, no other company in the drone space had been able to demonstrate safe operation without human observers on-site to the FAA.
In order to continue advancing approvals with the FAA, companies like American Robotics need to develop hardware and software innovations that are tested and then communicated to FAA regulators. If the industry wants to continue to grow here, it's up to manufacturers to develop and thoroughly prove the safety of this technology to the FAA.
What regulatory changes or awareness would you like to see?
Mozer: I would like the FAA and industry to continue on the current path of positive, mutual growth we've seen over the past couple of years. This will result in more pervasive, regular automated BVLOS operations in 2023 and beyond, and thus a scalable commercial drone industry.
Beyond that, the next major industry initiative will be incorporating multi-drone operations into these approvals—i.e., one remote operator overseeing multiple autonomous drones operating simultaneously. This ratio is expected to start out modestly, at 1:3, but it will likely scale to much higher numbers, like 1:100.
UAS technologies, use cases keep growing
What technologies do you expect to advance most in the coming year—autonomy, data analytics, etc.?
Mozer: First will be operationalizing autonomous operations on a much larger commercial scale. Beyond the drone vehicle itself, much is improving with operational procedures and infrastructure to ensure these operations remain safe and efficient in routine commercial settings.
Things like remote operations centers, human factors design, reliable nationwide IT infrastructure, and cybersecurity are getting more investment and attention.
Second is data analytics, which is enabled by advanced payloads. Industrial markets often have unique needs in this category, and thus products must be customized to ensure customer ROI.
For example, American Robotics has already announced new technology and partnerships that will enable oil and gas customers to collect and analyze more critical data via the Scout System, and we anticipate similar announcements in 2023.
Through technology innovations and partnerships with companies including Infrared Cameras Inc., the Scout System will be equipped with the cameras and sensors needed to collect and analyze data that is critical to oil and gas industry customers.
Macroeconomic headwinds have already affected capital availability and risk tolerance—how do you think they'll affect drone suppliers and demand?
Mozer: Challenging economic conditions will push drone manufacturers to be more diligent in choosing the customers and markets they pursue and place a greater emphasis on finding high-value use cases that lead to profitability. The positive side of this economic mindset change is that autonomous drones—and robotics in general—are in an excellent position to create very profitable business models.
If you can achieve high-levels of reliable autonomous operation, business models like robotics-as-a-service [RaaS] are now available to you, which can produce attractive recurring revenue scenarios. The last 20 years have been defined by software.
I anticipate the next 20 years will be defined by robotics and AI, as investors and entrepreneurs seek the next wave of profitable business opportunities.
Similarly, customers will be placing more focus on utilizing drones in proven ROI use cases. The days of experimenting with drones simply because it's cool technology is fading. At the same time, when those high-value use cases are identified and proven, investment in autonomous drone products will increase sharply.
About the Author
Eugene Demaitre
Eugene Demaitre is editorial director of Robotics 24/7. Prior to joining Peerless Media, he was a senior editor at Robotics Business Review and The Robot Report. Demaitre has also worked for BNA (now part of Bloomberg), Computerworld, and TechTarget. He has participated in numerous robotics-related webinars, podcasts, and events worldwide. Follow Eugene:
Follow Robotics 24/7 on Facebook
Article topics
Email Sign Up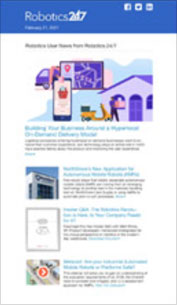 Get news, papers, media and research delivered
Stay up-to-date with news and resources you need to do your job. Research industry trends, compare companies and get market intelligence every week with Robotics 24/7. Subscribe to our robotics user email newsletter and we'll keep you informed and up-to-date.
Business Wire