Removing material from curved, round, or irregular surfaces creates many process challenges that need a special touch. Material removal applications such as gate grinding, filing, polishing, and others depend heavily on manual labor and take skill and experience to execute correctly. Because of their nuance and complexity, such material removal operations seem impossible to automate, according to ATI Industrial Automation.
Sponsored by the Advanced Robotics for Manufacturing (ARM) Institute, students and engineers at Carnegie Mellon University's Robotics Institute discovered a single solution to two of these material removal challenges. The team included research and development experts from Siemens Technology, as well as application guidance and support from Yaskawa. Together, these automation experts devised a system that uses robots to remove weld beads from inside a tube.
Material removal operations are essential to a variety of industries and range from very light finishing to heavy gate removal. Some processes are relatively simple, while other parts require a variety of tools and techniques over many hours to achieve the desired finish.
Traditional material removal methods commonly require hand tools, are prone to variability and quality inconsistencies, and put employees at risk of injury. Manufacturers can reduce costs and cycle times while increasing employee safety dramatically from automating these processes.
Robots offer material removal alternative
Robotic material removal processes are increasing in adoption throughout a variety of industries. This is happening because technology is becoming more accessible while also becoming more flexible.
As more tools and techniques than ever before offer to overcome manufacturing challenges, robots are becoming more affordable as well. With these advancements comes an opportunity for innovation of processes and techniques to produce systems that are safer and adaptable, said ATI.
Integrated compliance is one innovation that enables more precise automation of material removal tasks. Compliance can be either passive or active and allows a robot using a tool to respond to changes in the work surface in real time.
Passive compliance is simple, like incorporating adjustable pneumatic pressure into the robotic tooling to adjust for part variation. Active compliance systems are more complex and provide specific force control in situations where processing requirements need to be exact.
Researchers rely on ATI sensor
Lead by Changliu Liu, an assistant professor at the Robotics Institute, the research team developed a robotic weld-bead removal system. Its objective was to produce a system that was not only safe and efficient, but also cost-effective. The automatic weld-bead removal system runs autonomously and can remove material quickly and effectively from tube-shaped welded parts.
The team designed a fully-automated, active compliance system that was able to successfully locate, measure, and remove the weld bead from the tube's interior and verify process completion. The system included external vision technology to identify the weld bead first.
Once located, the multi-axis feedback from an ATI force/torque (F/T) sensor enables the Yaskawa arm to measure and react to the weld bead, determine the correct amount of pressure to apply, and remove the bead with the cutting tool.
Finally, a profilometer verifies that the removal meets specifications.
In this application, ATI said its F/T sensor plays a pivotal role. It provides a comprehensive profile of the force and torque loads within the process for data analysis, and facilitates active compliance of the cutting tool on the work surface.
With the force sensor, this robotic system becomes dynamic as it uses force feedback to detect, assess and grind the weld bead, while monitoring and adjusting the cutting force in real time.
Integrated compliance, whether active or passive, makes programming robotic applications easier and produces a consistent finish despite variations in the part or path, according to ATI.
Industrial benefits of affordable automation
For industrial manufacturers that need flexibility to meet customer demands, an affordable adaptable robotic cell is ideal.
Output quality is more consistent with this new system, but that is only part of the benefit to users. Together, the Yaskawa robot, ATI's Force/Torque Sensor, and modeling software can quickly and easily measure and remove a weld bead from an interior curve, said the researchers.
The weld-bead removal system can minimize safety hazards, decrease cycle times, and improve overall process quality, they added. The active compliance system provides a closed-loop process for maintaining and adjusting force control to ease programming efforts and ensure the desired result is achieved.
The weld-bead removal system actually learns to improve based on the data it collects over time, which makes it very easy to program new parts and shapes, said the team. Low-volume, high-mix manufacturers need flexible systems to stay competitive, it said.
The active compliance system streamlines the challenges of programming and executing heavy material removal and irregular shaped parts safely and efficiently, with room to grow.
ATI said its F/T Sensor provides high-resolution measurements in real time and enables active compliance to allow the robot to maintain constant force on the part features. This ensures both a consistent finish and optimal cycle times, which can help manufacturers streamline costs and increase productivity.
The project helps fulfill the ARM Institute's mission of strengthening U.S. manufacturing through innovation, said the team. In addition to Siemens, Changliu said he hopes to see this process implemented by other manufacturers in the metal fabricating industry in the near future.
Article topics
Email Sign Up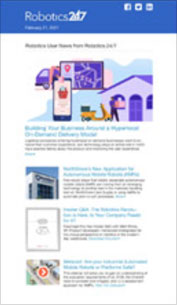 Get news, papers, media and research delivered
Stay up-to-date with news and resources you need to do your job. Research industry trends, compare companies and get market intelligence every week with Robotics 24/7. Subscribe to our robotics user email newsletter and we'll keep you informed and up-to-date.
ATI Industrial Automation