DETROIT—With more than 750 exhibitors, over 125 conference sessions, and about 25,000 registered attendees, the Automate 2023 trade show this week was the latest demonstration of the growing interest in industrial automation and robotics, despite economic concerns.
Conference sessions about getting started with adopting automation were particularly well-attended, and we saw several Fortune 500 companies' delegations carefully evaluating systems and questioning booth personnel. Attendance was strongest on Tuesday, according to several exhibitors.
The Association for Advancing Automation (A3) announced that Automate, which used to be co-located with ProMat in Chicago and held every other year, is becoming an annual event. Some exhibitors and attendees grumbled about having to travel to multiple shows early in the year, but the line for space at Automate in Chicago in May 2024 was long.
"The need to exhibit at more shows shows the increasing maturity of the market," Leif Jentoft, co-founder and chief strategy officer of RightHand Robotics, told me at Automate.
A renewed focus on manufacturing
With A3 based in Ann Arbor, Mich., it's no surprise that much of Automate's focus was on the automotive industry. Recent reports from the International Federation of Robotics (IFR) and A3 may differ on North American market growth, but they both noted that automakers and their suppliers again lead in robotics purchasing and use.
The FANUC M-1000ia robot arm (see video below) moving a 1,000 kg (2,205.6 lb.) battery was one of the biggest returning displays on the show floor, coinciding with the industry shift toward electric vehicles.
ABB is investing $20 million to modernize and expand its production in Auburn Hills, Mich.
In comparison with Automate 2022, there were fewer autonomous mobile robots (AMRs) and automated storage and retrieval systems (ASRS) on the floor this year. Some vendors instead chose to exhibit at ProMat, which was more about materials handling and supply chain automation, while others such as 6 River Systems have faced financial challenges after the e-commerce boom during the COVID-19 pandemic.
That said, the largest AMR and ASRS providers still had a strong presence, such as Locus Robotics, Mobile Industrial Robots, and AutoStore. The trends toward heavy-duty mobile robots for palletizing, such as those from Zebra Technologies, and robots for reaching high storage, such as from Hai Robotics and Exotec, were also in evidence.
"So much education still has to happen," said Jennifer Samples, vice president at AMR provider ForwardX Robotics. "We have three levels of clients: people who know they need automation but don't know where to begin, others who have some automation, and those who are the most sophisticated and want the latest and greatest. All three can be in the same company."
"We learn the [customer's] entire process upfront," added Chris Harbert, sales director at ForwardX. "The robot hardware and software have to help business transformation and show actual ROI [return on investment]. We also ask each individual, 'How does the robot help you?'"
"Our demand pipeline is full," said Kristian Kulgard, general manager for the Americas at gripper maker OnRobot. "Where I see integrators and distributors struggle is with big, human resources-intensive custom workcells. That's why we're working on standardizing them and offering our D:PLOY software, which saves integrators time so they can take on more jobs."
Incremental tech change
From the moment my Peerless Media colleagues and I arrived in Detroit, people asked us what new and noteworthy technologies we had seen. Our special coverage page has shared many releases around Automate, but the tone this year was less about exciting post-pandemic announcements than about improved capabilities.
Advances in machine vision, software, and end-of-arm tooling (EOAT) have led to a wider range of applications. Picking of jumbled or mixed pieces is getting faster and more accurate, with less AI overhead. CapSen Robotics, Mujin, and Soft Robotics provided some examples.
Most of the collaborative robot suppliers showed welding cells, with Universal Robots leading the way with its first cobot TIG welding and spot welding applications with partners THG Automation and Pro Spot, respectively (see video below). Kane Robotics and FerRobotics used a UR cobot to demonstrate grinding and surface finishing (see photo, top right).
Affordability and ease of use were important, as igus demonstrated with its low-cost automation line at Automate. The motion plastics supplier openly listed the prices for all its robots, components, and preassembled workcells.
Combinations of different robots were also noteworthy. FANUC showed an order-fulfillment workcell designed by applications engineer Stacy Harimoto that combined the company's robot arms with 3D vision, scanners, and Locus mobile robots.
Another theme was the ongoing convergence between industrial robot arms and their lighter cobot cousins. Thanks to sensors and programming, some bigger robots will now slow down when a person approaches. Larger cobots are finding use in palletizing and surface finishing.
"Our cobot has dual modes—collaborative and industrial," said Michael Chung, national field engineering support group manager at Mitsubishi Electric Automation.
While humanoid robots have made headlines lately, they were discussed but not seen at Automate. However, some of the biggest announcements of the week involved legged robots: Melonee Wise, founder of Fetch Robotics and a speaker, joined Agility Robotics, and startup Figure raised $70 million to join the race to "general-purpose" robots.
Partnerships abound
Ease of use, the ability to reach new markets, a dearth of venture capital, and the need to support users at scale are all factors driving the growing number of vendor and integrator partnerships. Many booths showed an ecosystem of robots, accessories, and software for multiple applications, including those of Universal Robots, Yaskawa (with Plus One Robotics), and Mujin (with Geek+).
Some companies have built up their portfolios through acquisition, such as Zebra and ABB, which acquired mobile robot providers Fetch Robotics and ASTI Mobile Robots, respectively, in 2021.
Raymond Corp. shared its booth with Andersen Material Handling and Integrated System Design to show customers local integration and support of its automated systems.
"With our telematics and labor management data, users can come up with unique KPIs [key performance indicators] for optimization," claimed Martin Buena-Franco, automation products marketing manager at Raymond.
Some companies, such as Vention, have gone in the opposite direction by developing their own actuators, controllers, and teach pendant. The company's MachineLogic platform is designed to facilitate programming of machine tending workcells.
"Everything can be assembled with a 5 mm Allen wrench," said Sophie Ducharme, marketing lead at Vention. "We're robot-agnostic and are bringing the e-commerce experience with pricing built into our CAD software."
Data and software as differentiators
Robot arms, grippers, and mobile platforms may not yet be commoditized, but several speakers and exhibitors discussed the importance of software, data, and artificial intelligence. From collision-free path planning and object recognition to collecting, analyzing, and acting upon data, the ever-expanding tech stack is viewed as a differentiator.
One standing-room-only panel discussion looked at how AI and ChatGPT will affect robotics, from making coding easier and faster to improving human-machine interfaces. However, venture capital firms and software providers both told me that much of the current hype around AI doesn't reflect how it will eventually help robots be smarter and more useful.
"Industrial computing is the secret sauce," said Jason Waldman, business development manager at industrial Internet of Things (IIoT) provider Advantech. "Customers need support for things like edge AI and our Valor workstation, not just for 18 months, but for up to seven years."
"ChatGPT marks an inflection point, as AI makes nonlinear progress," observed James Davidson, chief architect at Mobile Industrial Robots. "There are opportunities for improvement across the stack. With semantic understanding, it's also important to understand the cost of a mistake with, say, a false positive of identifying a human."
He and others mentioned the growing maturity of visual simultaneous localization and mapping (vSLAM) for mobile robots.
Products such as the cloud-based MiR Insights offer to optimize fleets, but they must add value and not try to do everything, Davidson said. "AI isn't perfect," he added.
Realtime Robotics demonstrated workcells with four robot arms working together using its RapidPlan software for collision avoidance, as well as the ability to control robots through a PC (see video below).
In addition, getting different robots to play well together—and with human workers—was a topic of some discussion, particularly for systems integrators. Robotics 24/7 will have more to come in our ongoing coverage of safety standards, robot operations and orchestration, and interoperability.
There is broad consensus on the need for more of all of these, but rival proprietary approaches and the need to work with existing warehouse management systems (WMS) and manufacturing execution systems (MES) remain.
Speaking of making robots easier to use, Open Robotics released ROS 2 Iron Irwini, marking the continuing evolution of the open-source Robot Operating System from an academic tool to a framework for commercial robotics development. Intrinsic, which Alphabet acquired from Open Robotics, announced the beta version of its Flowstate product for developers.
"We've seen a lot of demand in AMRs, but it's still an immature integration environment," noted John Bubnikovich, U.S. country leader at ABB Robotics.
About the Author
Eugene Demaitre
Eugene Demaitre is editorial director of Robotics 24/7. Prior to joining Peerless Media, he was a senior editor at Robotics Business Review and The Robot Report. Demaitre has also worked for BNA (now part of Bloomberg), Computerworld, and TechTarget. He has participated in numerous robotics-related webinars, podcasts, and events worldwide. Follow Eugene:
Follow Robotics 24/7 on Facebook
Article topics
Email Sign Up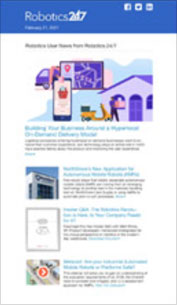 Get news, papers, media and research delivered
Stay up-to-date with news and resources you need to do your job. Research industry trends, compare companies and get market intelligence every week with Robotics 24/7. Subscribe to our robotics user email newsletter and we'll keep you informed and up-to-date.
Eugene Demaitre