Automated Machine Systems, Inc., or AMS, helps manufacturers increase productivity by designing and implementing factory automation systems. Since its founding in 2000 in Cincinnati, it has built a select group of core competencies in plastic parts assembly and leak testing.
With decades of experience in the assembly of automotive parts under its belt, AMS was sought after to help a local plastic injection molding company build a heat shield cover for the air intake manifold on Honda's 2023 CRV model.
Annual production volume was 350,000 parts per year, and the required cycle time was less than 30 seconds per part. Not only did the project require high-volume production with fast cycle times, it also needed to minimize human interaction with the parts as they came off the molding machine.
Once the molding process was complete, the next steps were to have four compression limiters installed on each part for joint integrity and 3M Thinsulate welded to the inside of the part for heat reduction. And instead of multiple, individual stations with separate operators for each step, the customer wanted one, synchronous machine to complete all the processes.
"Floor space was an issue, cycle time was a concern and the number of operator interfaces with the process was also a consideration," said Marshall Hornsby, sales development representative, AMS.
An automated solution was the only option as the project required fast cycle times and the customer wanted to use as few operators as possible to contain costs. Beyond the technical aspects of the application, reducing the number of operators and assembly cells would also provide a better ROI for the customer.
To meet this demand, AMS looked into developing a robotic automation solution that would only need one operator per station.
Finding the right components to build a customized solution
Rather than creating multiple cellular machines, AMS decided to design and build a press-side piece of automation with a five-position rotary dial table to perform all the operations concurrently.
One station would perform the pneumatic pressing of all four compression limiters. Two stations would ultrasonically weld the 3M Thinsulate. And, the final station would automatically unload components, while separating them to "good part" and "bad part" chutes.
The discussion regarding possible solutions ultimately came down to one factor – robots had to be part of the equation. Based on a demo presented to AMS by a local automation components firm, AMS was convinced that Epson Robots would fit nicely into the rotary dial table design and provide the reliability and performance that was needed.
"Although we're very familiar and experienced with ultrasonic welding applications, integrating ultrasonic welders to the end of the robots was actually new to us," said Hornsby. "Instead of moving a part manually or having a very customized fixture to move it around underneath our sonic welder, we chose the Epson T-Series All-in-One SCARA robots to automate the process for efficient speed, efficient costs, and efficient results."
Epson T-Series All-in-One SCARA robots are space-saving robots that install in minutes due to the controller being built into the base of the robot arm. They use the same intuitive software and powerful features found in Epson's high-end robots.
The T-Series robots are fast, easy to integrate, and take less time to install than most automation solutions. With reach distances of 400 and 600 mm (15 in. to 23 in.), the T-Series can handle payloads of 3 kg (6.6 lb.) and 6 kg (13.2 lb.), respectively.
AMS placed a T6 SCARA robot at each of the two stations to perform consistent ultrasonic welding of the Thinsulate and used a T3 SCARA robot at the final station to perform repeatable, accurate pick-and-place for automatic unloading and moving parts to the "good part" and "bad part" chutes.
Initially, the machine AMS planned to develop was designed with a gantry-style unload, made up of cylinders and all the numerous components that come into auto unload and programming.
However, since they were already using two Epson SCARAs to do the welding, their designer recommended they also use a robot to do the automatic unload, which saved considerable assembly and set-up time, not to mention the reduced cost and increased reliability of the SCARA robot over the custom gantry system.
"It clicked in our minds when we were recommended that option. It was more cost-effective as the only cost associated was the robot and the programming, which is a lot less than it would have been to program the gantry system," shared Hornsby. "Additionally, it saved us a lot of time on the design side."
A combination of cost, compatibility, and delivery
By combining knowledge gained from each of their previous projects, AMS was able to design and build a solution to meet the customer's price, performance, and assembly requirements.
"Although we initially had to make a few pin modifications for the fixture nest due to unknown part variations, at the end of the day, our customer was very satisfied. They weren't as familiar with Epson at first, so we asked them to come to our facility so we could demonstrate the capabilities of the SCARA robots. That meeting convinced them to integrate Epson robots at their own facility. After a couple of months of beta testing the machines, they approved final implementation. They complimented our work from our beginning concepts to our delivery and execution.
"We have to meet strict deadlines, and if one component that's necessary to the machine is not delivered on time, it can hinder our whole schedule. Whether dealing with a machine component or an electrical component – or anything related to a machine – Epson has delivered and that is what enticed us," said Hornsby. "Cost, compatibility, and delivery is where Epson definitely performed."
As a result of designing, assembling, and integrating a dial table system with three Epson SCARA robots, AMS delivered a solution that provided maximum value to the customer. The upfront expense of the machine was easily justified since it required just one assembly station with one operator, rather than three or four separate stations with an operator at each.
By saving floor space, operator payroll, and cycle time, this system proved to be a success for AMS and the customer, with the customer's ROI being less than one year.
The five-position rotary dial table using Epson robots made it possible for the client to produce consistent, quality parts while decreasing the overall cycle time and – given the current labor shortages - without having to worry about training temporary workers on individual machines.
Article topics
Email Sign Up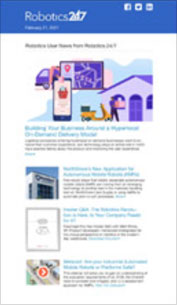 Get news, papers, media and research delivered
Stay up-to-date with news and resources you need to do your job. Research industry trends, compare companies and get market intelligence every week with Robotics 24/7. Subscribe to our robotics user email newsletter and we'll keep you informed and up-to-date.
Epson Robots