A range of sensors can guide robotic manipulation for piece picking, surgery, and general service tasks. BeBop Sensors Inc. has been working on artificial skin less than 1 mm thick that can add a sense of touch to nearly any robotic part and surface.
The Berkeley, Calif.-based company in May announced its RoboSkin product line, which is designed to provide tactile awareness for humanoid robots and prosthetics. BeBop said millions of its fabric sensors are already in daily use in research, corporate, and military facilities worldwide.
"We started shipping RoboSkin to evaluation customers two years ago," recalled Keith McMillen, founder and chief technology officer of BeBop Sensors. "We got good feedback and decided to give it better spatial resolution than human skin and significantly better force recognition."
How to identify superhuman sensing
What is "better-than-human spatial resolution," and how can that help robots?
"Physiologists have experimented and touched a person with two dull points and then moved them apart," McMillen told Robotics 24/7. "Most people need the points to be 4 mm [0.1 in.] apart before noticing two touches. We have 2 mm [0.07 in.]."
"Similarly, there's a range of 5 g to 5 kg [0.01 to 11 lb.] per sensor, per finger," he added. "We never wanted to have the discussion, 'Is that just as good as a human?' We've done some over-optimization to begin with."
Up until recently, most robot developers have been content with relatively little data coming from robot hands or surfaces, noted McMillen. They have tended to rely on vision sensors rather than tactile ones, he said.
"But with large neural nets, if cameras are occluded, hundreds of sensors in fingertips and palms could take over," McMillen said. "Vision could get the robot in the ballpark, with a smooth transition to touches. As artificial intelligence has continued to advance, there really has been a leap forward."
The latest humanoid systems can incorporate cameras, microphones, and motion planning with one-hundredth of the input nodes, he said.
BeBop seeks levels of precision, reliability
McMillen came into haptic sensing through music. "We started working with musical instruments and fabric sensors 14 years ago," he said. "I wanted to make a sensor violin bow for the Kronus Quartet, and it needed a cylindrical grip so musicians could tell what they're doing."
"Four years later, it was stabilized with 80 dB of dynamic range, and resolution to smaller than 2 mm pitch just became a choice," explained McMillen. "The fabric will fit any geometry. Our circuitry design is quite flexible, allowing BeBop to make it for 40 to 50 different applications."
"Since musicians abuse millions of sensors, we designed RoboSkin for reliability and durability," he said. "From one strike at 70 psi to 5 million with only 2% to 3% variation over a decade of use, reliability is really important to us."
At about half-a-millimeter thick, the silicon RoboSkin can be made to match the task, such as moving heavy or rough objects.
"Or, you could go to a lower softness with different fingerprint patterns," said McMillen. "Our ability to fine-tune the technology is pretty advanced; we're like tailors on Saville Row and can quickly make variations."
Applications and data
"Our first target customers wanted to replace assembly-line workers picking up tiny screws and putting them into the backs of iPhones," McMillen noted. "Our artificial skin needed to be soft and responsive, with a lot of resolution and a good grip."
Other applications included a three-fingered gripper digging into a box of nuts and bolts and capable of figuring out what they have grasped. The data that robots can collect also has potential value, said McMillen.
"People appreciate our huge range of sensitivity, and we're often asked to boil the data down," he added. "We have a lot of AI and machine learning experience to train efficient networks with our sensors. We can actually run neural networks on those fingers."
"Some customers are pretty far along in their autonomous abilities and want full pipes of data," McMillen added. "Humans pull their hands away when they put them on something hot—those sorts of things can be architected by designers."
"Instead of sending 80 data points hundreds of times per second, we have the ability to send a special message," he explained. "We've built priorities into our pre-processing of sensor data so they're not flooded."
Gripper partners for warehousing, apparel, and inspection
BeBop Sensors is in talks with end-of-arm tooling (EOAT) providers, and warehouse automation companies are interested in being able to perceive loose items or sense items when optical systems are occluded, said McMillen.
"We have a short list of 80 customers and are speaking with them in order of their interest," he said. "We have multiple pilots under way with some big warehousing and automotive companies."
"We've also anticipated apparel, because we have the ability to detect texture, not just force," McMillen added. "We pick up variations at a pretty high sample rate and can classify them. Automating things like hand sewing is going to require some work."
While surgical robots know what tools they will handle, general-purpose and assistive systems can benefit from more sensitive robots, he noted. "We can make sensors for any part of a robot—we're not limited to fingertips, and can do palms, feet, or any surface," said McMillen. "It's nice to have one style of sensor that can be deployed anywhere and a single set of rules to understand it."
In addition, BeBop has been speaking with a top prosthetics provider for nearly two years, he said.
"Because our sensors not only do pressure and location—we can measure shear forces and bend—it can be quite useful, for example, in the interface between human and mechanical components," McMillen said. "We're also working with mobility companies that want to cross the line from wheels to feet for robots or exoskeletons to walk on gravel."
About the Author
Eugene Demaitre
Eugene Demaitre is editorial director of Robotics 24/7. Prior to joining Peerless Media, he was a senior editor at Robotics Business Review and The Robot Report. Demaitre has also worked for BNA (now part of Bloomberg), Computerworld, and TechTarget. He has participated in numerous robotics-related webinars, podcasts, and events worldwide. Follow Eugene:
Follow Robotics 24/7 on Facebook
Article topics
Email Sign Up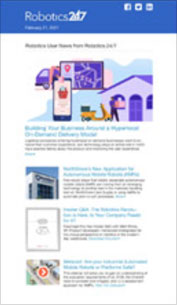 Get news, papers, media and research delivered
Stay up-to-date with news and resources you need to do your job. Research industry trends, compare companies and get market intelligence every week with Robotics 24/7. Subscribe to our robotics user email newsletter and we'll keep you informed and up-to-date.
BeBop Sensors