At MODEX 2022 last month in Atlanta, one of the more promising robots was Stretch, a truck-unloading system developed by Boston Dynamics Inc. The Waltham, Mass.-based company, best known for videos of its legged robots, is now working to address the needs of warehouses and distribution centers. Stretch joined the Atlas humanoid robot and the Spot quadruped for industrial inspections.
"Stretch is really a first for us—it's the first robot specifically designed for the warehouse," said Kevin Blankespoor, senior vice president and general manager of warehouse robotics at Boston Dynamics. "We took all of the technology that we've grown over the past several decades with Spot and Atlas, and everything that came before, and repackaged it for a purpose-designed solution for moving boxes."
Unloading trucks has been a challenge for short-staffed logistics providers, as well as robotics developers. Boston Dynamics announced the commercial availability of Stretch and unveiled the production version of the robot at MODEX 2022. The company noted that it is already sold out through this year and that it's accepting reservations for 2023 and 2024 deliveries.
Stretch starts with truck unloading
Stretch includes a long automated arm with a "smart gripper," as well as a "perception mast," enabling it to handle hundreds of boxes an hour. The robot also builds on technologies from the Handle wheeled mobile manipulator.
"Stretch is really a multipurpose warehouse robot," Blankespoor told Robotics 24/7. "In the future, the typical day in the life of Stretch might be spending the mornings unloading boxes from trucks. It might spend the afternoons building up pallets in the aisles of the warehouse, and it might spend the evenings on the outbound side of the warehouse, loading boxes back in their trucks. The first application we're really focused on is truck unloading."
While humans can move about 100 cases per hour, they have difficulty sustaining that rate for an entire workday, he noted. Robots can relieve shorthanded workers of strain, increasing facility reliability and throughput, Blankespoor said.
Boston Dynamics builds vision, manipulation, mobility
Since Stretch must operate inside crowded, poorly lit trailers or containers, Boston Dynamics focused on vision, manipulation, and mobility, said Blankespoor.
"We have an onboard system that has both 2D and 3D vision, both complete with illumination, so they work in dark trucks fine," he explained. Machine learning enables the system to become more perceptive as it gathers more data, Blankespoor added.
Stretch's long arm and custom end effector are designed to reach deep into a trailer to grab a variety of boxes, with other types of parcels and items to come in time, he said.
"We have a pretty advanced gripper with a wide array of sensing for pressure and forces and dense control of suction cups, so we can pick up anything from small boxes to somewhat damaged boxes to even boxes that don't have open surfaces," Blankespoor said. "So the gripper is really more advanced than anything else out there. It can handle non-ideal boxes because, as we all know, in the warehouse, they're not all pristine."
As for mobility, not only does Stretch use wheels rather than legs as with Boston Dynamics' other robots, but its wheels are also omnidirectional, he said. With a base the size of a pallet and purpose-built suspension and braking systems, the robot should be able to maneuver in most warehouses, added Blankespoor.
Smart gripper uses force control
Not only must Stretch be able to grasp boxes of varying weights, orientations, and sizes, but its smart gripper must be able to extract them without damaging them or their neighbors.
"We can both grasp the top of the box, which we like to do because it's a nice stable way to suction something, but we can also get the front face of a box and pull it off," Blankespoor said. "We've got years of experience with force control, not just vision-based kinematic control."
"You and I use that same capability every day to touch and feel things and to do some of those more more tricky grasps," he added. "For example, for a top box, you may ask, 'Where can I get the gripper?' We can come in with a front-face grasp, lift it off the boxes below a little bit so it doesn't pull down things. And then we pull it back and extract it before bringing it quickly over to the conveyor. So that leverages a lot of software from Boston Dynamics for trajectory planning and force control."
Autonomy at speed
To operate at speed, Stretch is designed to work with human supervision, but not in proximity.
"That's where collaborative robots struggle," Blankespoor said. "The laws of physics make it pretty hard to move a 50-lb. box in a way that's elbow to elbow with someone. We keep separation between people and robots. The flipside is that we think of the robot as a sophisticated power tool to get more production. Its user interface is something that people can learn in minutes, not weeks."
"Once you've got the robot in place, from that point on, it's hands-off, and Stretch will autonomously work its way through all the boxes in the truck until it's done," he said. "On occasion, if it needs help or gets stuck with something, it can notify the operator."
Early adopters give training feedback
"We've got early adopters standing up now," said Blankespoor. "And we're going to market with Stretch this year and ramping up even more next year."
DHL is the first customer, investing $15 million, noted Eric Foellmer, vice president of marketing at Boston Dynamics.
"Seeing what it's like for an operator to use the robot is immensely valuable, so we've got a user interface for a safety system we're developing, and we're getting great feedback on how to train new operators to use the robot quickly," Blankespoor said.
How long does it take to train someone to use Stretch?
Boston Dynamics is developing a user guide, and it found that customers prefer hands-on training, said Blankespoor. "We have classrooms, but there's no real replacement for just getting out there with the hardware," he said. "You can get productive within the first day of of our training."
Boston Dynamics looks to future with Hyundai
Since acquiring Boston Dynamics from SoftBank last year, Hyundai Motor Group has expressed strong interest in commercializing products such as Stretch. What are Hyundai's expectations?
"Most people in the Americas think of Hyundai as a car company, but in South Korea, it's a manufacturing company, a logistics company, and a construction company," Blankespoor said. "They've got a huge number of applications where they're excited to get robots more involved. In terms of future products that have more of a Hyundai influence, stay tuned."
In the meantime, Boston Dynamics is working with customers to start collecting key performance indicators (KPIs), improve Stretch's software, and expand production, he said.
"I've been in Boston Dynamics for 18 years, and so many of the technologies that we've developed are folded into Stretch," observed Blankespoor. "It looks different, but it leverages all the work we did on the robots that came before it. We actually got our start moving boxes on Atlas. When we released of Atlas moving boxes around on YouTube, we got a ton of interest from the warehouse space. Handle was good at a lot of things, and we found that we could go even faster and safer with Stretch."
About the Author
Eugene Demaitre
Eugene Demaitre is editorial director of Robotics 24/7. Prior to joining Peerless Media, he was a senior editor at Robotics Business Review and The Robot Report. Demaitre has also worked for BNA (now part of Bloomberg), Computerworld, and TechTarget. He has participated in numerous robotics-related webinars, podcasts, and events worldwide. Follow Eugene:
Follow Robotics 24/7 on Facebook
Article topics
Email Sign Up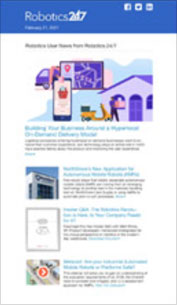 Get news, papers, media and research delivered
Stay up-to-date with news and resources you need to do your job. Research industry trends, compare companies and get market intelligence every week with Robotics 24/7. Subscribe to our robotics user email newsletter and we'll keep you informed and up-to-date.
Boston Dynamics