Four years after its founding, healthcare wearable technology company Cionic Inc. today announced that its Neural Sleeve wearable has been cleared as a Class II medical device by the U.S. Food and Drug Administration.
The Neural Sleeve is placed around the user's leg and is used to help people with conditions such as multiple sclerosis, stroke, cerebral palsy, and spinal cord injuries walk.
A smart sleeve
The San Francisco-based company said the device can "analyze, predict, and augment" a person's movement using advanced algorithms and sensors. It also uses electrical stimulation to "sequence proper muscle firing for natural movement."
"We are incredibly excited for the Cionic Neural Sleeve to be an FDA cleared Class II medical device and are ready to start impacting the lives of individuals with movement challenges in meaningful ways," stated Jeremiah Robison, founder and CEO of Cionic, in a release announcing the clearance.
Robison told Robotics 24/7 the clearance allows the company to enter the next step of commercialization.
A personal connection
Robison started the company in 2018 because he wanted to help his daughter, who was diagnosed with cerebral palsy, have a better quality of life. He has a background in building wearable technology. He's a former vice president of software at wearable device company Jawbone, according to his LinkedIn.
Some challenges come with bringing this type of technology to a broader audience, Robison said. It costs millions of dollars and years of development, for one. There is also the concern of the cost of the product.
With clearance from the FDA, Robison said the company is launching a Founder's Program for early adopters to use the device in their daily lives. He said the initial pricing will be $200 a month for a year. After that, the user owns the sleeve.
Robison said he thinks that pricing model will make it accessible for users. Cionic expects to deliver the products later this year.
A software push
Robison said the company is also pushing its software platform. The company is working with several labs to build new features and functionalities on top of its existing application programming interfaces (API).
"Ultimately, our real vision and goal is to democratize access to the body much in the way that AWS (Amazon Web Services) has done for web applications and digital applications," he added. Robison noted that the FDA is aligned with the company's vision because they've already provided regulatory guidance work concerning software as a medical device.
Building hardware is much more expensive than developing software, he said. He estimated that on average it takes six years and $30 million to bring a medical device to market.
"If you can bring that to market at software speeds and software costs, we can have this real explosion of new and innovative solutions," he said.
Data takes center stage
BIONIK, Inc. is a rehabilitation robotics manufacturer looking to make its products more useful by placing a concentrated effort on data.
BIONIK makes a range of robots to assist in therapy, including the InMotion Arm and the InMotion Arm/Hand. The products are designed to help patients improve the motor function of their upper extremities.
The Watertown, Mass.-based company has more than 450 of its devices installed in about 20 countries around the world, according to interim CEO Richard Russo. That includes hospitals and clinics. Three hundred of those are in the United States.
Russo is always trying to do more with the data collected from his company's devices.
"One of the things we have been able to focus on is the need for keen data," he said. "That really has taken on a life of its own with the technology we have."
In traditional systems, therapists can track about 30 to 60 movements an hour, he said. Using the company's robots and motion tracking technology, they can track 600 to 1,000. He said the robot's artificial intelligence allows the robot to adjust to the patient's individual needs.
BIONIK collects data on the number of sessions a therapist is using its robot for, the number of repetitions in a given session, the average length of those sessions, the number of patients that are using its devices, and more.
Russo said that data has proven to be helpful for hospital administrators and therapists for training and return on investment standpoints. The ultimate goal is figuring out how to take that information and make it even more useful to patients and their families in their recovery process.
He said the data collected from its robots are used to build individual plans for patients. That information is also used by the company's clinical specialist teams and is more broadly used for educational purposes and patient indications to better train therapists.
Taking it home
Using data, could a therapist determine how likely and fast a patient will improve after a certain number of sessions? Could that data significantly improve their outcome? Those are the questions Russo and his team are trying to answer.
"The end goal here is not only to protect the patient but to ultimately help the therapist and provide those predictive outcomes," he said.
Russo said a goal is to be able to provide patients with data that they could use outside of therapy.
"Six hundred to a 1,000 movements an hour," he said. "How do we translate that to when a patient is home, and they are getting dressed in the morning. They are tying their shoes. They're getting coffee. All of these things are daily life activities."
A potential step down the road
Robison said Cionic is still too early in the process of having the Neural Sleeve used in a clinical setting. The product has been designed for at-home use.
But the company has received feedback from people participating in clinical pilot programs, and he hopes to make that a bigger part of the services the company offers later on.
What they appreciate having is electromyography information that specifies what muscles in the body are firing during a certain activity. It's both helpful for the patient and the clinician, he said.
Robison believes there could be a great relationship among the patient, the clinician, and his company, the technology provider.
"If we could get that full continuum of care that would be outstanding," he said.
As common as a power drill
HeroWear CEO Mark Harris believes that the wearable technology market is entering a new phase. The Nashville, Tenn.-based company makes the HeroWear Apex wearable device. It's primarily used by manual material handlers. The exosuit works by letting workers carry items for longer without injuring their backs.
For the past few years, he would say many people in space were doing early-stage piloting. Companies buy ten to 50 pieces of equipment to get a feel about how it could be useful. This year seems to be a turning point for HeroWear, according to Harris. He said the industry seems to be entering an "expanded pilot phase." He has seen a higher user adoption rate.
Harris said in the future, probably quite a few years out, he estimates a greater "direct to consumer play." Eighty percent of the world has a back injury at some point in their life, Harris noted.
He knows people who have hurt their back doing common activities such as fixing their cars, gardening, or helping their kids move into college.
"I think down the road, this could be as prevalent as a power drill. Some people use power drills as part of their job, and they use it every day," Harris said. "The rest of us have one in our garage, and we might use it only a couple of times a month, or once every couple of months, but you are really glad you have it when it's there."
About the Author
Cesareo Contreras
Cesareo Contreras was associate editor at Robotics 24/7. Prior to working at Peerless Media, he was an award-winning reporter at the Metrowest Daily News and Milford Daily News in Massachusetts. Contreras is a graduate of Framingham State University and has a keen interest in the human side of emerging technologies. Follow Cesareo:
Follow Robotics 24/7 on Facebook
Article topics
Email Sign Up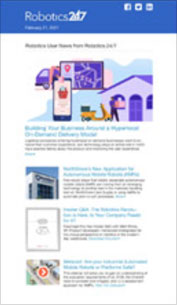 Get news, papers, media and research delivered
Stay up-to-date with news and resources you need to do your job. Research industry trends, compare companies and get market intelligence every week with Robotics 24/7. Subscribe to our robotics user email newsletter and we'll keep you informed and up-to-date.
Cionic