Manual palletizing is repetitive, physically challenging work. In fact, according to the 2022 Liberty Mutual Workplace Safety Index, overexertion due to "lifting, pushing, pulling, holding, carrying, or throwing objects" is the most common cause of accidents in the workplace.
Manual palletizing requires all that of workers, leaving them tired and at risk of injury towards the end of a long shift. This in turn leads to high turnover of staff in end-of-line palletizing positions.
Unrealized potential for palletizing
The demanding nature of the job makes palletizing an ideal candidate for automation. Moreover, on top of the ergonomic benefits and the freedom to assign workers to higher value tasks, automation can boost productivity, improve throughput, and enhance quality. And with the labor market presenting a major challenge to employers, the case for adopting robotic palletizing systems is a compelling one.
Industry analyst firm Technavio agrees, predicting that the robotic palletizer market will increase by $239.16 million (U.S.) from 2021 to 2026, with a compound annual growth rate (CAGR) of 6.95%.
And yet, many important end-of-line tasks such as palletizing are still performed manually. That's a lot of untapped automation potential.
According to the authors of the Technavio report, the key robotic palletizer market challenge is "the high cost of deploying and maintaining automation systems."
This echoes my experiences when speaking with companies on the frontline of the labor crisis: The costs involved in switching from manual to traditional automated palletizing solutions are simply prohibitive.
Overcoming tradition
Traditional robotic palletizers are highly effective, but they are also expensive—not just in terms of the initial capital outlay, but also due to the costs associated with set up, programming, and ongoing maintenance.
For cash-strapped small and midsize enterprises (SMEs) struggling to find a solution to long-term labor shortages, the numbers don't add up.
Footprint is also a challenge. Traditional palletizing robots take up a considerable amount of precious floorspace compared with the alternatives because of the size of the robots themselves and the need to install extensive safety barriers around the palletizing area to keep humans safe.
Slash costs by eliminating complexity
Collaborative automation-based palletizing systems can solve the issues around cost and complexity. Due to their ease of use, collaborative palletizers are faster to deploy than traditional robotic palletizers. This means less deployment downtime and reduced total cost of ownership for the system.
It also means that end-users can handle the programming in-house, which further reduces costs and ensures a faster return on investment (ROI) versus traditional robotic systems.
As a bonus, collaborative automation has a small footprint that makes for easy deployments around existing lines, machinery, and (following a risk assessment) even in shared spaces with human workers.
Traditional robotic palletizers can require significant, time-consuming changes to a facility. Collaborative automation can easily be deployed in different orientations and in cramped facilities where space is at a premium.
Put together collaborative automation for palletizing
Collaborative palletizing systems have three main components: hardware in the form of (but not limited to) a collaborative (or lightweight industrial) robot arm, a gripper, and software to tie it all together.
You'll need a robot arm with sufficient payload capabilities and speeds to match your palletizing requirements. To future-proof your investment, consider a collaborative robot arm with a track record in palletizing applications.
The gripper you select is key to the success of your deployment. Ensure that your gripper is easy to use, and that it is capable of moving at the speeds and handling the payloads that you require.
Palletizing involves handling different sizes and types of surface materials, so make sure you choose a gripper that provides customization features.
Pay particular attention to whether your gripper requires an external air supply, since this will add several layers of complexity to the system. To save time and simplify future maintenance, look for electric vacuum grippers with built-in air instead and free yourself from unnecessary complexity.
To future-proof your investment, choose a gripper that offers compatibility with all leading lightweight industrial and collaborative robot arms. Ideally, choose a gripper that can, in addition to all of the above, automatically handle slip sheets without the need for a gripper change.
The hardware is not confined to your robot arm. Some collaborative palletizing systems come with high-payload lifts that can be used to create a seventh axis. Some also come with pallet fixtures. Hardware components like these bring added versatility and ensure faster deployment speeds.
The software component, which includes the programming interface, is at the center of the user experience and is crucial to acceptance among workers. This experience can vary from "very frustrating" to "virtually effortless," so do your due diligence when it comes to exploring the usability of the palletizing system.
For example, some collaborative palletizing systems come with wizards designed to speed up the programming process. These wizards can help with stacking patterns and handling different pallet and product dimensions. Meanwhile, the latest palletizing software promises to eliminate manual programming altogether.
Start with a complete package
To ensure the most cost-effective, stress-free, and fastest deployment possible, consider purchasing a system designed to be ready to use "out of the box." The gripping hardware and software in these application kits have been specially developed to streamline palletizing automation deployments.
Selecting an off-the-shelf system also means that the systems can, in the vast majority of cases, be deployed by people with little or no prior robotics experience, making for extremely fast, no-fuss deployments.
Broad compatibility is important here both in terms of getting most flexibility out of your investment and future-proofing it against future requirements. So, make sure to select a collaborative palletizing system that provides the widest compatibility with different robot arm manufacturers.
About the author
Kristian Hulgard is general manager for the Americas at OnRobot. Learn more about the OnRobot Palletizer here.
Article topics
Email Sign Up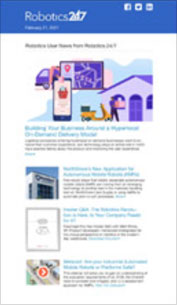 Get news, papers, media and research delivered
Stay up-to-date with news and resources you need to do your job. Research industry trends, compare companies and get market intelligence every week with Robotics 24/7. Subscribe to our robotics user email newsletter and we'll keep you informed and up-to-date.
OnRobot