From warehouses to wind farms, Combilift has expanded its offerings as it marked its 25th anniversary this week. During the celebrations at its headquarters in Monaghan, Ireland, the company launched a new product designed to meet the load-handling demands of manufacturers of large-scale offshore energy systems.
"We are thrilled to have launched this new product—the Combi-LC—and we hope it will act as a gateway for us to further progress within our venture into the wind energy sector," stated Josh Moffett, heavy equipment manager at Combilift.
"The scale of offshore wind projects around the world leads to a very unique set of challenges, one of which being the ability to transport the very large components that make up a wind turbine," he said. "We recognized this and used our expertise in load handling to develop a solution to support those in the industry. The product is specifically made to order and therefore can be uniquely customised to fit specific applications."
Combilift manufactures multidirectional, articulated forklifts, straddle carriers, and very narrow aisle (VNA) systems. The company also announced other innovations, including an autonomous truck for handling long loads.
Combilift enters the wind sector with Combi-LC
As the green energy sector sees a surge in larger wind-turbine components, including towers and blades, Combilift said it joined forces with industry leaders to engineer safe, stable, efficient, lifting, and storage solutions.
Combilift collaborated with Siemens Gamesa to design the Combi-LC at its headquarters and manufacturing plant in Ireland. The system enables users to move massive wind turbine blades and towers – some as long as 115 m (377.2 ft.) and weighing in at around 70 tons.
Combi-LC can move them through production stages and on to storage locations, which can sometimes be as far as 5 km (3.1 mi.) apart, Combilift noted.
The concept of bespoke Load Carriers (with a patent pending design) is based on two fully customizable remote-control units with low-level chassis beds that can work in tandem, explained the company. It added that the dimensions and wheel configurations can vary according to load type and weight.
Siemens Gamesa, one of the world's largest offshore wind suppliers, has become the first company to use the new technology by signing a multi-million-dollar order for a number of the bespoke Load Carriers.
Combilift said it is in active discussions with other offshore wind companies with similar demands. The company said it expects to generate more than €50 million ($52.93 million U.S.) in revenue per year in this market segment by 2026.
"Seeing the new LC Blade mover in the flesh is impressive," commented Michael Woods, head of offshore equipment operations at Siemens Gamesa. "It is fantastic to see it come from design to fruition; the maneuverability and functionality look great. We can't wait to see it onsite moving blades."
Combi-AGT offers dual control
Combilift also launched its Autonomous Guided Truck, or Combi-AGT. The system was designed to autonomously handle long loads and boasts dual-control capability, enabling manual operation when necessary—an industry first, the company claimed.
The Combi-AGT is based on the electric, manually operated Combi-GTE. That model has long been a popular choice for service centers due because it can work efficiently in rail-guided narrow aisles, Combilift said.
The first Combi-AGT unit was supplied to New Century, Kansas-based Steel & Pipe Supply Co. 18 months ago. Since then, Combilift said it has worked with multiple leading metal service centers across North America during the development process.
The autonomous truck uses natural feature navigation, as well as a newly developed load dimension detection system, which performs laser scans to check that a load's length matches the task sent to the machine. Similarly, when unloading, the Combi-AGT checks that the rack in front has sufficient free space to accept the load, added Combilift.
"We have deliberately not rushed into incorporating autonomous products into our portfolio," said Martin McVicar, co-founder and CEO of Combilift. "As with any new launch, we have carried out extensive field tests to make sure it is fit for purpose by liaising with a number of leading customers in the metal service industry during the product development stage."
"We are fortunate to have a very motivated group within our autonomous team of software and mechatronics engineers who are committed to scaling this business unit," he said. "The Combi-AGT signals a new milestone in product development, with further expansion of our autonomous range in the pipeline."
Combi-Connect provides real-time fleet data
The third product launched by Combilift is Combi-Connect. The company said its telematics software offers customers greater levels of insight into fleet management and utilization.
Combi-Connect can provide real-time data on fleet performance, including location tracking, usage analytics, and maintenance alerts. With this invaluable information, businesses can optimize operations, asserted Combilift.
Based on a subscription model, Combi-Connect offers fully transparent data analytics enabling not only dealers, but also the customers themselves, to manage and make informed decisions, the company said.
The new products are the result of Combilift's longstanding focus on research and development, which involved resouces and years of hard work, noted McVicar.
"We have a track record of innovation at Combilift," he said. "We invest 7% of our revenue annually in R&D, and today is the culmination of many years' hard work."
"We are delighted to be continuing this tradition of innovation 25 years on," McVicar said. "Now employing over 800 people in Monaghan and 200 people in other locations across the world, the success of Combilift is testament to our people, our customers and our supporting dealers around the world. We are looking forward to the next 25 years at Combilift."
About the Author
Roberto Michel
Roberto Michel, senior editor for Modern, has covered manufacturing and supply chain management trends since 1996, mainly as a former staff editor and former contributor at Manufacturing Business Technology. He has been a contributor to Modern since 2004. He has worked on numerous show dailies, including at ProMat, the North American Material Handling Logistics show, and National Manufacturing Week. You can reach him at:
[email protected]
.
Follow Robotics 24/7 on Facebook
Article topics
Email Sign Up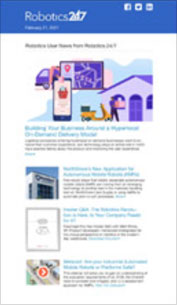 Get news, papers, media and research delivered
Stay up-to-date with news and resources you need to do your job. Research industry trends, compare companies and get market intelligence every week with Robotics 24/7. Subscribe to our robotics user email newsletter and we'll keep you informed and up-to-date.
Combilift