Cybernetix Ventures, a new independent venture capital firm investing in early-stage robotics, automation, artificial intelligence companies, yesterday announced the launch of its first global fund.
Cybernetix Fund I will focus on pre-seed, seed, and Series A investments in startups developing systems for manufacturing, logistics, construction, and healthcare verticals. The Boston-based fund said it will also invest in robotics-enabling technologies in AI/machine learning, cloud robotics, cybersecurity, autonomy, and sensors and edge computing.
"With the launch of Cybernetix, robotics startups will have access to a one-of-a-kind fund from the robotics community, led by robotics leaders, for robotics innovators," stated Fady Saad, general partner of the fund. "It's clear to us that robotics is a distinct investment class, separate from established categories like software and biotech, with its own investment models, metrics, and portfolio engagement."
"The majority of investors are just starting to figure out the true value of innovative, early-stage robotics opportunities," he added. "With the establishment of this fund, we're here to influence what will have the greatest long-term impacts, and share the full extent of our expertise and networks with the companies we believe in."
"I have been engaged with the investment community for the last 10 years or so," Saad told Robotics 24/7. "And I've been working very closely with companies that are trying to fundraise. If you're raising late-stage funding, you have a good shot at finding investors to bet on you because you have some traction. But if it's early stage, where you don't yet have traction and you don't have lots of revenue, most investors will shy away from that."
Founders bring industry experience
Saad is an MIT alumnus and co-founder of MassRobotics, an organization that supports more than 60 resident startups at its shared workspace in Boston. He previously led MassRobotics' partnership program, building relationships with more than 40 corporations.
Saad has worked with entrepreneurs, researchers, and technologists from around the world. He also brings business management and development experience from multinationals Siemens and Nokia. Saad told Robotics 24/7 that he will be leaving MassRobotics after a transition period.
"We are excited that Fady will remain involved in the robotics ecosystem and that his new efforts will complement the amazing work our team has been doing at MassRobotics over the last seven years," said Tom Ryden, executive director of MassRobotics, in a statement to the collective's partners.
General Partner Mark Martin is a Cornell and Tufts University alumnus. He has been an investor, board observer, and advisor for over 20 startups in software-as-a-service (SaaS), Internet of Things (IoT), and sensor technologies. As a vice president of industrial automation, sensors, and IoT at Analog Devices, Martin led an organization with over 600 employees and $1 billion annual revenue.
Martin has extensive merger and acquisition experience, overseeing the sale of two business units valued at over $400 million combined and the acquisition of four businesses valued at over $100 million combined during his tenure at Analog Devices. He scaled the company's presence in Asia while based in Hong Kong for three years. Martin has also served on MassRobotics' advisory board.
"It's only in the last few years that we've seen the arrival of robotics unicorns and funding rounds with multi-billion-dollar valuations as part of an accelerating robotics ecosystem," said Martin. "So this marks an exciting time to be supporting and guiding the next crop of companies in the industry with outsize potential."
"Couple that with the intensifying labor shortage in our key verticals, and you have a strong rationale why the time is perfect for us to launch this new fund," he said. "I have been thinking about this for some time, but it took us maybe a year and a half to bring this together."
"Unlike other venture capital firms, startups can speak with investors who understand their problems," Saad claimed. "We've gotten good feedback from the startup community."
Cybernetix starts with portfolio of six
Cybernetix Ventures said its portfolio companies will benefit from the fund's access to the robotics ecosystem, corporate relationships, industry knowledge and insights, and other finance, business, and technology resources.
The firm has already built an investment portfolio of early-stage robotics and AI companies within its target technology and market sectors:
Despite its Boston roots, Cybernetix Ventures has started with only three startups in Massachusetts—AirWorks, Imago Rehab, and Realtime Robotics, noted Saad. Rugged Robotics is in Houston, Crosscope is in Silicon Valley, and Imperium Drive is in London, demonstrating the firm's openness to startups worldwide, he said.
"After meeting Fady and Mark, I quickly realized the power of their network and experience, and I knew I had to get them onto our cap table," said Derrick Morse, CEO of Rugged Robotics. "We were massively oversubscribed, but it's important to have investors who really know the market and technology, understand the challenges of driving early-stage robotics companies, and can really engage on the important challenges we face as we grow the business."
Seven experts sit on advisory board
"When you look at our advisory board, we've got very impressive, amazing leaders in the industry," said Faad. "I'm honored to have all of them behind us, supporting us, and believing in the need and the mission."
Steve Ricci: former partner at Flagship Ventures, and former president of the New England Venture Capital Association, bringing more than 30 years of early-stage investment experience.
Helen Greiner: co-founder, former chairman, and president of pioneering robotics company iRobot and CEO of Tertill; a recognized leader in the robotics field for more than 30 years.
Peter Wurman: co-founder and former chief technology officer of mobile robot maker Kiva Systems, which was acquired by Amazon and rebranded to Amazon Robotics. He is currently Sony's AI America director and was inducted into the National Inventors Hall of Fame in 2020.
Rick Faulk: CEO of Locus Robotics and former CEO of Quiet Logistics, with more than 30 years of experience in the logistics industry.
Elaine Chen: a well-known roboticist, currently director of the Derby Entrepreneurship Center at Tufts University and former entrepreneur in residence at the Martin Trust Center for MIT Entrepreneurship.
Amar Sawhney: a prolific serial entrepreneur in the medical devices industry, currently CEO of Pramand and chairman and CEO of Instylla. Some of his previous companies were acquired by Boston Scientific, Covidian, and Genzyme.
Dennis Clarke: chairman and CEO of Boston-based commercial real estate development company, Cummings Properties, he has experience in the construction industry.
"There's never been a venture capital team like this before, purpose-built and ready from Day 1 to identify and target the most compelling opportunities at the intersection of robotics, automation, and AI," said senior advisor Steve Ricci. "We already have seen the team putting their wealth of knowledge, experience, and network into their current investments."
About the Author
Eugene Demaitre
Eugene Demaitre is editorial director of Robotics 24/7. Prior to joining Peerless Media, he was a senior editor at Robotics Business Review and The Robot Report. Demaitre has also worked for BNA (now part of Bloomberg), Computerworld, and TechTarget. He has participated in numerous robotics-related webinars, podcasts, and events worldwide. Follow Eugene:
Follow Robotics 24/7 on Facebook
Article topics
Email Sign Up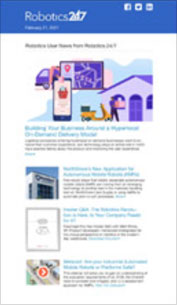 Get news, papers, media and research delivered
Stay up-to-date with news and resources you need to do your job. Research industry trends, compare companies and get market intelligence every week with Robotics 24/7. Subscribe to our robotics user email newsletter and we'll keep you informed and up-to-date.
Business Wire