Dr Wolfgang Bernhard, the member of the Daimler AG Board of Management responsible for Daimler Trucks and Buses, and Winfried Kretschmann, Minister-President of the state of Baden-Württemberg, made a historic journey on Friday (Oct 02, 2015).
As driver and co-driver, they piloted the world's first series-production autonomous truck along Autobahn 8 between Denkendorf and Stuttgart (watch video).
The truck used for the premiere is a standard Mercedes-Benz Actros equipped with the intelligent Highway Pilot system for this test of autonomous driving on public roads.
The truck is registered as a test vehicle according to Sec. 19/6 of the German Road Traffic Licencing Regulations (StVZO). The test organisation TÜV Rhineland previously inspected the vehicle and issued an expert report.
On this basis the Baden-Württemberg state government granted exceptional permission according to Sec. 70 StVZO.
Daimler Executive Board member Dr. Bernhard stated:
"For today's 'maiden journey' there could be no place better than this stretch of the motorway. Not only because Baden-Württemberg was the birthplace of the automobile, but also because Daimler is developing and producing cars that set standards worldwide just a stone's throw from here.

Partially autonomous and autonomous driving indicates that a new age of mobility is dawning. It marks an important step towards more intelligent and above all more efficient use of the available infrastructure. Autonomously driving and networked vehicles improve the flow of traffic and can play a decisive role in helping to avoid traffic jams and relieving the strain on drivers."
"They also boost traffic safety," observes Minister-President Kretschmann. "In view of this, the state government is currently planning to set up a test field for autonomous and partially autonomous driving which will be open to any potentially effective technologies."
"This project enables the technology and infrastructure required in this connection to be tested and examined on motorways, rural and urban roads. It is also intended to promote the development of the legal framework for autonomous driving." said Minister-President Kretschmann.

Dr. Wolfgang Bernhard shows off Daimer Truck's Future Truck 2025 that uses the maker's Highway Pilot System to drive autonomously
"Today's premiere is a further important step towards the market maturity of autonomously driving trucks – and towards the safe, sustainable road freight transport of the future. During the world premiere of our Freightliner Inspiration truck in the USA in May, we announced that the Highway Pilot would soon also be tested on German roads – and just five months later we have achieved this interim goal. I am most grateful to the state government of Baden-Württemberg, which has given us so much active support in this undertaking. Safe testing in real traffic is absolutely decisive for the development of this technology to market maturity. We are now able to proceed with this," said Dr. Bernhard.
Highway Pilot allows semi-autonomous driving – driver retains full control
The version of the Highway Pilot installed in today's world-premiere Actros allows semi-autonomous driving. This means that while the Highway Pilot is able to steer the truck by itself on motorways, the driver retains full responsibility, needs to monitor the traffic at all times and must be able to intervene at any time. The Highway Pilot can therefore be compared to the autopilot commonly used in aviation.
The system includes front-mounted radar and a stereo camera, as well as well-proven assistance systems such as Adaptive Cruise Control +. The technology was adapted for use on public roads. Smooth interaction between the components was extensively tested. To this end the Highway Pilot has already absolved around 20,000 kilometres on test routes in Germany and the USA.
Redundancy in the sensor systems makes test operations particularly safe. The Highway Pilot is also able to respond appropriately to unforeseen circumstances. Should the weather or the road markings deteriorate excessively, the system prompts the driver to take over the steering again. The driver has sufficient time to do this. Should the driver still fail to react to the audible and visual signals of the Highway Pilot, the truck is automatically brought to a safe stop.
Shaping Future Transportation – Daimler Trucks at the forefront
Daimler Trucks leads the field as a pioneer in autonomous driving. In July 2014 the world's largest truck manufacturer presented the Mercedes-Benz Future Truck 2025 in Magdeburg. This concept for the truck of the future demonstrated that Daimler Trucks possesses all the technologies required for autonomous driving. Only just under one year later, in May this year, the Freightliner Inspiration Truck celebrated its world premiere. In Nevada, USA it received the world's first road approval for an autonomous truck.
Both the Mercedes-Benz Future Truck 2025 and the Freightliner Inspiration truck are concept vehicles – but with today's Mercedes-Benz Actros equipped with the Highway Pilot, Daimler Trucks has now sent a series-production autonomous truck onto public roads for the first time.
"We are in a unique position among manufacturers in that we are able to implement leading technologies across all business units and brands. This means that we can drive innovation forward all around the globe," says Dr Bernhard. "Our claim is 'Shaping Future Transportation'. And with today's premiere we are once again impressively backing up this claim."
Autonomously driving trucks offer considerable advantages
Autonomous driving has considerable advantages, especially in the road freight transport sector. Firstly, it improves safety: the Highway Pilot system never suffers fatigue or becomes distracted – it is always 100 percent active. A study by Daimler Trucks has also shown that driver fatigue decreases by 25 percent if they are relieved of monotonous lane-keeping and can focus on other tasks. This will become possible in further development stages of autonomous driving.
Secondly, autonomous trucks improve efficiency: thanks to optimum gearshifting, acceleration and braking, they consume less fuel – which in turn reduces CO2 emissions. Daimler Trucks expects savings of up to five percent from this. The international consultancy Frost & Sullivan even estimates a reduction of around seven percent.
Thirdly, autonomously driving trucks are more attractive workplaces: the driver's ability to leave a great deal of the route to the Highway Pilot greatly reduces stress in the cockpit. Future technology developments will also make it possible for drivers to turn their attention to interesting side activities – e.g. completing documentation on a tablet PC.
These advantages really make themselves felt, as trucks cover very high mileages: in Germany, long-distance trucks cover an average of 130,000 kilometres per year – while passenger cars reach an average of 14,000 kilometres.
Politicians and government bodies must now create the necessary regulatory framework for autonomous driving
Taking the Mercedes-Benz Actros with the Highway Pilot onto the road required special permission from the state government of Baden-Württemberg. With this permission, the truck is now able to drive semi-autonomously on motorways at speeds of up to 80 km/h nationwide.
"We will be making extensive use of this opportunity to test our Highway Pilot in real traffic conditions," Dr Bernhard announced.
He reiterated the need for politicians and government bodies to create the necessary regulatory framework, so that in the future autonomous trucks will also be able to drive in Germany without special permission. To enable the Highway Pilot technology to be brought to market in the next few years, it is first necessary to incorporate the revised Vienna Convention into German law, according to Dr Bernhard. This is a precondition for the driver being able to leave the steering to the truck's assistance systems. This is where the Federal Ministry of Transport needs to become active.
Secondly, it is now necessary for the Federal Ministry of Transport and the German Automobile Licensing Authority to initiate the certification process for approval of series-production autonomous trucks.
Thirdly, Brussels needs to adapt Directive ECE R79, which currently only allows autonomous driving at speeds up to 10 km/h.
Dr Bernhard expressly welcomed the federal government's strategy "Automated and networked driving" presented in mid-September and the test field for autonomous driving which is being planned by the state government of Baden-Württemberg. The aim must be for Germany, where trucks first took to the roads, also to be where the trucks of the next generation first take to the roads.
Related: Possibility of Driverless Trucks Offers Hope for Truck Driver Crisis

Article topics
Email Sign Up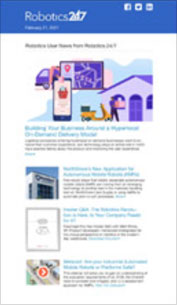 Get news, papers, media and research delivered
Stay up-to-date with news and resources you need to do your job. Research industry trends, compare companies and get market intelligence every week with Robotics 24/7. Subscribe to our robotics user email newsletter and we'll keep you informed and up-to-date.