After Black Friday and Cyber Monday comes the rush for holiday shipping. Automation offers fast and accurate e-commerce order fulfillment. Flexibility and addressing customer needs are key characteristics to look for in warehouse robotics, according to FORTNA.
Atlanta-based FORTNA was recently formed from the merger of materials handling systems integrator MHS Global and warehouse software provider Fortna Inc. The combined company said it offers customers technologies to "optimize operations in the face of continual upheaval."
Stephen Dryer, senior global product manager at FORTNA, discussed with Robotics 24/7 how automation can help supply chains cope with peak demand.
COVID-19 continues to reshape retail
We saw a spike in e-commerce during the COVID-19 pandemic, but some activity has shifted back to brick-and-mortar retail. How does that affect retailers and warehouse operators?
Dryer: The trend of past 20 years has been toward more online and omnichannel activity, then COVID accelerated everything. I have spoken with many customers that had built their networks for three to five years, but that capacity got consumed within a few months.
Companies have a choice of more automation, expanded facilities, or networking to add capacity. Five to 10 years ago, they could just add more labor, and three years ago, some customers still thought that labor pressures would subside.
Now, it's well-understood that that's not going to change. Labor is highly scarce. The need for automation is not going away.
Have trends like reshoring of manufacturing increased, and what do they mean for supply chains?
Dryer: In the immediate term, customers can't follow a just-in-time model anymore. To rely on the warehouse or DC [distribution center] in a tight time frame means more storage capacity.
The micro-fulfillment trend is putting capacity closer to population centers and having a fast way of processing orders to consumers.
The shift from brick and mortar has changed dramatically since COVID. I recently bought a couch, and I went to a store to see and feel it. I went to get rung up, and the associate mentioned a configuration tool on the store's website.
I got on my phone and reconfigured the couch. The site told me to get some parts in store and others shipped. I got them bundled, which took a little longer. This is a good example of merging the online and in-store purchasing experience.
There are still some challenges—it needs to be more omnichannel, more dynamic. Retailers need to invest in software for both the front and back ends to give the same experience.
Competition for workers intensifies
What are the common holiday challenges facing warehouses and distribution centers? Has anything different emerged recently?
Dryer: One big thing I've been seeing is that there's more competition now for warehouse jobs and other jobs in the economy, making it harder to get people to do the seasonal work.
It's typically demanding work—heavy lifting, no temperature control, long hours. Once, you could expect a higher wage, but it's now competing with other service-type jobs that are a bit less taxing and more comfortable.
Now, there's a greater shortage of labor. I saw a sign at a fast-food restaurant that was offering a starting salary similar to that of a DC down the street—it's not sustainable.
Companies have to get more creative with how they hire. If they want to hold onto people, they need to offer more fulfilling work. This drives a greater need for automation.
Once in place, automation becomes a draw for talent, providing a better career path for those who want to develop their skills and widen their horizons.
Distribution centers drive demand
Are there any particular types of automation in high demand in distribution centers this year? Have new products helped with certain applications?
Dryer: We have quite a bit of chaos and randomness in warehouses and DCs that made them harder to automate in the past. Robots couldn't handle that variability.
Better machine vision, grasping, manipulation, artificial intelligence and machine learning, and mobility make more possible today.
Some newer products in high demand are robots that fit within a defined task that a person would be doing. This includes collaborative robots and autonomous mobile robots [AMRs].
[At FORTNA], we're very familiar with induction onto sorting systems. Robots designed to fit in the same physical footprint as space people occupy today can help with ROI [return on investment] and the thought process of customers. They don't have to rebuild a facility or rethink workflows.
Induction is a task that's good by definition for robots. It's highly repetitive, mundane, takes four to eight hours, and doesn't require temperature control.
On the mobile robotics front, there has been a large uptick over an extended period. "Low-hanging fruit" includes long-haul transport, point-to-point materials handling, ASRS, directed picking, and some goods-to-person [G2P] automation.
What is something that many warehouse operators don't yet know about the potential of robotics? Are there common misconceptions? What can go wrong?
Dryer: [At FORTNA], we think putting in a robot as a point solution is a bad approach. Rather than an island of automation, it should instead be considered as part of integrated solution, with upstream and downstream processes and coordination with other workflows in facilities.
To be successful, think of the bigger picture. As for educating the market, not all robotics applications have gotten through Gartner's "trough of disillusionment," but mobile robots are at the "slope of enlightenment."
While robots are ready for prime time, the market may not know they've arrived. For example, companies may not know about robotic induction or have had bad experiences in the past. This represents a challenge that robotics providers must overcome.
Another thing to keep in mind is that the latest robots are not traditional pieces of automation. They're not "set and forget." If they're bought as pure capex [capital expenditure], it's a massive missed opportunity. Robotics as a service [RaaS] is a more iterative approach and more of an opex [operational expenditure] play.
Software is the true enabler here. With machine learning opportunities, every time an advanced robot interacts with its environment, it should be getting smarter. You need a feedback loop to get the most out of automation.
RaaS and customer expectations
Speaking of RaaS, what do you mean—leasing, renting, etc.?
Dryer: RaaS can be configured in different ways. First and foremost, it could just be the software or vision portion of a solution. This is more of a SaaS, or software-as-a-service, play, in my opinion.
Alternatively, it could be the entire robot in an as-a-service model. It might be a mix of some capex and opex to minimize initial cash outflow and give visibility into ongoing costs. If you combine the full service of robots including replacement under a single fee, that is what I consider true RaaS.
Beyond this, there are opportunities for truly aligning business outcomes for both supplier and end user by pricing for productivity. That's ideal for maintaining uptime and meeting the increasing volume demands that are being placed on end users' networks.
How interested are your customers in RaaS? What capabilities are they looking for?
Dryer: We still see more of a preference for capex, but it's shifting to RaaS and moving performance enhancements out.
Among the common terms in service-level agreements is the rate of intervention or expectations for human-machine interaction. However smart they may be, robots won't be able to solve all problems, and there will be edge cases. We try to build in as much exception-handling intelligence as possible.
For example, for sorter induction, we do things like pick confirmation. By checking orientation and oversize items, there's an opportunity to make a correction before the next stage.
In the same way, there are limitations due to physics. We've implemented reject mechanisms to remove items outside what the robot can handle. They're routed to manual workstations in a way that doesn't slow down the operation.
Last is human intervention, which we try to minimize even further by giving remote access to robots. With remote access, technicians can often give robots a nudge in the right direction, allowing them to get back to autonomous operation.
If all that fails, an alarm is thrown, and a person on site must help. We set up our solutions so exceptions are handled in the best possible ways.
Looking ahead to flexibility, FORTNA goals
With supply chain challenges, interest has risen in micro-fulfillment centers and bringing inventory closer to consumers. How can robots enable this?
Dryer: Robots are integral. Using mobile robots integrated with lifts for case and tote storage and retrieval on traditional racking—this approach is very open-ended and flexible. It allows for scaling, and there's no single point of failure. It's ideal for customers that don't want to make massive upfront investment but want to scale.
There's also picking with configured ASRS and micro-fulfillment systems, combined with other automation for fulfillment out to the shipping operation. There are a lot of opportunities in that whole workflow to automate.
Operators should also think about what's appropriate to automate from Day 1, which is different from two to three years down the line. What's the minimum level of automation that makes sense upfront? Then design for growth.
While things are working decently as of today, natural, economic, or geopolitical crises are never far away. Therefore, supply chains cannot be allowed to continue to be brittle.
As the new robotics lead at FORTNA, what are some of your goals?
Dryer: My goal to articulate the value of robotics. Many operations are manual today, but there are lots of low-hanging fruit that can make a short-term impact for lots of our customers.
Beyond that, I'm focusing on answering difficult challenges in the market, such as labor challenges, with solutions that enable more efficient, more flexible operations. In the long term, the dream of every product manager in robotics is a completely lights-out operation. It's a ways off, and there are a lot of steps between now and then.
The marriage between MHS and Fortna is working well. MHS brings a lot of product capabilities and experience on the parcel side. Fortna has great software, distribution, and fulfillment experience and scale. This puts combined entity in a good position to grow in North America and other geographies.
THL [Thomas H. Lee Partners L.P.] and the Abu Dhabi Investment Authority [ADIA] have a strong desire to invest in and build our product portfolio—robotics is a big part of that, along with software and enabling technologies.
Prepare now for next season, returns
When should warehouses and DCs begin peak season preparation? What can they do in the shorter term? And what requires more time?
Dryer: It has to start with the initial system design. It should be done with someone with deep experience in solutioning, what systems need over their lifespans, planned out over years. It's important to find a partner and get going.
We've got COVID in our collective memories, but more challenges are looming on the horizon. Supply chains need to build in flexibility with robots and decrease reliance on manual processes.
Facilities should also leave room for more robots in the future. While lots of applications are beyond robot capabilities now, there should be placeholders for future automation.
There are a lot of areas—such as receiving and shipping—where consideration could be given to pulling a person out and putting a robot in, doing things differently in terms of layout. In the shorter term, we can do an evaluation of customer operations and develop solutions to suit.
How much can robots help with returns?
Dryer: That problem is not getting any smaller. Most facilities make money by getting product out the door, but some business models are set up with the intent that customers will send back a significant portion.
We've worked on that problem. Our approach is to use a combination of mobile robots and routing software. We've made progress on that front, developing systems for fluid loaded trailers.
They include conveyors inducting items into the building, diverting to mobile robots that move at the pace of what's being received, and moving items to workstations for processing.
In this example, there's no hardened conveyance between receiving and returns processing, providing a great deal of flexibility in how items are routed. There's also no single point of failure. The system can handle disruptions, which is ideal for larger items or high-value electronics.
This is not groundbreaking; it's just putting together existing tech into new workflows and orchestrating the moving parts with best-in-class software and machine control.
About the Author
Eugene Demaitre
Eugene Demaitre is editorial director of Robotics 24/7. Prior to joining Peerless Media, he was a senior editor at Robotics Business Review and The Robot Report. Demaitre has also worked for BNA (now part of Bloomberg), Computerworld, and TechTarget. He has participated in numerous robotics-related webinars, podcasts, and events worldwide. Follow Eugene:
Follow Robotics 24/7 on Facebook
Article topics
Email Sign Up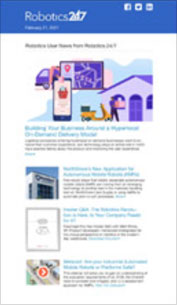 Get news, papers, media and research delivered
Stay up-to-date with news and resources you need to do your job. Research industry trends, compare companies and get market intelligence every week with Robotics 24/7. Subscribe to our robotics user email newsletter and we'll keep you informed and up-to-date.
FORTNA