Not only has COVID-19 changed patient expectations, but it has also affected surgical robotics development. Galen Robotics Inc. today announced that it has completed the first close for an "oversubscribed" $15 million Series A round. The company said it plans to use the funding to complete its final robot prototype and submit it to the U.S. Food and Drug Administration.
Galen Robotics said its microsurgery platform will aid physicians during minimally invasive procedures with little disturbance to current surgical workflows. The company designed its collaborative surgical robot to aid in delicate or intricate procedures by providing surgeons relief from tremors and fatigue and increasing precision.
Johns Hopkins research goes to market
Founded in 2016, Galen Robotics is commercializing surgical robotics research at Johns Hopkins University in combination with big data analytics from Silicon Valley. The company moved from San Jose, Calif., to Baltimore shortly before the COVID-19 pandemic.
"Dr. Russell Taylor, whose IP [intellectual property] is at the core of a lot of surgical robotics, runs the lab at Johns Hopkins," said Dave Saunders, co-founder and chief technology officer of Galen Robotics. "Doctors asked for robots for complex, soft-tissue procedures, which gave rise to a Ph.D. project and our first prototype in 2016."
"When you look at the history of surgical robots, there are two veins of early research into stable navigation," Saunders told Robotics 24/7.
"The first is a very stable platform, where the features of the body are static for the length of the procedure, such as Lasik eye surgery," he explained. "They could also see large bones or mount tacking devices on them, and there are eight robots for just the spine on the market today."
"The second is laparoscopic surgery, where you make a small hole and fill the abdomen with gas and then look around," added Saunders. "The first procedure was done in 1989, and Intuitive Surgical's da Vinci system helped expand options by making such surgery easier. Even with 80 different robots on the market today, there's still a ton of white space in the field."
Galen Robotics designs for stability, portability
How is Galen Robotics' system different from other surgical robots? "Ours is designed to fit in literal and metaphorical spaces where other robots can't go today," replied Saunders. "It's an optimization issue."
"Our system is unique in that it takes surgical instruments that a surgeon would already use—starting with laryngeal instruments that are 30 to 35 cm [11.8 to 13.7 in.] long—to, say, remove a polyp from vocal cords," he said. "It's not stationary like bone—these tissues are still moving and are covered in mucus. Even the surgeon's heartbeat can move the instrument at the end of the line."
"Residents doing surgery with a microscope are trying to grab a piece of tissue 1 mm across with 1 to 2 mm vibration," Saunders noted. "The list is long of patients, like famous singers, where the procedure has caused more damage than repair."
The Galen robot balances stiffness for precision with portability. The "upside-down" delta robot includes one passive rotating and five active degrees of freedom.
"It does not take the surgeon away for remote control, like laparoscopic, but we're already at the head and neck, where you can fit only so much equipment or people," he said. "Now, the robot holds the instrument with the surgeon, reducing the cognitive load so they can focus on the patient."
FDA approval and more indications to come
Sixteen surgeons are currently using Galen's robots on cadavers at Johns Hopkins and Harvard University. "Most of the training is on the touchscreen interface, and they're picking it up very quickly," said Saunders.
The company has submitted its system to the FDA for consideration and hopes to gain clearance soon, he said.
Surgeons from Harvard, Johns Hopkins, Stanford University, the University of California San Francisco, the Keck School of Medicine at the University of Southern California, and Brigham and Women's Hospital have expressed interest in using the robot after clearance.
Galen's initial indications will focus on laryngological procedures. Future clearances will expand the scope of the platform into ENT (ear, nose, and throat), neurosurgical, spinal, and cardiothoracic procedures.
"Physicians requested a platform with a great deal of stability with a low cost and that can be wheeled from one OR [operating room] to another," said Saunders. "For the volume of ENT, hospitals can't justify the cost of a fixed, $2 million robot."
"As a platform, it could move to other areas of the body simply by holding other instruments," said Saunders. "We're already working with surgeons in five different disciplines for other applications. Since 90% is software and will include cloud services, there will be plenty more capabilities over time."
"We've worked with pediatric neurosurgeons who deal with 25-week fetuses in the womb," he said. "It's extremely high-risk surgery, and we're excited by the possibilities."
Pioneering surgical robotics as a service
Galen Robotics described itself as a pioneer in "Digital Surgery-as-a-Service" (DSaaS), similar to the software-as-a-service or robotics-as-a-service (RaaS) model, largely in response to unmet hospital needs.
"Because the pandemic wreaked havoc on hospital profits with elective surgeries being postponed, we had to pivot our business model from hospitals paying upfront for capital equipment to 'as a service,'" stated Bruce Lichorowic, president and CEO of Galen Robotics. "We will be the first robotic company to launch using an on-demand business model."
Galen Robotics said its DSaaS approach will "level the surgical playing field by erasing large capital expenditures associated with today's surgical robots." The company claimed that it is the first to use a "per-usage disposable model."
DSaaS will provide a new "way to capture surgical data and promote continuous improvements of surgical techniques, outcomes, and the training of residents," said Galen Robotics.
Fundraising continues
Galen Robotics' Series A round included investment from Ambix Healthcare Partners in Menlo Park, Calif.
"It was an easy and quick decision for our firm to lead the Galen Series A funding round," said Dr. Arron Berez, managing director at Ambix Healthcare Partners. "We watched this team take an early surgical robotic prototype from Johns Hopkins University's Robotics Lab, develop it into a potential game changer, and submit it to FDA, all during a pandemic."
"Add to that the current state of supply chain issues and economic uncertainty, and we're very impressed with how this team was able to consistently execute and hit their milestones," he said.
Galen Robotics also plans to use the Series A to develop a clinical sales team, expand engineering, grow product development, and build surgeon training programs.
To accommodate anticipated demand for its new technology and manage the COVID-affected supply chain, the company has opened a second close for the Series A funding round for an additional $5 million. Galen Robotics said it expects the second close to go quickly, given its progress.
About the Author
Eugene Demaitre
Eugene Demaitre is editorial director of Robotics 24/7. Prior to joining Peerless Media, he was a senior editor at Robotics Business Review and The Robot Report. Demaitre has also worked for BNA (now part of Bloomberg), Computerworld, and TechTarget. He has participated in numerous robotics-related webinars, podcasts, and events worldwide. Follow Eugene:
Follow Robotics 24/7 on Facebook
Article topics
Email Sign Up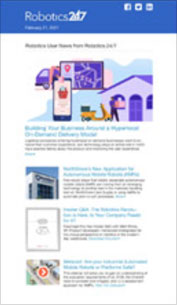 Get news, papers, media and research delivered
Stay up-to-date with news and resources you need to do your job. Research industry trends, compare companies and get market intelligence every week with Robotics 24/7. Subscribe to our robotics user email newsletter and we'll keep you informed and up-to-date.
Galen Robotics