German Bionic today announced the fifth generation of its Cray X exoskeleton. The Augsburg, Germany-based company said its new smart power suit includes several safety, robustness, and productivity enhancements and will ship worldwide early next year.
"The fifth-generation Cray X underscores our technology leadership in the massively growing international exoskeleton market," stated Armin G. Schmidt, CEO of German Bionic. "The innovations we are announcing today pave the way for more people and businesses throughout the world to benefit across a wider range of use cases and industries."
The latest version of the wearable device includes active walking assistance, supporting both the legs and back for up to 66 lb. (30 kg) of lifting movement while reducing fatigue. It also features IP54 waterproofing for wet or dusty environments, said German Bionic.
In addition, the carbon-fiber Cray X has a more powerful 40 V battery and a completely revamped energy management system, the company said.
Updated Cray X includes AI, IoT
German Bionic added that its Smart Safety Companion applies artificial intelligence to provide an early warning system for ergonomics. With a new onboarding assistant, users can get started working with the Cray X faster, said German Bionic.
"AI is the basis for the ongoing development of exoskeleton technology and the future of human augmentation," said Norma Steller, head of Internet of Things (IoT) at German Bionic. "The German Bionic cloud-based platform for exoskeletons is unique in the industry, providing us with the data necessary to advance machine learning, cultivate AI applications, and continue driving our R&D efforts to new levels. With the fifth-generation Cray X, we have taken further significant steps in this direction."
The award-winning IoT-connected Cray X is already in use at companies such as BMW, Ikea, and France-based DPD, which employs 48,000 people and handles close to 2 billion parcels annually, said German Bionic.
10 questions with German Bionic
The company said its latest exoskeleton will available for demonstration at CES in Las Vegas on Jan. 5 to 8, 2022. Schmidt replied to the following questions from Robotics 24/7 about the fifth-generation Cray X's capabilities:
If this is the fifth generation of your wearable device, how often do you release revisions?
Schmidt: Yes, this is the fifth-generation Cray X. Revisions appear at no set interval but are based on new innovations.
How much does the Cray X weigh?
Schmidt: Around 7 kg—about 15.4 lb.—depending on battery, straps, and any other accessories
How long can it operate on a single battery charge? Can a worker comfortably wear it for an entire shift or workday?
Schmidt: The Cray X uses standard 40 V battery packs. A full battery should last around four hours. When needed, battery packs can be hot-swapped without the need to power down. Yes, workers can wear and use the Cray X for entire shifts.
How does the ergonomic safety system work—does it detect the posture of the exosuit, or are there sensors on the operator?
Schmidt: The Smart Safety Companion uses data it collects from the device. No sensors need to be fitted to the person whatsoever.
How far would users typically walk with this device?
Schmidt: Depends on the use case – so there is no typical answer. We have use cases where we see people walk 7 to 8 km [4.3 to 5 mi.] a day, we also have use cases where people walk not even 1 km [0.6 mi.] a day.
The Cray X is designed to provide support when lifting to relieve the lower back and to support walking by gently pushing the upper legs in forward movements.
Can you give some example use cases where German Bionic's exoskeleton enables work that would otherwise be taxing?
Schmidt: In any situation where manual handling is required as part of the regular work, especially in logistics environments, but also in construction and manufacturing.
Was the IP54 waterproofing in response to requests from existing customers, or is it intended to help widen exoskeleton usage in new areas?
Schmidt: Both. The IP54 waterproofing helps existing customers to use the Cray X outdoors. We also anticipate the dust and waterproofing will expand the areas in which the power suit can be deployed.
How much training is necessary to use the Cray X?
Schmidt: Minimal. Using the Cray X is very intuitive. Nevertheless, it is still important that operators familiarize themselves with all aspects of the device. This is either done with a German Bionic onboarding expert on-site or by using the integrated onboarding assistant.
What sorts of IoT data are sent to the cloud for analysis and management supervision? Does it include the ergonomic information?
Schmidt: The Cray X sends its telemetry data to the German Bionic Cloud. There, the telemetry data is processed and can, for example, generate ergonomic information which is used for the Smart Safety Companion.
Is the software and hardware provided as a service? How much or what levels of support are available?
Schmidt: The Cray X is generally provided to customers via a RaaS [robotics-as-a-service] model.
About the Author
Eugene Demaitre
Eugene Demaitre is editorial director of Robotics 24/7. Prior to joining Peerless Media, he was a senior editor at Robotics Business Review and The Robot Report. Demaitre has also worked for BNA (now part of Bloomberg), Computerworld, and TechTarget. He has participated in numerous robotics-related webinars, podcasts, and events worldwide. Follow Eugene:
Follow Robotics 24/7 on Facebook
Article topics
Email Sign Up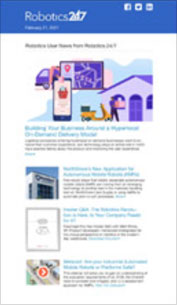 Get news, papers, media and research delivered
Stay up-to-date with news and resources you need to do your job. Research industry trends, compare companies and get market intelligence every week with Robotics 24/7. Subscribe to our robotics user email newsletter and we'll keep you informed and up-to-date.
German Bionic