As more operators of warehouses and other facilities adopt automation, its essential that they closely monitor their robot fleets to ensure they get the most value out of them.
The first step is to determine an initial expected return on investment (ROI) prior to the introduction of autonomous mobile robots (AMRs) into the environment. Users must then keep close tabs on performance to ensure that calculation isn't deteriorating over time, and to know what changes to make if the ROI figure starts decreasing.
"A lot of companies are embracing robots because of labor shortages – anything from distribution centers for e-commerce to logistics and manufacturing," said Florian Pestoni, CEO of InOrbit Inc., which provides a cloud-based robot operations platform. "They're all feeling the need to keep up with demand."
"Sometimes, there's something even more fundamental than ROI, but of course you want that investment to have a positive return," he added. "What we've seen is, after the initial deployment, you still have a lot of work to do. You still have to fine-tune the operation; you have to refine it over time."
Set benchmarks for robot fleets
A mobile robot user needs to establish capacity, productivity and other benchmarks before a deployment begins, said Matthew Cherewka, director of business development and strategy at AMR and orchestration software provider Vecna Robotics.
"Each vendor, as part of the solution design phase, should be able to give you an ROI estimate ahead of time, something that you should be aiming toward," he said. Simulation tools can help with that initial ROI estimate, added Cherewka.
"It's a balancing act with hard costs and soft costs," said Matt Charles, sales director for the U.S. Midwest and Canada at Mobile Industrial Robots ApS (MiR).
MiR offers an ROI calculator designed to help prospects and customers determine what hard costs of an installation would be. These include the tasks a company is looking to automate. For example, this could be a task typically performed by a human and a forklift, or the movement of a cart along a defined distance a given number of times per day.
"Typically, we're seeing an ROI of 12 to 18 months," said Charles. As a company's fleet grows, the positive returns come more quickly, he noted. "There's not as much incremental work for a second robot, a third, etc."
"It can be challenging for companies to calculate their burden rate," Charles acknowledged. "If they're not familiar enough with our technology, it can be difficult to understand how many robots they're going to need, and what that cost is going to be. That's a big part of budgeting, whether you are going to need one robot or 10. That's where we come in with our ROI calculator."
Beyond its initial online ROI calculator, MiR also offers more advanced calculators that go much deeper, calculating distance to be traveled, how fast the robot can travel, the number of trips per hour, and other granular details.
MiR will also bring a robot to a facility to run it through the proposed task to help confirm the ROI calculation.
The soft costs are much more difficult to calculate because they include factors that are hard to quantify such as the cost of labor. Using an hourly wage (plus any benefits) doesn't work for most because workers may be unavailable, regardless of the pay rate.
Other soft costs include the cost of human resources to interview and hire workers and and manage their compensation.
RaaS and robot ROI
The ROI calculations are more accurate today as companies move to robotics-as-a-service (RaaS). This model allows users to consider mobile robot expenses as ongoing operating expenses rather than capital expenses to be amortized over time, according to Cherewka.
Another advantage of today's mobile robots is that they are connected devices that can provide their operating status and other key data in real time, he said. This is also key to monitoring and maintaining service levels.
"It gives you greater visibility into how your operations are working in terms of flows or providing heat maps," Cherewka said. "We take that data, and we can remotely control the robots. So when they get into an error state, we can solve the problem remotely instead of having a [more costly] physical interaction."
Integrator JMP Solutions focuses on a slightly different calculation—overall equipment efficiency (OEE). It uses proprietary technology to measure how an asset is performing against performance benchmarks, said Andy Batter, director of operations at JMP. "We've tweaked OEE for mobile assets," he said.
JMP's system is built on the Ignition industry-standard software, which allows third-party module development. It can also conduct OEE calculations for a fleet of mobile robots, even if they come from different suppliers, Batter said.
Biggest mistakes include 'analysis paralysis'
One of the biggest mistakes that mobile robot users make in trying to determine and manage the ROI of their fleets is "analysis paralysis," observed InOrbit's Pestoni.
He recommended that businesses examine their investments with customers and partners from all angles before moving forward.
Another mistake is failing to change processes to take advantage of mobile robot capabilities, Pestoni said.
"It's like a rotary phone and a smartphone," he said. "You can do much more with a smartphone."
Watch your KPIs
After the initial deployment, the three key performance indicators (KPIs) to closely monitor are robot utilization and the robot state or status. This includes the percentage of time a robot is in each state and its history, such as if it's regularly running into obstructions or people are crossing its path, said MiR's Charles.
"Ideally, you're in the executing stage a majority of the time," he explained. "If you are seeing the robot is sitting idle 5% of the time, you probably have too many robots, so you may want to start adding additional applications for it."
Battler recommended monitoring similar metrics, such as the ratio of availability compared with production time. Another metric is the ratio of actual speed compared to "sticker" speed and quality, as well as how many "missions" were successfully completed compared with the total number of missions.
JMP's proprietary software makes those calculations in real time, producing reports to show if the numbers are improving or declining, with sufficient detail for the user to drill down to determine what's causing any KPI changes.
Another KPI Cherewka recommended monitoring is the percentage of tasks that the mobile robot completes on time.
Managing mobile robot fleets may seem complicated, but suppliers and third-party software providers are making all this data more available for sound decision making.
About the Author
Phil Britt
Britt owns S&P Enterprises and is a technology writer who lives in the greater Chicago area. In addition to Robotics 24/7, he has written for financial services and business publications, including magazines, newsletters, conference dailies, and Web sites.
Follow Robotics 24/7 on Facebook
Article topics
Email Sign Up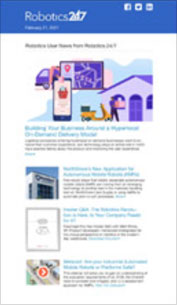 Get news, papers, media and research delivered
Stay up-to-date with news and resources you need to do your job. Research industry trends, compare companies and get market intelligence every week with Robotics 24/7. Subscribe to our robotics user email newsletter and we'll keep you informed and up-to-date.
Getty Images