Most warehouses are just beginning to automate, but those that have are already reaping the benefits. Locus Robotics Corp. today announced that its mobile robots have surpassed 1 billion picks. The Wilmington, Mass.-based company noted that this achievement came only 59 days after it recorded 900 million units picked.
"Reaching our 1 billion pick milestone underscores the critical business value that Locus' proven technology brings to our customers around the world every day," stated Rick Faulk, CEO of Locus Robotics. "The need for cost-efficient robotics automation is a must-have as e-commerce volumes continue to increase and the labor shortages persist."
"It's less about the growth of customers but more a statement of Locus' value to the marketplace," said Al Dekin, co-founder and chief revenue officer of Locus. "Every pick represents a more efficient pick."
LocusBots log millions of miles
Founded in 2014, Locus Robotics said its multi-bot system uses autonomous mobile robots (AMRs) that collaborate with human workers to double or triple piece-handling productivity with less labor than traditional systems. The company claimed that its technology can help brands, retailers, third-party logistics providers (3PLs), and speciality warehouses meet increasingly complex fulfillment demands.
"We want to understand prospective customers' challenges," Dekin told Robotics 24/7. "Sure, it's about the availability and cost of labor, but ultimately, most customers are challenged with getting product into the hands of their end customers. Throughput and capacity are a huge part of the conversation."
In addition, Locus said existing warehouses can easily integrate its LocusBots into their infrastructures without disrupting workflows. Robotics 24/7 noted that the company was among the 10 mobile robot providers to watch this year.
"Our advantage is that we use robots to reduce unproductive walking," said Dekin. "Our ability to assess operations and how to optimize them leverages our experience in the industry."
Locus said its AMRs took 1,542 days, or 4.2 years, to pick its first 100 million units and just 59 days for the last 100 million picks. They passed the 500 million pick mark in August 2021.
LocusBots have traveled more than 17 million miles in customers' warehouses, the equivalent of more than 670 times around the Earth or 35 round trips to the Moon, the company said.
More than 200 sites around the world have deployed Locus' systems, with as many as 500 LocusBots per site. Locus added that its deployments include large-scale greenfield and brownfield sites, and multi-level mezzanine installations.
Locus has visibility into billionth pick
The billionth pick was made at a major home-improvement retailer warehouse in Florida. The item picked was a cordless rotary tool kit.
The milestone pick was made just milliseconds ahead of two other picks: a scented candle from a home goods warehouse in Ohio and a running jacket from a major global fitness and shoe brand in Pennsylvania.
"Its not just executing the process, but also developing an understanding of that process," said Dekin. "There are lots of opportunities to capture data, but Locus has done well with capturing and filtering that information so operators can use our data to make decisions on a daily or hourly basis."
"Our software-driven capability provides visibility into operations on the back end that hasn't been available until now," he said. "We've been growing our data science team, which is important to the well-being of our customers. Our support is infrastructure-light—unlike with traditional automation, we don't have to have engineers on site for 24/7 support."
Vision for expansion
"This latest milestone demonstrates both the incredible growth that Locus Robotics and the AMR industry have achieved, and also proves the feasibility of retailers and logistics companies' relying on robotic picking technology" said Ash Sharma, senior research director at Interact Analysis. "One billion picks is an incredible milestone and is testament to Locus Robotics' innovation and vision over the past few years."
"The acceleration to 1 billion picks shows that we now have customers using robots in multiple sites," Dekin observed. "We've then earned the right to get more customers. We've also earned the right to expand geographically, with a strong presence in North America and Europe, and we've gone live with our first site in APAC [Asia-Pacific]."
"Even within a single site, we've had to earn the right to expand," he added. "When we first started the business, we were excited to get 10 robots in a building and then when they got to a new zone or floor. We've now gone to sites with hundreds of robots on multiple floors. With each step function in growth, there has been an increase in capability to support it."
Consumers and retailers look ahead
As more shoppers continue to buy online and as businesses prepare for another holiday season, retailers and warehouse operators are increasingly turning to AMRs to meet growing demand. They also hope to avoid the risk of losing valuable customers, said Locus Robotics.
The company said its robots can help operators meet higher order volumes and increasing consumer demand for e-commerce, retail, omnichannel, and manufacturing order fulfillment. Locus' customers include CEVA, DHL, Boots UK, GEODIS, Whiplash, Saddle Creek, Quiet 3PF, and Radial.
They have been able to improve productivity and improve workplace egonomics, as well as reduce recruitment, training, and retention costs, it said. Locus said it is continuing to look to support new and existing applications in response to customer demand.
"The next big step for Locus is to leverage the acquisition of Waypoint Robotics," said Dekin. "We've developed a pipeline into new use-case opportunities. We can now do things beyond each picking to case picking, using the management software developed for our first set of solutions. We'll continue to listen to our customers."
About the Author
Eugene Demaitre
Eugene Demaitre is editorial director of Robotics 24/7. Prior to joining Peerless Media, he was a senior editor at Robotics Business Review and The Robot Report. Demaitre has also worked for BNA (now part of Bloomberg), Computerworld, and TechTarget. He has participated in numerous robotics-related webinars, podcasts, and events worldwide. Follow Eugene:
Follow Robotics 24/7 on Facebook
Article topics
Email Sign Up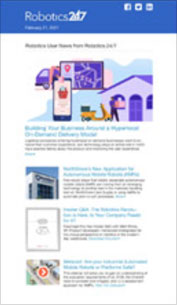 Get news, papers, media and research delivered
Stay up-to-date with news and resources you need to do your job. Research industry trends, compare companies and get market intelligence every week with Robotics 24/7. Subscribe to our robotics user email newsletter and we'll keep you informed and up-to-date.
Locus Robotics