As the director of the Center for Advanced Manufacturing for the Massachusetts Technology Collaborative, Christine Nolan has seen firsthand the work being done throughout the commonwealth to bolster local industries.
Created by the state legislature in 1982, the Massachusetts Technology Collaborative is a state public economic development agency that supports industries throughout Massachusetts through grant funding and programming. The collaborative is made up of five parts that focus on specific divisions, including broadband, cybersecurity, digital health, innovation, and manufacturing.
Nolan's agency gives grant funding to companies and universities working on projects aimed at creating jobs and advancing manufacturing.
"We care about creating an ecosystem so our manufacturers can thrive," Nolan said Thursday afternoon during a presentation at the RoboSource event hosted by MassRobotics in Boston's Seaport District.
A chance for component providers, startups to connect
Boston-based MassRobotics is nonprofit organization that serves as a networking and research hub for robotics companies in the region. Last week's event was intended to give New England suppliers, manufacturers, and other service providers in the robotics space the opportunity to network and show off their technologies.
Featured companies included Mitsubishi Electric, Gibson Engineering, FESTO, LightSpeed MFG, Nano Dimension, Boston Engineering, Formant, Dassault Systèmes, Cirtonics, Harmonic Drive, Onshape, FORGE, Southco, and MassMEP.
MMAP program off to strong start
Nolan served as the event's keynote speaker and touched on some state programs aimed at manufacturing.
As part of the Massachusetts Manufacturing Accelerate Program (MMAP), a grant program aimed to serve companies with projects that fall under the Level 9 technology readiness category, $2.1 million was given out to 13 small to midsize manufacturers in the first year, Nolan said. The state received 51 applications.
This program helps companies invest in capital equipment.
Companies that won grants include Springfield, Mass.-based Advance Welding, which received $250,000 "to expand their welding capabilities," Nolan said.
"They're now one of the most well-rounded fusion welding shops in the country," Nolan said, noting the company recently purchased East Windsor, Conn.-based KTI Inc., an electron beam welding and laser beam welding business.
"We've actually seen some suppliers in Massachusetts already move their welding to advanced welding," Nolan said. "We love to see that."
Other companies featured include Avon, Mass.-based MassRobotics partner AccuRounds and Fall River, Mass.-based Klear Vu Home Textiles.
Supporting emerging technologies
Nolan said through the collaborative's Mass Manufacturing Innovation Initiative, the state has given more than $80 million of a total of $92 million available to companies and universities developing projects with technology readiness Levels 4 through 7. These grants have been distributed throughout Massachusetts, Nolan said.
One company that recently received funding was North Andover, Mass.-based 6K Inc., Nolan said. It received $1.5 million for the development of its UniMelt system. The UniMelt system upcycles used metal materials and turn them into powder, which is used in "additive manufacturing and in battery material production," according to the Massachusetts Technology Collaborative.
"They're going to contribute to economic growth in the state," Nolan said. "They're rooted in Massachusetts. They're utilizing a local supply chain. They spoke a lot about reducing our dependence on some foreign sources with batteries."
Another company that recently received funding was Leominster, Mass.-based Solvus Global, which received $1.6 million to develop its "fully automated robotic Arc-DED manufacturing line."
"One interesting thing here is that they are working with Quinsigamond Community College and WPI [Worcester Polytechnic Institute]," Nolan said. "They're building out that additive manufacturing workforce throughout the state."
State funds AI R&D
Nolan also touched on the state's Collaborative Research & Development Matching Grant Program, which is designed for projects with technology readiness Levels 1 through 3.
Partnering with Northeastern University, the state gave the university a $200,000 grant to fund its AI Jumpstart Pilot Program. Nolan said the program is designed to help Massachusetts businesses who are interested in incorporating artificial intelligence into their operations.
"The program will incorporate AI and machine learning tools and techniques into businesses across a range of industries, including: process and smart manufacturing; wireless communications and networking; health and medicine; and security and defense," according to the Massachusetts Technology Collaborative.
In partnership with companies and universities such as Dell, Google, Northeastern, Quinsigamond Community College, WPI and others, the Massachusetts Technology Collaborative awarded $993,963 to WPI for a new semiconductor security research center.
"I'm excited that the state of Massachusetts is very committed to encouraging the development of manufacturing," said Tom Ryden, executive director of MassRobotics, as he introduced Nolan. "They want it to stay and grow in the state."
Companies feel impact of labor shortage
Waltham, Mass.-based Boston Engineering Corp. provides services for the industrial, defense, and medical industries.
"We are an outsourced development partner for clients," said Sam Kenton, a client relations executive at Boston Engineering. "When a client gets bogged down and their engineers are too busy or they don't have a particular expertise, they'll hire us to come in and do a project for them."
He said the company has insights in designing robotic technology, including control systems and embedded systems.
Hiring has been difficult for the company's clients, Kenton said, and when they have hiring problems, they come to the company looking for help. But the company is also struggling somewhat in terms of hiring because the area has become competitive.
Supply chain disruptions challenge startups
Anya Losik, a senior program manager at FORGE, said supply chain disruptions has impacted the nonprofit's operations.
FORGE was formed out of Somerville, Mass.-based climate action incubator Greentown Labs and helps companies navigate the supply chain process.
"We work with startups that have a prototype that aren't really sure what their next steps are to commercialize or how to get their products physically made," she said. "We support them in understanding manufacturing readiness."
She said the supply chain shortages have made things even more challenging for startups.
"In an environment that's already competitive, it's even harder for them to compete," she said.
FORGE has been trying to work creatively with the companies, taking advantage of collective buying power opportunities, as well as suggesting stockpiling certain components.
David Thompson, strategic initiatives and programming coordinator at FORGE, said the disruptions can cause a chain reaction in the supply chain process.
"Some startups work with multiple manufacturers, and [when] one manufacturer [falls] behind, then they'll finish, send it to another manufacturer and that manufacturer is also behind, so it's like a chain reaction of delays," he said.
About the Author
Cesareo Contreras
Cesareo Contreras was associate editor at Robotics 24/7. Prior to working at Peerless Media, he was an award-winning reporter at the Metrowest Daily News and Milford Daily News in Massachusetts. Contreras is a graduate of Framingham State University and has a keen interest in the human side of emerging technologies. Follow Cesareo:
Follow Robotics 24/7 on Facebook
Article topics
Email Sign Up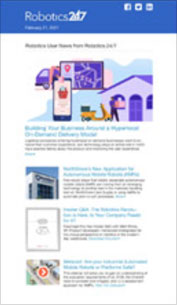 Get news, papers, media and research delivered
Stay up-to-date with news and resources you need to do your job. Research industry trends, compare companies and get market intelligence every week with Robotics 24/7. Subscribe to our robotics user email newsletter and we'll keep you informed and up-to-date.
Cesareo Contreras