In 2021, the ongoing COVID-19 pandemic aggravated labor shortages, increased the demand for social distancing, and changed consumer behavior. The restaurant industry was particularly hard hit, and several robotics developers rose to address these challenges. This past year, Miso Robotics Inc. announced partnerships with major chains, announced its Flippy 2 system, and closed on its latest equity crowdfunding round.
The Pasadena, Calif.-based company has worked with White Castle and Inspire Brands, the owner of Buffalo Wild Wings, to test its Flippy frying robots. Miso also collaborated with Lancer Worldwide on an automated beverage dispenser for quick-serve restaurants (QSRs).
Last month, Miso Robotics unveiled Flippy 2, a more compact and capable food-preparation system available through a robotics-as-a-service (RaaS) model. It also raised more than $30 million from 11,300 new and returning investors and is raising Series D funding.
Mike Bell, CEO of Miso Robotics, replied to the following questions from Robotics 24/7 about the company's accomplishments and plans:
Miso invests in engineers
How does Miso's successful crowdfunding complement your Series D round?
Bell: I'm happy to report that Miso is out of the R&D phase and is now in production. Flippy took a long time to perfect, but we're there.
We now officially have robots being installed in restaurants and cooking food. We're selling them, and they're working with terrific results. It has been cool to spend the time and see our goals realized.
In the coming months, we'll go from shipping single digits to dozens of units and ultimately to hundreds.
Where will you be using the new financing—hiring engineers or business personnel, or scaling up production?
Bell: Most of the investment will be used to hire engineers. We don't have a marketing team; everything has gone into building and perfecting our robotic solution. We've outsourced manufacturing, so our business is not capital-intensive.
All of our capital has gone toward growth. We've hired all types of software, mechanical, and design engineers. We'll cross 100 people this month.
Flippy 2 finds fans
The initial version of Flippy was deployed at Dodger Stadium and other locations—what did you learn from them?
Bell: In those deployments, we never considered the robots to be prototypes. We learned and observed the results. We immediately had ideas for iterating and improving the system. We kept bringing out solutions that would be really big steps forward for the industry.
Flippy 2 is faster, lighter, and handles more items than the first version.
We spoke when you announced Flippy 2. How has the reaction been so far as you expand?
Bell: Our customers are the nation's largest restaurant chains. QSRs serve a high percentage of food that's fried.
We typically sign a pilot agreement, and a brand will take our robotic frying solution and try it for 30 to 90 days. Then the QSR gets comfortable with Flippy in its environment. Only after we get through the pilot does it go public and say, "We'll automate."
That's what happened with Buffalo Wild Wings. There's upwards of a dozen additional pilots under way with leading restaurant chains.
Flippy 2 is working beautifully and performing well. It has an immediate ROI [return on investment], not 12 months, and its uptime is strong.
Miso makes friends around food robotics
Miso has made several significant partnerships. How have you identified collaborators, and what do they bring to the table?
Bell: Most people look at a robot arm and don't realize it's hard to get systems to work well together.
For motion planning and computer vision, we don't have technology partnerships. We've built most of what we're using from scratch and own the IP [intellectual property]. We have upwards of 14 patents pending and three granted—it's one reason we have so many engineers.
There has been a lot of startup and investor interest in restaurant robotics this past year. Is this a matter of maturing hardware and software or of pandemic-driven demand?
Bell: The pandemic accelerated demand, but it's a convergence of factors. AI, vision, and other technologies are becoming more accessible. As products become more affordable, investors are following.
The boom in automation is happening everywhere, and investors want to be ahead of the pack. We've seen a ton of institutional interest from investors because of the convergence of technologies, and demand is spiking. They got the memo.
If venture capital (VC) firms are so interested, why rely on crowdfunding?
Bell: Crowdfunding was a superior source of capital for Miso at this time. It's exactly the other way around—it's not that we couldn't raise VC. The crowdfunding model allows retail investors and average people to identify a trend and go into companies they believe in, democratizing investment.
It's also super-efficient—my management team doesn't have to spend time pitching to get the next round of capital. The average investment from individuals was $4,000.
We will outgrow it [crowdfunding], which legislation caps at 75% in any period. Then we'll move on to a larger round next year or the year after. You can invest in our company when it goes public, or you can get in early.
Taking orders for 2022
What do you expect for food-preparation robotics in the coming year?
Bell: We're going to have more product announcements. We talk to leading brands all the time. They ask, "Do you make a robot that does X, Y, or Z?" We look at the back of house of restaurants, and it's crazy how many tasks need to be automated.
We'll tackle first biggest problems that are easiest to solve, then progress through the back of house. The fry station is obvious "low-hanging fruit"—it's tedious, repetitive, and dangerous, and relatively easy to automate.
Other things require more precision, such as turning avacados to guacamole. That's a tough one to make work, and robots won't do it anytime soon.
We have three products: Flippy 2, the Sippy beverage dispenser, and the CookRight AI-powered vision and sensor system to help chefs at the grill.
We have a pretty good list of low-hanging fruit, and more isn't necessarily better. We want to automate key tasks and then move on to the next ones.
What's on your own wish list?
Bell: We don't make our own robot arms, and we're looking at a lot of them from FANUC, Yaskawa, and others.
Another generation of robot arms is yet to be born. Most are currently heavy die-cast or alumninum. We don't need super-fine motion like surgical robots or blunt programming for the manufacturing line.
Miso could use robot arms that are super-sturdy, lighter, and more scalable to manufacture. We've got really big numbers to solve and need better manufacturing solutions that can be kicked out of the line without 18-month advance notice.
In addition to restaurants, could Miso's robots spread to other facilities, such as cafeterias in schools or hospitals?
Bell: There is the same lack of automation in institutional cafeterias as in restaurants.
The genie's out of the bottle. There's no going back—once operators have a taste of automation, they want more. It's still early days.
About the Author
Eugene Demaitre
Eugene Demaitre is editorial director of Robotics 24/7. Prior to joining Peerless Media, he was a senior editor at Robotics Business Review and The Robot Report. Demaitre has also worked for BNA (now part of Bloomberg), Computerworld, and TechTarget. He has participated in numerous robotics-related webinars, podcasts, and events worldwide. Follow Eugene:
Follow Robotics 24/7 on Facebook
Article topics
Email Sign Up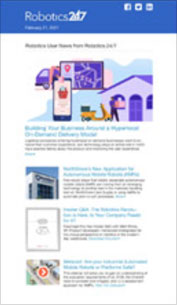 Get news, papers, media and research delivered
Stay up-to-date with news and resources you need to do your job. Research industry trends, compare companies and get market intelligence every week with Robotics 24/7. Subscribe to our robotics user email newsletter and we'll keep you informed and up-to-date.
Miso Robotics