As supply chain operations bring in or add mobile robots, they quickly learn that adding hardware is only part of the process. Integrating and updating software, analyzing data, and building productive partnerships are crucial to ensuring a return on investment, noted industry experts.
Robotics 24/7 previously examined how mobile robots can add flexibility to end-user operations. We continued our conversations with the following executives on how companies can get the most out of new or growing deployments:
Suppliers harness data for continuous improvement
How have mobile robots evolved in the past year? We've seen a mix of larger models, higher reaches, and more sophisticated software.
Peterson: Locus is continually improving our robots' hardware and software capabilities based on customer needs, use cases, and incorporating the latest technologies and innovations. This has allowed for greater payload capacities, longer battery life, and expanded integrations with warehouse software, as well as more advanced fleet management and optimization tools.
But it's not just about the robots—it's about delivering intelligent, flexible automation that makes the customer's operations more efficient, productive, and easily scalable as they grow.
In addition to fleet management, are you collecting data about throughput, warehouse conditions, and more?
Peterson: Absolutely. With the permission of our customers, we collect and share numerous data points that provide valuable insights into the customer's warehouse and fulfillment operations. This enables continuous improvements in areas like inventory management, workflow optimization, and predictive analytics.
Locus turns this data into actionable intelligence, and we maintain a separate and actively monitored database for each customer.
It is used to provide forward-looking business intelligence delivered in real time to allow up-to-the-minute insights into the operation. This information can be accessed from anywhere at any time via our secure management portal.
Heffner: We or our customers can use MiR Insights to look at where robots are at any point in time. It measures productivity, missions run, the distance traveled. Users can access that data securely from anywhere.
The user doesn't have to wait to make changes to maximize productivity. Each customer's data is theirs, in the cloud and protected, we can use it generically as lessons learned for product design review process.
By bringing those improvements from fleets into the next projects and really working with and learning from strategic partners and customers, MiR Insights has been extremely useful in optimizing systems rather than just reacting to problems.
The roles of AI and human-machine collaboration
Beyond autonomous navigation, what role does artificial intelligence play in managing robot fleets? Do you see a place for generative AI?
Heffner: Now that we have pretty large install base, MiR Insights allows us to use AI to look at that data and help customers optimize their systems. We can ask, "What would a new environment look like?"
Peterson: Our robots have been using AI from the very beginning to evolve tasks like dynamic path planning and object avoidance.
Our cloud-based LocusONE platform applies AI to optimize fleet management, workflows, and collaboration with human workers. It also provides valuable and intuitive business intelligence through real-time dashboards and insightful reporting tools.
We are actively integrating the next generation of AI across our software and hardware to continue to help to improve productivity, efficiency, and fulfillment speed. We're excited about the future possibilities.
Santagate: This is an amazing topic. These robots are connected devices, and as such are generating mountains of data about the operation that can then be leveraged for improvement.
AI is enabling reslotting, pick-path optimizations, order pooling, and many other operational functions. It can be used to look for patterns and either autonomously execute an improvement or make suggestions. AI will continue to enable more optimized AMR fleet operations as the technology continues to proliferate.
How important is human-machine interaction (HMI) to your customers?
Oliaro: We've outsourced to Gather AI to do this for us. It's a model of having the partner train us to get to the point where the warehouse inventory specialist can handle automated cycle counting.
Training is no different than what we were doing before. The process of scanning labels is the same, and we're training eveyrone in how to operate, maintain, and troubleshoot these systems.
Wagner also has AGVs from Dematic that we handle as a 3PL [third-party logistics provider] ourselves.
Peterson: Human-machine collaboration is core to our approach and value proposition. Our robots are designed to enhance a worker's productivity and improve ergonomics and workplace safety.
Locus bots seamlessly work alongside human teammates; they do not replace them. With less walking, lifting, or pulling heavy carts, people can focus on what they do best – picking and putaway.
Customers have repeatedly shared feedback on how our collaborative robots do more than improve productivity; they dramatically improve the work environment, which leads to higher worker satisfaction and increased retention.
Heffner: HMI is really critical to successful AMR [autonomous mobile robot] deployment. Employees who work around the robots have to be aware of safety and how to keep them running, since they're designed for dynamic environments.
At Automate, I noticed that MiR's booth was one of the few you could walk through where robots were interacting with people. We've spent a lot of time designing and looking at that interface for safety.
What does that mean for robots on a mission? Are there markers for different zones? It's also a matter of picking the right colors and explaining how to do things like clean the robot.
We've also introduced fleet management in MiR Insights, which can maximize the use of that data.
Partnerships and markets
Where do you see a greater focus on adding automation—among 3PLs or small and midsize enterprises (SMEs)—and why?
Peterson: We see demand for automation growing significantly across 3PLs and SMEs. 3PLs use robotics to meet customer demands for faster fulfillment at lower cost.
For SMEs, adopting flexible automation can help them differentiate themselves from competitors operationally and keep pace with larger players. Our partnership-first approach allows us to deliver consistent value to customers of all sizes and across multiple industries.
Lawton: Most of Zebra's activity has been on the 3PL side. The value proposition is super clear, and there have been enough proof points in the market.
"If we invest in that tech, we can drive those kinds of results," say [prospective] customers as they check boxes. They want to see that companies like theirs are getting value.
People know that the bump from automation is big enough that they have to do it now. When Zebra did an RFP [request for proposals] for its own 3PL work, all the proposals included automation.
That's also where robotics as a service [RaaS] comes into play. Not only does it save on upfront costs, but it also allows 3PLs' contracts for automation to line up with those of their customers. RaaS can help shorten time to value.
Heffner: It's not a specific market. We really see demand across the board—anywhere materials need to be moved from Point A to Point B. As we've seen with the Rockwell Automation acquisition of OTTO Motors, the need for short-distance transportation is enormous.
Materials handling can be done in hospitals, industrial spaces, and 3PLs. Its more about the robotics application itself than a specific market.
With labor shortages, reshoring is hitting a wall. If companies can't find people, we're able to offer continuing initiatives to help.
Another place we're seeing activity is around the Inflation Reduction Act and the CHIPS Act. If we follow the money for infrastructure, battery technology, electric vehicles, and renewables, it's helping to make existing plants larger or to new greenfield facilities, particularly in the Southeast.
This is an ideal opportunity to incorporate AMRs into your operations.
What should companies new to robotics look for in their providers/partners?
Peterson: It's critical to look for providers with deep experience in deploying and supporting robotics automation in real-world environments. Companies should look for responsive post-deployment support, robust software and analytics, and a collaborative approach to integration.
Locus starts with an in-depth analysis of the existing site, its current metrics, workflows, etc. to establish performance benchmarks and goals. With over 280 sites deployed worldwide, Locus [knows] what it takes to deploy, support, and scale AMRs.
We work closely with the customer, from planning to deployment and beyond, providing AI-driven business intelligence that enables efficient operation and seamless scalability.
Heffner: As adoption increases, customers want experience and a willingness to work with them and understand their applications.
People have moved on from wanting to try out one robot. Now, they want to start with 25 in a facility, and the ability to help them do that is critical.
MiR has lessons learned from deploying fleets. While a robot may be simple to use, bringing multiples into a facility can be complex. We have an experienced applications team that can scope a project and look at the environment, as well as what's happening with AMRs and comparing them with other places.
Lawton: I want a relationship with a competent organization that I know is in alignment with our long-term, strategic vision. Early users of these technologies know it isn't the endgame; it's just one step toward automation providing value.
We spend a lot time with our customers asking, "Where you see things going, and how can Zebra's technologies help?"
Return on investment [ROI] obviously has to be there, but we don't want to talk about payback until we're good with the alignment.
The reality is that there are going to be problems. For example, hooking up with a warehouse management system [WMS] can be difficult.
Customers also have to trust that robots will operate around people in a way that's productive and safe. Some employees will receive automation as helpful and will want robots to do the things they don't like.
On the other hand, a few companies have had to insert cameras in their facilities because of sabotage. It's all about building a trusting relationship.
Santagate: One thing that sets Körber apart is our solution-agnostic consultative approach. Our intent has always been to help a customer identify a "best-fit AMR solution, not just any fit."
To accomplish this, we have created strategic partnerships with multiple suppliers of AMR technology so that when we work with a customer, we are not trying to fit them into the box of a single solution. Rather, we are looking at the field, providing analysis about multiple approaches and solutions, and making a recommendation based on our deep experience of successful AMR projects.
Customers should look for suppliers that are willing and able to look at a variety of applications. Each operation is somewhat unique and sometimes, while a reasonable fit may be apparent, a best fit will offer optimization and even further operational value.
Integration and ROI
What's the biggest challenge for mobile robot users to get ROI? How can suppliers and integrators help?
Peterson: It's important to understand exactly where and how adding automation to their operations will have the biggest impact. Our application engineers collaborate closely with customers during planning and deployment to ensure we're targeting the right areas and fully understanding their workflows.
We establish baseline metrics using the customer's data to enable measurable improvement goals. Close support during ramp-up and easy-to-understand training helps workers hit the ground running, often generating 2X productivity increases right from Day 1.
Oliaro: We're looking for repetitive moves and long travel that can be automated. That doesn't necessarily eliminate jobs, but it creates opportunities for better warehouse productivity and efficiency and redeploying assets to areas we couldn't do before.
For example, in meatpacking, like in a warehouse, there are lots of repetitive motions. We ask employees how we can get to a better working experience.
Santagate: As an integrator, our work at Körber is on behalf of the customer. We provide an added layer of supply chain operational expertise that extends upstream and downstream from the AMR application, allowing us to look beyond what a hardware provider would in order to optimize a system.
Heffner: My experience is that the majority of companies have very defined criteria—typically headcount reduction—but so many other things can go into that. They don't have to train each new robot, unlike onboarding costs for humans.
There are intangibles about the nature of work that are hard for the financial suite to wrap its head around because they can't be quantified. Vendors and distributors need to be able to work with different stakeholders – maintenance, engineering, finance, purchasing, the CEO – and be able to not explain the value proposition, but also demonstrate how it will help. We're training our sales team to do that.
Even when we're working with integrators, we still want to bring our experience and that from other integrators to help them grow and serve the customers. Channel partners are key, but they have to be an extension of our approach.
We're demanding in the U.S. that a product design review be completed for any new application. As we evolve the tools, we're continuing to apply our experience to ongoing relationships and continuous improvement for ROI.
About the Author
Eugene Demaitre
Eugene Demaitre is editorial director of Robotics 24/7. Prior to joining Peerless Media, he was a senior editor at Robotics Business Review and The Robot Report. Demaitre has also worked for BNA (now part of Bloomberg), Computerworld, and TechTarget. He has participated in numerous robotics-related webinars, podcasts, and events worldwide. Follow Eugene:
Follow Robotics 24/7 on Facebook
Article topics
Email Sign Up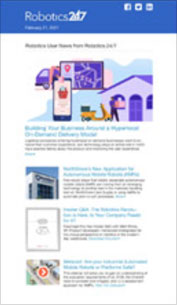 Get news, papers, media and research delivered
Stay up-to-date with news and resources you need to do your job. Research industry trends, compare companies and get market intelligence every week with Robotics 24/7. Subscribe to our robotics user email newsletter and we'll keep you informed and up-to-date.
Mobile Industrial Robots