Deciding on which mobile robot to use is only the first step in getting a return on investment, or ROI. At ProMat DX tomorrow, Jeff Christensen, vice president of product at Seegrid Corp., will discuss "Handing Over the AMR Keys: Strategies for User Adoption and Unstoppable ROI."
"The pandemic put a spotlight on supply chains in a way that hasn't really happened in a long time," Christensen told Robotics 24/7. "The economic drivers for automation are even stronger now than they were 12 months ago."
Pittsburgh-based Seegrid supplies vision-guided vehicles and recently reported that it has doubled revenue year over year for two years in a row.
"I see three tiers of products," he said. "The lowest tier is physical autonomy, with autonomous mobile robots [AMRs] as a means toward an end. Then, there's the logical layer—how to express intent. You're automating parts of material flow, maybe doing more tomorrow. This ties into other systems in a holistic view."
"Finally, there's the determination layer, where data is collected and then reported back as KPIs [key performance indicators] and metrics of adoption," Christensen said. "Once you put all the machine learning smarts into determining future flows, you can make better and better decisions."
Work with users for maximum trust, efficiency
"Buying robots and assuming that all will go well ... hope is not a plan," asserted Christensen. "I see it as an indication of maturity in the robotics space—we're not talking as much about the tech of the robots as we used to as we're talking about the value proposition and user adoption. Realizing and getting evidence of ROI is great. I see that as a really good sign."
"My talk is about that adoption and being clear about defining what your metrics are," he added. "What's the problem that you're trying to solve operationally in materials handling? Make sure those metrics are well understood, well defined."
"As you're going into the next steps, look at user adoption," Christensen explained. "Watch the engagement early and often; make sure they're getting trained. The users need both confidence and competence in order to get that adoption up the curve. ... The third step is you can actually measure these operational metrics and then do a continuous improvement loop."
"The interface between machines and people is where you can see the friction. If you do it right, that can be the strongest point of the system, not the weak link," Christensen explained. "When you're going from a manual to an automated or partly automated process ... every time you change the modality for your operation, you have a trust problem. Human beings have an intellectual attraction to change but a visceral reaction to change operationally."
"That's a core risk for anything trying to do disruptive technology, but you should attack that part of the problem head-on. The tech part is interesting, but the operational, human part is just as interesting," he said. "Think of how people changed the purchasing process with e-commerce. At big box stores ... fulfillment latency was zero at the moment of transaction. What e-commerce did was focus on process change, buying goods sight unseen and waiting for them, making sure that the process became better than the old model."
"That's an analogy to where we are with mobile robots," said Christensen. "If I have to change my modality, we have to rebuild trust and prove that the new model is better than the old one."
Palion AMRs respond to customer requests
In February, Seegrid introduced its Palion line of AMRs, including its first autonomous lift, Palion Lift, and the Palion Pallet Truck. The robots include lane-staging capabilities. The Series 8 Palion Pallet Truck can identify, build, and deplete lanes for efficicient pickup and depositing of palletized goods, said the company.
"Lane staging is a common customer workflow in dock areas and bulk storage, and a matrix buffer is a common interstitial point of material flow," said Christensen. "Being able to do that without manual drivers, with an abstraction that the system undestands, means it can be more dynamic for spotting. The robot can identify its lane and can go back as far as needed for an empty spot or to pick something."
"The emphasis and urgency came from three to four of our biggest customers," he said. "We often spend more time with our customers after a sale than before the sale, implementing and listening. A lot of our existing customers want Palion as an extension of our previous products."
In addition, the Palion AMRs can autonomously recharge, "which removes a costly and dangerous human touchpoint and boosts productivity by automating the scheduling, dispatch, and charging to keep operations running 24/7," according to Seegrid.
Fleet Geek adds insights
Last month, Seegrid launched the Fleet Geek cloud-based data analytics tool for AMRs. The tool joined the company's Supervisor fleet management software.
"Fleet Geek provides our customers with intuitive data visualizations and on-demand reporting to make well-informed decisions about their unique workflows to scale their success," stated Jim Rock, CEO of Seegrid. The company acquired 3D situational awareness firm Box Robotics last October.
"We want maximum flexibility and reliability for overal navigation," said Christensen. "We're also taking a look at load acquisition and disposition problems that are tolerant for the environments that we're in. We have to be 'come as you are'—we can't just ask customers to change their processes."
"This goes back to the need for metrics," he added. "You need evidence to prove that the decision to automate and change processes was a good one, and then you can alter course on the way It's not a single metric. The knobs may change over time. Initially, it's confidence and competence, modality changes. In more mature phases, it's improving operational flow 5% to 10%, or the third shift may have different flow characteristics that need rebalancing. Both require real-time data."
Depending on who is consuming the data, it can be more or less specific, Christensen said. "Not in nanoseconds—within a couple of minutes is fine for operational decision-making. Seeing the metrics within a window of action—you can't see utilization and then take action 30 days later," he said. "Also, there's the vocabulary you use for the data. You don't need the temperateure of the CPUs in the robot—we provide up to several levels to operational value."
About the Author
Eugene Demaitre
Eugene Demaitre is editorial director of Robotics 24/7. Prior to joining Peerless Media, he was a senior editor at Robotics Business Review and The Robot Report. Demaitre has also worked for BNA (now part of Bloomberg), Computerworld, and TechTarget. He has participated in numerous robotics-related webinars, podcasts, and events worldwide. Follow Eugene:
Follow Robotics 24/7 on Facebook
Article topics
Email Sign Up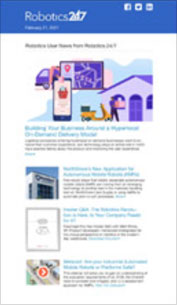 Get news, papers, media and research delivered
Stay up-to-date with news and resources you need to do your job. Research industry trends, compare companies and get market intelligence every week with Robotics 24/7. Subscribe to our robotics user email newsletter and we'll keep you informed and up-to-date.
Seegrid