Advanced motor technologies are helping improve tasks robots can perform, helping to make them stronger, nimbler, and more sustainable. Empowered with these enhancements, a new class of robots has begun to take on tasks in industries that haven't typically taken advantage of automation.
Market demand for compact and energy-efficient mobile robots continues to grow. At the same time, advances in automation manufacturing have helped improve today's motors in multiple ways.
Motors advancements bring more accuracy
Greg Diek, product manager for motion at Omron Adept Technologies, said a critical area of improvement "is better accuracy while winding the coils for motors."
"This allows for smaller windings that still create the same amount of power for the motor," he added.
"Another is the newer permanent magnets that allow more power and smaller motors. Then, with more accurate machining, manufacturers can reduce the air gap between the coils and magnets, which makes the motors not only smaller but more efficient as well," he said. "Making components smaller and more efficient allows increasing the torque-to-weight ratio, and this allows developers to increase robot payload and/or make them smaller."
Feedback devices have also improved in size, precision, and quality.
"With higher-resolution encoders, we not only see better accuracies, but tuning can also be improved to help with accuracy and cycle time when applied to the applications," said Dieck. "This opens the door for higher-precision robotics applications, and it improves repeatability and the throughput of the robot and automation."
Furthermore, smaller motors with better torque-to-weight ratios allow motors to achieve high peak speeds for a short time, as well as faster acceleration and deceleration times. This allows robots to have a reduced mass, which in turn permits more rigidity and reduces vibration.
Upgrading robot arms
Motor advances have also enhanced the capabilities of robot arms, joints, and end effectors.
"Think about the present-day robot arm," said Paul Kling, motion division market segment manager for packaging and material handling at Yaskawa America. "In many cases, motors are buried inside the robot housing so the ability to use smaller motors has dramatic advantages. Smaller motors lead to smaller housings, which lead to less mass to move."
In the case of a six-axis articulated robot arm, the smaller the motors, the less mass, and the faster the speeds the robot arms can move, Kling said.
Cobots need small motors that pack a big punch
An example of how advanced motors can open the door to new, more sophisticated applications can be seen in the evolution of collaborative robots, or cobots. As developers and users continue to flesh out cobot functionality, demand for greater reaches, payloads, and speed has grown.
Paralleling this trend is a drive for higher power- and torque-density, with an eye on improving cobot performance while maintaining the machine's ability to work safely with human operators.
To meet these demands, some robot developers are turning to direct drive frameless torque motors.
"High-performance torque in the shortest and lightest electromagnetics package possible delivers lower joint weight, high load-carrying capacity, energy efficiency, lower thermal rise, and faster movements with greater smoothness of motion," said Yoshi Umeno, global market manager for robotics at Kollmorgen.
"The result is smaller, lighter, faster, and stronger robots. Small motors with a high output are essential if the arms and joints are to be made as compact as possible," Umeno added.
Armed with these capabilities, frameless motor-enabled cobots have begun to move beyond traditional industries like automotive into other sectors, such as retail, food preparation, and healthcare.
In the operating room
One of the more prominent new applications is robotic-assisted surgery. Here, robots allow surgeons to perform minimally invasive procedures that help patients recover more quickly and completely across an ever-increasing array of treatments, including orthopedic, laparoscopic, cardiac, and even optic procedures.
"Today's surgical robots must deliver precise, smooth, and quiet operations for acceptance by hospitals and surgeons," said Umeno. "Like a skilled surgeon, sometimes the robot's movements must be slow, yet deliberate, requiring critical haptic feedback and torque-dense motors for precise control.
"New torque-dense frameless motors enable smaller, lighter arms and the highest definition control, Umeno added. "These servo motors are ideal for the gantry and columns, which position robotic arms over the patient."
When robots go mobile
Autonomous mobile robots (AMRs) have also begun to take on more demanding tasks, ranging from warehousing to a growing number of hospital applications. These include infection control, biochemical specimen delivery, and general medical tasks. AMRs are also playing roles in the fight against the COVID-19 pandemic.
Part of the appeal of these robots lies in the fact that they are inexpensive and simple to implement. That said, AMR developers still have obstacles to overcome.
"Typical challenges include extending the run time of battery-powered devices, robust designs that can contend with harsh environments, and accurate movement control—start/stop—for safe operation around humans," said Julian DelCampo, business development manager at Portescap.
To meet the requirements, mobile robots require motors to have more streamline form factors than their predecessors. This translates into compact and lightweight yet durable motors. AMRs also require higher levels of performance.
To meet these requirements, as well as boost the performance of AMR motion systems, some developers have turned to brushless DC (BLDC) motors, coupled with compact planetary gearboxes to achieve high torque and encoders for positional feedback.
"AMR mini motors are able to fulfil the requirements for high torque, low moment of inertia, and the ability to work under load," said DelCampo. "BLDC motors also achieve a long, trouble-free life because there is no mechanical commutation and therefore wear of brushes."
About the Author
Tom Kevan
Tom Kevan is a freelance writer/editor specializing in engineering and communications technology.
Follow Robotics 24/7 on Facebook
Article topics
Email Sign Up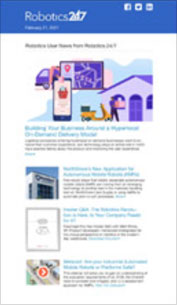 Get news, papers, media and research delivered
Stay up-to-date with news and resources you need to do your job. Research industry trends, compare companies and get market intelligence every week with Robotics 24/7. Subscribe to our robotics user email newsletter and we'll keep you informed and up-to-date.
Omron