During the ProMat DX virtual materials handling conference last week, Waypoint Robotics Inc. announced that it has teamed up with Productive Robotics Inc. to offer a mobile manipulator that is easy to use and cost-effective for small and midsize enterprises. The system includes Waypoint's Vector mobile robot with Productive Robotics' OB7 collaborative robot arm.
The companies said the new autononomous mobile robot (AMR) is suitable for tasks including machine tending, quality assurance sampling, and packaging in manufacturing and logistics applications.
"The combination of our omnidirectional Vector and the OB7, which provides seven axes for precise grasping, makes this system the most capable mobile manipulator available today," said Jason Walker, co-founder and CEO of Waypoint Robotics. "In addition, setting it up requires no programming, and either robot can be the primary controller for an operation."
Waypoint's Vector includes precise positioning
"We could have had a moble manipulator a while ago, but some things were missing that we felt we could do differently," said Walker. "First, we had to find a cobot arm that was as easy to use as our AMRs, with no code interface."
"We have sample functions prebuilt in Vector's controls, using a block interface," he told Robotics 24/7. "A user can load OB7 functions and tell it the name of a job. Vector can then go and call that OB7 job when it arrives."
"The OB7's seven degrees of freedom and Vector's omnidirectional capability are different from a differential drive, and both robots can make fine adjustments when coming up to a dock," he said. "The cobot can manipulate things on Vector or close to the robot."
"We also use an AI camera for precise positioning," Walker said. "We can put markers on a table during setup and then the function in Vector's interface. Even if you move the table, the robot can align perfectly to pick up items. Its navigation is precise enough for grasping."
System allows for cobot safety zones
While systems integrators and robotics users should still conduct safety audits based on processes and payloads, the combined Waypoint-Productive mobile manipulator is designed for safety as well as ease of use.
"We have three-stage safety," Walker said. "We've integrated systems so that you can take the safety field with you. It's configurable, integrating Vector's 360-degree laser field with the OB7 arm."
"For example, in a front-docking application where the arm is operating at non-collaborative speeds, you could set 2 meters to slow if a person gets close and 1 meter for stop," he explained. "The user can set front, left, right, or rear docking zones."
The new mobile manipulator was a finalist for best new product at ProMat DX.
OB7, EnZone help manage power
How did Waypoint and Carpinteria, Calif.-based Productive Robotics address the challenge of powering two robots at once?
"We needed to find an energy-efficient arm, so we didn't have to add batteries," replied Walker. "Additional batteries are expensive, consume a lot of space, and add weight. You might also need separate charging systems."
"Compared with mobile manipulators built in the past, such robots needed additional controls, electronics, and energy—that's a huge part of why it's hard to do," he noted. "The OB7 doesn't need as much power to do the same amount of work as, say, a UR5 inverter. It also doesn't require complex soft-start circuitry to get equipment up and running. As we get more integrated witht the OB7, we'll have the capability to remove the AC/DC converter from both sides."
"Thanks to the EnZone wireless charging dock [based on WiBotic technology], the mobile manipulator can use opportunistic charging for longer runtimes," Walker said. "Vector on its own can run for eight hours, and as a mobile manipulator for five to six hours. We were lucky to get four hours out of the other cobots we've tried to integrate over the years. With EnZone, you could even put a charger where the arm is working."
Productive Robotics shares vision
"We have made cobots simple and more accessible for businesses, large and small, across all industries," stated Zac Bogart, president of Productive Robotics. "Working with Waypoint Robotics in developing this mobile manipulator platform will open the door for factories and warehouses to innovate, optimize productivity, and gain a competitive advantage with cobots."
"Waypoint and Productive Robotics have come together with a shared vision of affordable mobile manipulation," added Walker. "We both have ROS-native systems and can merge behaviors and the user experience. We'll be able to reduce size and cost as we integrate further."
"Manufacturers are the 'first movers' with precise machine tending," he said. "The robot is able to fit into situations where workers already have a process. It can reach into a machine or collect parts for a tray or sampling without a huge apparatus. With our mobile manipulator, you can have it pull a batch or sample in the way it's already done."
"It's also surprising how many companies want robots to deliver mail," Walker said. "In big facilities, it can be a big problem, with people wasting time walking long distances. A mobile manipulator can do those drops on its own and is able to do material handling at each end."
Mobile manipulation market to grow
Other companies have developed mobile manipulators, including Fetch Robotics, IAM Robotics, Diligent Robotics, and Boston Dynamics. Some were initially designed as research platforms or are focused more on logistics than manufacturing. How fast are commercial use cases growing?
"We're getting a steady stream of requests," said Walker. "As more technology becomes available, we've got a solid, high-performance platform ready to adapt and adopt. We have unified safety, GPIO [general purpose input/output], and communication that's already more tightly integrated than past systems like what we delivered to MassTLC and Verizon's 5G lab."
"How fast we move depends on how fast demand grows," he added. "We're sticking with off-the-shelf components, but if we make enough robots that it makes sense to switch power supplies or retune controllers, we can do that, and the performance won't change. That gives us a huge advantage, and we can make substantive improvements for expense."
"Even just seven degrees of freedom and omnidirectional capability alone would be enough, let alone power and cost," Walker claimed. "This joins Waypoint's MAV3K heavy AMR, Kingpin top module, and AI camera."
Speaking of MAV3K, what about putting robot arms on that platform? "When we designed MAV3K, which can load pallets, we left room for arms," said Walker. "A few customers wanted big arms for things such as case picking, but not as many as for smaller applications. We have plenty of interest as all these things come together."
About the Author
Eugene Demaitre
Eugene Demaitre is editorial director of Robotics 24/7. Prior to joining Peerless Media, he was a senior editor at Robotics Business Review and The Robot Report. Demaitre has also worked for BNA (now part of Bloomberg), Computerworld, and TechTarget. He has participated in numerous robotics-related webinars, podcasts, and events worldwide. Follow Eugene:
Follow Robotics 24/7 on Facebook
Article topics
Email Sign Up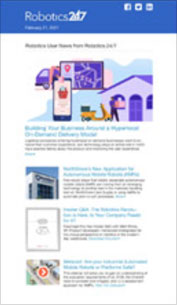 Get news, papers, media and research delivered
Stay up-to-date with news and resources you need to do your job. Research industry trends, compare companies and get market intelligence every week with Robotics 24/7. Subscribe to our robotics user email newsletter and we'll keep you informed and up-to-date.
Waypoint Robotics