At Computex in Taipei, Taiwan, NVIDIA Corp. announced several products for accelerated computing in the cloud and the growing ecosystem for supercomputing hardware, simulation software, and artificial intelligence. The company also announced the availability of its Isaac AMR platform for autonomous mobile robots, or AMRs, and discussed how the electronics industry is using its technology stack.
Jensen Huang, founder and CEO of NVIDIA, thanked Computex attendees for coming to see him in person for the first time in four years. He then described how computer hardware and software have changed since the 1964 IBM System 360 to a $1 trillion global data center infrastructure.
From graphics processing units (GPUs) accelerating computers past CPU capabilities to large language models and ChatGPT, Huang said technology and industry are at a positive "tipping point."
Omniverse hosts simulations in real time
"With generative AI, you could tell a robot what you want, and it could generate animations," Huang claimed. He showed videos that took into account real-world physics and lighting and ran in simulation without any pre-programming.
NVIDIA Omniverse connects computer-aided design (CAD) software, APIs, and frameworks for generative AI running on Microsoft's Azure cloud using real-time factory data and 5G networking, enabling collaboration among multiple users around the world.
"Everything is ray-traced. We do everything in CAD; no art is necessary," Huang said. "It's one source of data across your company."
He mentioned that NVIDIA is working with WPP to build an advertising content engine using Omniverse (see video below).
"Accelerated computing and generative AI—this form of computing is not like general-purpose computing," said Huang. "It's full-stack, data center-scale, and domain-specific. We're extending it in multiple directions, from the cloud to digital factories."
"Industries have been racing to digitalize, from automotive to healthcare and manufacturing," observed Deepu Talla, vice president and general manager for embedded and edge computing at NVIDIA.
"With NVIDIA Omniverse and AI, you could start in simulation, and even after the physical thing is built, it can be modified and updated in simulation," Talla said at a press conference. "Before our new headquarters was built, we created a digital twin of it."
Isaac AMR to simplify the path to autonomy
Mobile robot shipments will climb from 251,000 units in 2023 to 1.6 million by 2028, with revenue to jump from $12.6 billion to $64.5 billion in that period, predicted ABI Research. However, coding software for autonomous navigation from scratch for each robot can make rollouts more complex, noted NVIDIA.
Warehouses, factories, and fulfillment centers are often 1 million sq. ft. or more, making updating maps for AMRs a challenge, the company added. Integration with existing workflows, fleet management software, and warehouse management systems (WMS) can be complicated, it said.
Huang announced early access to Isaac AMR as a reference platform to facilitate mobile robot development. First announced in January, it will be available to customers starting in July.
"We built the stack from the chip and the sensors to the state-of-the-art mapping, which starts with the Orin chip, then the Nova Orin reference system and the cloud," said Huang. "We can design, simulate, and train robots and then put that intelligence into actual robots."
"For the first time, we have the ability to understand the language of the physical world, the language of heavy industry with Omniverse," he said. "We expect people to take what they want and build on top of it."
The Isaac AMR, which is built on the Nova Orin architecture, can integrate multiple sensors, said Gerard Andrews, senior product marketing manager at NVIDIA. It ties into DeepMap's cloud-based service to accelerate robot mapping of large facilities from weeks to days, with centimeter-level accuracy.
In addition, Isaac AMR can shorten the time to develop and deploy robots in large, dynamic, and unstructured environments with multimodal navigation with cloud-based fleet optimization using NVIDIA cuOpt software, said NVIDIA.
NVIDIA expects its partner network to take the Nova Orin reference model, which includes sensors, an autonomy stack, and visual simultaneous localization and mapping (vSLAM), and adapt it to specific applications, Talla told Robotics 24/7.
Electronics makers embrace digitalization
Leading electronics manufacturers are working to optimize their workcells and assembly-line operations while reducing production costs, said NVIDIA. The company noted that the $46 trillion electronics manufacturing industry includes more then 10 million factories that could benefit from digitalization.
"Manufacturers globally spend more than $6 trillion a year in pursuit of quality control, and they apply defect detection on nearly every product line," wrote Adam Scraba, director of product marketing, in a blog post. "But manual inspections can't keep up with the demands."
In his keynote address at Computex, Huang showed a demonstration of an entirely digital smart factory, which he claimed was an "industry first" for electronics makers.
"The world's largest industries make physical things. Building them digitally first can save enormous costs," stated Huang. "NVIDIA makes it easy for electronics makers to build and operate virtual factories, digitalize their manufacturing and inspection workflows, and greatly improve quality and safety while reducing costly last-minute surprises and delays."
Supported by the company's partner network, the new workflow can help manufacturers plan, build, operate, and optimize their factories with an array of NVIDIA technologies, the company said. They include Omniverse, NVIDIA Isaac Sim for simulating and testing mobile robots and robot arms, and the NVIDIA Metropolis vision AI framework, now enabled for automated optical inspection (AOI).
"Customers came to us and asked, 'Can you help us use AI?'" recalled Talla. "NVIDIA Metropolis for Factories is a collection of vision AI-powered workflows, easy-to-build applications with a cloud toolkit ofr training models. It can save costs and improve throughput by 20% to 25%."
Electronics manufacturers worldwide can use Omniverse to create a model and Metropolis to run AI in the real world, he said.
NVIDIA cited Taiwan-based Foxconn Industrial Internet, Innodisk, Pegatron, Quanta, and Wistron as some of the more than 50 users of its new reference workflow.
Pegatron digitizes inspection
Pegatron manufactures everything from motherboards to smartphones, laptops, and game consoles. With a dozen factories handling more than 300 products and over 5,000 parts per day, the company has to manage quality control across its product portfolio, and frequent product updates require ongoing revisions to its AOI systems.
In addition, Pegatron is using the reference workflow to digitalize its circuit-board factories with simulation, robotics, and automated inspection. It uses NVIDIA Omniverse Replicator's synthetic data generation to simulate defects, helping build massive training datasets with domain randomization and other techniques.
NVIDIA TAO Toolkit allows Taipei-based Pegatron to access pretrained models and transfer learning to build accurate defect-detection models from its enhanced datasets. Starting with small datasets, Pegatron said it is achieving 99.8% AOI accuracy.
Pegatron uses the NVIDIA DeepStream software development kit (SDK) to develop applications that can handle multiple video, image and audio streams. The company was able to quadruple throughput and reduce change orders.
"NVIDIA Omniverse, Isaac Sim, and Metropolis give us the ability to accomplish AI training, enhance factory workflows, and run numerous simulations in the virtual world before we commit to an idea in the physical world," explained Andrew Hsiao, associate vice president of the software research and development division at Pegatron.
"Digitalizing our entire factory enables us to simulate the robotics and automation pipeline from end to end," he added. "[It] lets us try things out in a simulated environment, which saves time and greatly reduces costs."
Foxconn, Innodisk deploy Metropolis
Foxconn Industrial Internet is working with the NVIDIA Metropolis ecosystem to automate portions of its circuit-board quality-assurance inspection points.
"NVIDIA's strength in AI and its strong ecosystem of application partners are providing Foxconn Industrial Internet with a path to significant operational efficiency gains," said Tai-Yu Chou, chief technology officer at Foxconn Industrial Internet. "The combination of NVIDIA Metropolis for Factories and Isaac Sim for robotics is helping us realize industrial automation goals faster than ever imagined."
Innodisk is deploying NVIDIA Metropolis to automate inspection processes, saving cost and improving production efficiency.
Techman Robot turns to Isaac Sim
Quanta, a major manufacturer of laptops and other electronic hardware, is using AI robots from its Techman Robot subsidiary to inspect the quality of manufactured products.
Taiwan-based Techman is simulating, testing, and optimizing its collaborative robots with Isaac Sim while using NVIDIA AI and graphics processing units (GPUs) for inference on the robots themselves.
AOI helps manufacturers more quickly identify defects and deliver high-quality products to their customers around the globe. NVIDIA Metropolis, now enabled for AOI, can help optimize inspection workflows for products ranging from automobiles to circuit boards, said NVIDIA.
The system reduced the cycle time of each inspection by 20%, said the company.
"The distinctive features of Techman's robots—compared to other robot brands—lie in their built-in vision system and AI inference engine," said Scott Huang, chief operations officer at Techman. "NVIDIA RTX GPUs power up their AI performance."
Wistron builds digital twins with Omniverse
Wistron, which said it is one of the world's largest suppliers of information and communications products, is tapping NVIDIA Omniverse to build digital twins of its automated receiving lines and operations buildings. The company is using inputs from Autodesk AutoCAD, Autodesk Revit, and FlexSim.
Wistron also uses NVIDIA Metropolis to automate portions of its circuit-board optical inspection with AI-enabled computer vision.
Ecosystem builds a full stack for every workflow level
NVIDIA said it is working with several providers of manufacturing tools and services to build a full-stack architecture with each at every workflow level.
At the systems level, NVIDIA IGX Orin combines industrial-grade hardware with enterprise-level software and support, according to NVIDIA. IGX meets the durability and low-power-consumption requirements of edge computing while delivering the high performance needed for developing and running AI applications, it said.
Partners ADLINK, Advantech, Aetina, Dedicated Computing, Onyx, Prodrive Technologies, and Yuan are developing IGX-powered systems to serve the industrial and medical markets. These systems allow the benefits of digitalization to be realized during physical production, said NVIDIA.
At the platform level, Omniverse lets teams build interoperability between their favorite applications, such as those from Adobe, Autodesk, and Siemens.
NVIDIA also mentioned other partners. Basler, a maker of imaging sensors and systems, offers to help developers build AI-enabled inspection systems faster through tighter integration with the NVIDIA DeepStream SDK.
Overview is collaborating with Advantech — both NVIDIA Metropolis partners — to build a system to support industrial inspection, product counting, and assembly verification.
Quantiphi, a Metropolis partner, is working with one of the world's largest beverage producers to automate inspections of fully packed pallets with GPU-powered vision AI.
Omniverse demo at Computex
Another demonstration during the Computex keynote showcased Omniverse connected to various AI assistants, such as ChatGPT and Blender GPT, to simplify 3D workflows and Python application development.
NVIDIA Omniverse Cloud, a platform-as-a-service now available on Microsoft Azure, gives enterprise customers access to the full suite of Omniverse software and NVIDIA OVX infrastructure, with the scale and security of Azure cloud services.
At the application level, Isaac Sim allows companies to build and optimally deploy AI-based robots, said NVIDIA. Manufacturers can work with READY Robotics to program their robot tasks in simulation before deploying in the real world.
NVIDIA noted that simulation technology partners such as SoftServe and FS Studio can shorten development timelines for customers by building digital twin-based simulations.
Also at the application level, NVIDIA Metropolis includes a collection of AI workflows that enable industrial automation providers and manufacturers to develop, deploy, and manage customized quality-control systems. They can thus save costs and improve production throughput, the company said.
A large partner ecosystem—including ADLINK, Aetina, Deloitte, Quantiphi, and Siemens—is helping to bring these systems to market.
About NVIDIA
Since its founding in 1993, NVIDIA said it has been a pioneer in accelerated computing. The company claimed that its invention of the GPU in 1999 sparked the growth of the PC gaming market, redefined computer graphics, ignited the era of modern AI, and is fueling the creation of the industrial metaverse.
NVIDIA said it is now a full-stack computing company with data-center-scale offerings that are reshaping industry. Last week, it reported quarterly revenue of $7.19 billion, up 19% from the previous quarter.
Learn more about Omniverse, Isaac Sim, and Metropolis at Computex.
About the Author
Eugene Demaitre
Eugene Demaitre is editorial director of Robotics 24/7. Prior to joining Peerless Media, he was a senior editor at Robotics Business Review and The Robot Report. Demaitre has also worked for BNA (now part of Bloomberg), Computerworld, and TechTarget. He has participated in numerous robotics-related webinars, podcasts, and events worldwide. Follow Eugene:
Follow Robotics 24/7 on Facebook
Article topics
Email Sign Up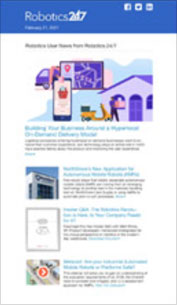 Get news, papers, media and research delivered
Stay up-to-date with news and resources you need to do your job. Research industry trends, compare companies and get market intelligence every week with Robotics 24/7. Subscribe to our robotics user email newsletter and we'll keep you informed and up-to-date.
Pegatron