As e-commerce accelerates demand for warehouse automation, robots need to become more perceptive and smarter. At its Spring 2022 GPU Technology Conference, or GTC, NVIDIA Corp. today announced the availability of its Jetson AGX Orin developer kit and its Isaac Nova Orin architecture for autonomous mobile robots.
"Modern fulfillment centers are evolving into technical marvels — facilities operated by humans and robots working together," said Jensen Huang, founder and CEO of NVIDIA. He said new processors, software, and simulation capabilities will lead to "the next wave of AI," including robots able to "sense, plan, and act."
NVIDIA claimed its invention of the graphics processing unit (GPU) in 1999 "sparked the growth of the PC gaming market and has redefined modern computer graphics, high-performance computing, and artificial intelligence." The Santa Clara, Calif.-based company added that its innovations are reshaping industries including transportation, healthcare, and manufacturing.
Jetson AGX Orin offers 275 TOPS
NVIDIA described the new Jetson AGX Orin developer kit as "the world's most powerful, compact and energy-efficient AI supercomputer for advanced robotics, autonomous machines, and next-generation embedded and edge computing."
Jetson AGX Orin delivers 275 trillion operations per second (TOPS), more than eight times the processing power of its predecessor, Jetson AGX Xavier. The system has the same palm-sized form factor and pin compatibility as Jetson AGX Xaver and at a similar price.
Orin features an NVIDIA Ampere architecture GPU, Arm Cortex-A78AE CPUs, deep learning and vision accelerators, and high-speed interfaces. It also has faster memory bandwidth of 204 GB/sec., 32 GB memory, and multimodal sensor support to feed multiple, concurrent AI application pipelines, said NVIDIA.
"As AI transforms manufacturing, healthcare, retail, transportation, smart cities and other essential sectors of the economy, demand for processing continues to surge," stated Deepu Talla, vice president of embedded and edge computing at NVIDIA leading into GTC. "A million developers and more than 6,000 companies have already turned to Jetson. The availability of Jetson AGX Orin will supercharge the efforts of the entire industry as it builds the next generation of robotics and edge AI products."
Jetson AGX Orin customers can also use the full NVIDIA CUDA-X accelerated computing stack, JetPack software development kit (SDK), and pretrained models from the NVIDIA NGC catalog. They also gain access to the latest frameworks and tools for application development and optimization such as NVIDIA Isaac on Omniverse, Clara for healthcare, Metropolis, and the TAO Toolkit.
"AI model development is a time-consuming process," Talla said. "NVIDIA's application frameworks include easy-to-use libraries that accelerate runtime applications."
These tools can reduce time and cost for production-quality AI deployments, allowing developers to access the largest, most complex models needed to solve robotics and edge AI challenges in 3D perception, natural language understanding, multisensor fusion, and more, NVIDIA said.
NVIDIA touts ecosystem support, customer interest
The company's embedded computing partners encompass a range of products and services, including cameras and other multimodal sensors, carrier boards, hardware design, software, and custom development. NVIDIA said it has received favorable feedback about Jetson AGX Orin from the robotics ecosystem, including Amazon Web Services, Hyundai Robotics, JD.com, Komatsu, and Meituan.
"We are extending the powerful Microsoft Azure platform to the intelligent edge," said Roanne Sones, corporate vice president for Microsoft Azure Edge + Platforms. "Combining Azure's advanced capabilities with performance and software development tools such as NVIDIA Jetson AGX Orin helps give developers a seamless experience to easily build, deploy, and operate production-ready AI applications."
Jahmy Hindman, chief technology officer at John Deere, noted: "With the global population expected to reach nearly 10 billion people by 2050, farmers have a steep challenge of feeding the world, and they can't do it alone. Our fully autonomous tractor, featuring two NVIDIA Jetson GPUs for quick and accurate image classification at the edge, will be on farms this year, supporting farmers in overcoming challenges and providing for our growing world."
"We recognize the key role for AI in digitization of surgery through quantitative analytics and real-time clinical decision support systems," added Dan Stoyanov, chief scientific officer at Medtronic Digital Surgery. "The latest NVIDIA Jetson platform brings us a new level of computational performance in the operating room and enables us to advance intraoperative systems to better support surgeons, through data-enabled solutions."
The NVIDIA Jetson AGX Orin developer kit is now available for $1,999. Four production modules will be available in the fourth quarter, starting at $399 for the 8GB Orin NX series for 1,000 units, and going up to the 64GB AGX Orin for $1,599.
Isaac Nova Orin to support AMR perception
The global market for autonomous mobile robots (AMRs) in intralogistics could surpass $46 billion by 2030, up from under $8 billion in 2021, estimated ABI Research. Factories and warehouses are turning to AMRs to improve efficiency and safety at scale, wrote Gerard Andrews, senior product marketing manager at NVIDIA, in a blog post.
"Order fulfillment is a massive industry of moving parts," he said. "Heavily supported by AMRs, warehouses can span 1 million square feet, expanding and reconfiguring to meet demands. It's an obstacle course of workers and bottlenecks for hospitals, retailers, airports, manufacturers and others."
Designing a full navigation, safety, and management stack for new AMRs can be costly and time consuming. NVIDIA's new Isaac Nova Orin compute and sensor reference platform can free developers to focus on building and testing applications, according to Andrews. It includes over-the-air software management and can provide 3D perception for high levels of autonomy, he said.
Nova Orin's two Jetson AGX Orin units provide up to 550 TOPS of AI compute for perception, navigation, and human-machine interaction. These modules process data a sensor suite of up to six cameras, three lidars, and eight ultrasonic sensors.
In addition, Nova Orin includes support for Robot Operating System (ROS) software modules. NVIDIA also said it provides DeepMap tools for mapping a robot's environment.
"The entire platform is calibrated and tested to work out of the box and give developers valuable time to innovate on new features and capabilities," said Andrews.
Simulation to accelerate development
NVIDIA also launched its OVX data center-scale Omniverse computing system for industrial digital twins. NVIDIA partnered with Open Robotics to release new accelerated algorithms for realistic simulations, such as an Amazon warehouse, said Talla.
"Omniverse is central to our robotics platforms," said Huang as he announced updates and new releases for Omniverse. "And like NASA and Amazon, we and our customers in robotics and industrial automation realize the importance of digital twins and Omniverse."
Nova Orin includes tools for simulating a robot in Isaac Sim on Omniverse. NVIDIA said it plans to offer new hardware-accelerated modules, or Isaac ROS GEMs. They are intended to enable mobile robots to visually navigate, safely avoid obstacles, and efficiently plan paths.
"New simulation capabilities, available in the NVIDIA Isaac Sim April release, will help save time when building virtual environments to test and train AMRs," said Andrews. "Using 3D building blocks, developers can rapidly create realistic complex warehouse scenes and configurations to validate the robot's performance on a breadth of logistics tasks."
Nova Orin will be available later this year, said NVIDIA, which also announced its DRIVE Hyperion 9 platform for software-defined autonomous vehicle fleets.
About the Author
Eugene Demaitre
Eugene Demaitre is editorial director of Robotics 24/7. Prior to joining Peerless Media, he was a senior editor at Robotics Business Review and The Robot Report. Demaitre has also worked for BNA (now part of Bloomberg), Computerworld, and TechTarget. He has participated in numerous robotics-related webinars, podcasts, and events worldwide. Follow Eugene:
Follow Robotics 24/7 on Facebook
Article topics
Email Sign Up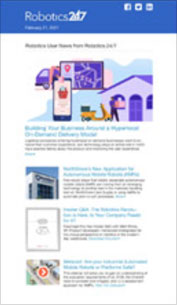 Get news, papers, media and research delivered
Stay up-to-date with news and resources you need to do your job. Research industry trends, compare companies and get market intelligence every week with Robotics 24/7. Subscribe to our robotics user email newsletter and we'll keep you informed and up-to-date.
NVIDIA