CHICAGO—Last week's ProMat was a welcome return to the excitement of the last live edition of the event, back in 2019. In 2021, MHI ran the virtual ProMat DX.
First off, this year's materials handling trade show was packed and informative. Registration set a record with 50,924 industry professionals across more than 1,000 exhibitor booths in two large halls. Things were hopping, even more so than at last year's successful MODEX, also put on by MHI. [Editor's note: Peerless Media, the parent organization of Robotics 24/7 and Modern Materials Handling, is a partner of MHI.]
Looking back on the industry changes since 2019, some challenges persist. Labor availability remains a core driver for technology adoption, as reaffirmed by MHI's "Annual Industry Report" released at ProMat.
This year's report and survey found that hiring and retaining qualified workers remained the top industry challenges, followed closely by issues like supply chain disruption, out-of-stock situations, and rising customer demands.
It's been a tumultuous few years since that last live ProMat, dominated first by the COVID-19 pandemic and then followed by the war in Ukraine and rising geopolitical instability. Since last spring, rising inflation and interest rates have been on consumers' and businesses' minds.
As a result, companies aren't just out to automate select tasks; they are also after greater operational agility and real-time analytics to help contain costs while hitting service levels. And exhibitors all around ProMat talked up integrated robotics as a way to speed up material flow and improve order-fulfillment efficiencies in distribution centers (DCs).
Mobile robots roll on
For sure, the market is further along with adoption of technologies like autonomous mobile robots (AMRs) than it was back in 2019. For instance, Modern Materials Handling's annual Equipment Outlook study found that 18% of readers surveyed in late 2022 are using AMRs or automated guided vehicles (AGVs), up from 10% the year before, and 6% two years previous.
It also found healthy adoption rates for piece-picking robotics, which use vision technology and artificial intelligence to know how to grasp and place items.
In another sign of the increasing focus on integration, there were more software vendors looking to coordinate the missions of multiple AMR fleets. ProMat exhibitors addressing this need included SVT Robotics, GreyOrange, CoEvolution, and BlueBotics, to name a few.
In the case of BlueBotics, the first generation for its multi-fleet orchestration targets the about 80 vendors with mobile robots already using its "ANT" natural feature navigation software. The company is working on broader reach using content from standards, according to Dr. Nicola Tomatis, CEO of BlueBotics.
ProMat exhibitors discuss data
Integrated, smart systems will also feed into analytics platforms, improving the ability of warehouse automation to adapt dynamically, other exhibitors told me.
Rob McKeel, CEO of global systems integrator and automation provider FORTNA, said that technology advances in areas like robotic piece picking can be the right fit today for some tasks. He said he also expects software platforms for digital twin modeling, data science, and analytics to advance rapidly.
They will harness real-time data from robots, helping operations adjust to constraints, avoid downtime, and become more profitable, McKeel said.
For example, a company could be running a goods-to-person (G2P) system, and a picker might leave a picker workstation unexpectedly, he explained. Real-time warehouse optimization software would spot that change and adjust the flow of work to the G2P system until the picker returns and capacity is restored, which could help avoid inefficiencies from work piling up.
It's a matter of having analytics that make warehouse automation more self-adjusting, to help with both performance and costs in today's "always on," high-volume fulfillment centers, said McKeel.
While labor shortages and costs remain core drivers for automation, McKeel said FORTNA is having discussions with more companies that want to improve analytics to know the ongoing cost of order picking and other fulfillment tasks. They do not want to know just what the materials handling automation project itself will cost or the raw throughput measures.
"Cost insights, like, 'What is the fundamental cost per pick for this solution?' is something we are getting more requests about," he said. "Before, it used to be more of a units-per-hour conversation ... knowing the throughput rates to expect from a project."
"Now we get more questions along the lines of, 'What will the cost per pick be,' and 'How can your solution help manage costs when the automation is running?'" McKeel noted.
FORTNA is taking steps with its software to improve agility, including digital twins and analytics, data-driven algorithms to help adjust the automation, as well as a more dynamic inventory-slotting capability, he said.
Already, the Optricity slotting that FORTNA acquired in early 2022 can be used to pinpoint the highest value set of slotting moves that can be handled during a shift without disrupting order picking, said McKeel. In the longer term, FORTNA is working to make the slotting engine fully dynamic, he said.
Robotics integration takes center stage
Other growth areas for FORTNA include AutoStore projects, including one system with over 1 million bins; the use of AMRs to support garment-on-hanger fulfillment; and integrated robotic piece picking, McKeel said. However, he added, FORTNA always takes a "problem-first" approach in assessment, so what's right for one client might not be the best for others.
Some major AMR vendors at the show also stressed the importance of integration. For example, shortly before ProMat, Locus Robotics and Berkshire Grey announced a combined solution that integrates the Berkshire Grey Robotic Shuttle Put Wall (BG RSPWi) with Locus Origin and Locus Vector bots.
At McCormick Place, 6 River Systems' booth featured not just its AMRs, but it also showed how goods from its system can feed sortation AMRs from Tompkins Robotics or be routed to packaging automation from Accutech.
At the Honewell Intelligrated booth, one demonstration featured Honeywell's Smart, Flexible Depalletizer, which uses an articulating arm plus vision and AI, working in concert with an autonomous lift from OTTO Motors.
Keith Fisher, president of Honeywell Intelligrated, explained that this type of integrated offering is well-suited to brownfield DCs, where space constraints might make it challenging to install pallet conveyor runs into and out of a robotic depalletizer.
Other vendors continued to integrate automated storage systems and shuttles with robotic piece picking. For instance, Vanderlande showed its GtP 2.0 workstation with a robotic piece-picking arm from RightHand Robotics. The companies had announced their alliance announced at MODEX last year.
ProMat featured more robots than ever. But for all the wow factor of robots like Agility Robotics' tote-moving humanoid Digit, the watchword was "integration"—how to get robots to work with one another, and for that matter, with everything else.
Vision applications
Smart piece-picking robots typically use vision technology, but vision also is cropping up in other types of systems that do things like count and spot problems with inventory in storage.
At ProMat, I stopped by to check out Dexory, formerly called BotsAndUs. Its system puts vision and scanner technology on a mobile robot. The cameras and sensors are on a mechanism that can extend to 12 m (39.3 ft.) high to capture images, labels, and barcode data as the AMRs move about the warehouse. This data is fed into a software platform that acts like a digital twin of the warehouse and the inventory stored in its racks.
The system isn't just for counting inventory via barcode scans, said Oana Jinga, chief operating officer of Dexory. The image analysis can also highlight empty rack locations, and spot problems with inventory or rack condition, she added.
Insights from the platform can help make warehouse management systems (WMS) more accurate, which helps avoid problems in order fulfillment, Jinga said. They can also help a warehouse manage storage capacity when adding more products or a third-party logistics provider (3PL) make space for new clients.
With this blending of AMRs, vision technology, and digital twin software, operations can have an accurate view of what is really in their facilities, open positions, and even monitor distances between goods in reserve and forward pick areas, said Jinga. "With this solution, you can embrace what we call the 'real-time digital twin,' which is the future for managing warehouses," she said.
Multiple other exhibitors highlighted digital twin capabilities. Most blend modeling with analytics to make their software useful for operational "what-ifs" and insights, rather than being a one-time modeling effort.
Lift trucks charge up
Nearly every major lift truck provider was showing off autonomous models, as well as lithium power options. Multiple vendors also offered wireless charging as a way to incrementally boost productivity for opportunity charging versus having operators hook into wired chargers.
With wireless charging, the operator simply needs to pull the truck into relatively close proximity to a wireless charging station—the more space tolerance, the easier it is to do—to trigger an opportunity charge. For instance, Enersys launched its new wireless charging product.
I also had discussions about how opportunity charging practices can change for the better, making the charging points less centralized to avoid a lumpy power draw, which can be a significant cost factor for large fleets.
Grayson Zulauf, co-founder and CEO of Resonant Link, a wireless charging provider that exhibited at ProMat, said he believes opportunity charging can be improved by distributing the charging points, rather than the more traditional practice of placing all chargers in a row near a break room or some other centralized point.
Centralizing chargers tends to result in all assets being charged at the same time, which results in a large energy draw and higher energy costs when a site's electricity rates are set based on peak usage, said Zulauf.
"When we think about what's possible with opportunity charging, we can do more today to really distribute that energy transfer for fleets across both time and space, which lowers costs," he told me. "With fast, wireless opportunity charging, you can place chargers at natural stopping points in a workflow, like at the end of an aisle, or near a loading dock, and get more frequent and very effective charging."
"That will smooth out the charging draw for your mobile fleet rather than having these bigger draws at peak times, and it will enable smaller fleets to do more work," Zulauf added.
For this strategy to work well, chargers need to be fast and easy to use, he said. In the longer term, charging points could be integrated into the floor of warehouse aisles, making for a more continuous approach to charging batteries, Zulauf said. This would in turn make smaller, less costly batteries feasible for a site's industrial truck or mobile robot assets, he claimed.
Editor's note: For more about ProMat 2023, visit Robotics 24/7's special coverage page.
About the Author
Roberto Michel
Roberto Michel, senior editor for Modern, has covered manufacturing and supply chain management trends since 1996, mainly as a former staff editor and former contributor at Manufacturing Business Technology. He has been a contributor to Modern since 2004. He has worked on numerous show dailies, including at ProMat, the North American Material Handling Logistics show, and National Manufacturing Week. You can reach him at:
[email protected]
.
Follow Robotics 24/7 on Facebook
Article topics
Email Sign Up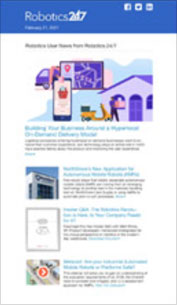 Get news, papers, media and research delivered
Stay up-to-date with news and resources you need to do your job. Research industry trends, compare companies and get market intelligence every week with Robotics 24/7. Subscribe to our robotics user email newsletter and we'll keep you informed and up-to-date.
Honeywell Intelligrated