The drone of lawnmowers is a common sound of summer in North America, but robots could make the task more efficient, particularly for challenging terrain. RC Mowers is continuing its "Great American Road Show" to show the capabilities of its product line to dealers and potential owners.
Embankscape Equipment LLC, which does business as RC Mowers, demonstrated its remotely operated mowers last year. The company recently named Matthew Bries as senior robotics engineer, among other hires.
"These new hires are a testament to the abilities of our product and the anticipation of our future product lines," stated Tim Kubista, vice president of sales and marketing at RC Mowers. "We are seeing sustained interest from both commercial landscapers and from public works departments. Their positive reaction to our mowers, along with the continued expansion of our dealer network, has made these new hires a necessity to meet demand."
"What's great is that last year was profitable after three and a half years and spending $1 million in R&D in our second full year," he told Robotics 24/7. "We have about 40 employees and one product with three models."
Three reasons to use robots for mowing
"Our system is used for extreme landscapes, such as those that are steep or hazardous for ride-on mowers," said Kubista. "Many of these landscapes are mown only once or twice per year. Our new product does a better job with heavy materials."
"People buy from RC Mowers for one of three reasons," he said. "The first is safety—somebody died in St. Louis because of a rollover."
"Another is that locales can't hire enough people to work with string trimmers," noted Kubista. "It's not efficient. For instance, Provo, Utah, was frustrated because operators couldn't mow in a straight line."
"The third reason is that departments of transportation need to find people who can work alongside bridges," he added. "Our customers are very happy and include a lot of governments, and we have dealers in the U.S., Canada, and Australia."
Kubista said that while RC Mowers' products cost $38,000 to $60,000, compared with the $10,000 to $15,000 of some commercial mowing equipment, the benefits outweigh the cost for its customers.
In May, RC Mowers broke ground on new, $4.8 million headquarters in Green Bay, Wis. "We've outgrown our factory, and we'll move in February 2023," said Kubista.
The company makes all of its mowers in the U.S. with a 30-day buy-back guarantee and a 72-hour part-shipping guarantee.
RC Mowers offers business value proposition
Unlike other companies such as Husqvarna, which make robotic lawnmowers for homeowners, RC Mowers focuses on the landscaping industry.
"We're developing a fully autonomous commercial mower, not a Roomba," said Kubista, referring to iRobot's delayed launch of its Terra t7 because of the COVID-19 pandemic.
"Consumer robots are good, but they're meant for small lawns, and you need to run a guide wire," he said. "They mow every day while you're sleeping or away."
By contrast, the commercial lawn and landscaping industry has about $107 billion in total revenue, according to Kubista.
"About half is from mowing services, but that's the least profitable part of the business for a landscaper," he said. "When you survey management at these firms, their No. 1 problem is labor availability, which has been the case for 18 years."
"This industry purchases 385,000 commercials worth $4 billion per year," Kubista said. "We're converting a three-person crew, with a truck, a trailer, and a blower, to a one-person crew."
Supervised autonomy comes to landscaping
"Our product looks like a traditional zero-turn mower," explained Kubista. "Once you get on the mower and mow a perimeter, it will map and memorize a zone, as well as features to avoid, such as flower beds or water. You only need to designate 'do not mow' areas once for each job site."
"Then with RC Mowers' app, the operator can pick a pattern and tell it to mow, then pick a second mower and deploy it," he said. The operator needs to remain in the area in case of an emergency stop, Kubista acknowledged. The app will also provide an alert if it has a question about an obstacle.
How much training is required to remotely control RC Mowers' systems? "We learned from Steve Jobs, who didn't provide a user manual for the iPad," said Kubista. "We gave my children the controls for the remote-control extreme landscape mower, and they got it up and running very easily."
"But you do need someone who cares enough to walk around the site," he cautioned. "Homeless people could be sleeping beneath something, or there could be things that are dangerous for machines, like concrete blocks, mufflers, and gas pipes."
"Our robot is desigend to be easy to maintain, since it runs exactly like existing machinery," Kubista said. RC Mowers said it has built its products and components such as lidar and GPS to be modular.
RC Mowers continues demonstrations
The automated lawncare industry is growing, but Kubista said he isn't worried about competition. "There are about 20 players taking different technical approaches with different business models, and we hope they all succeed," he said. "If we were the only ones out there, it wouldn't seem like a real industry."
"Some equipment providers see AMRs [autonomous mobile robots] as an existential threat to their business, but it's more a major rearrangement," Kubista said. "Distribution will change. Most sales go through retail lawn centers, but we're taking a direct sales approach through the providers of large equipment like sewer trucks and streetsweepers."
RC Mowers is also trying to stand out by demonstrating its mowers in the field rather than a showroom.
"With our road show, we can show our product in real environments with multiple machines," Kubista said. "With a typical three-day demo, I bring a technical person. The buyers are always thinking, 'How will it work in my environment?' and they want assurances that they can reduce labor requirements by two-thirds safely."
After its "Great American Road Show," RC Mowers expects to begin shipping its robotic mowers in September.
About the Author
Eugene Demaitre
Eugene Demaitre is editorial director of Robotics 24/7. Prior to joining Peerless Media, he was a senior editor at Robotics Business Review and The Robot Report. Demaitre has also worked for BNA (now part of Bloomberg), Computerworld, and TechTarget. He has participated in numerous robotics-related webinars, podcasts, and events worldwide. Follow Eugene:
Follow Robotics 24/7 on Facebook
Article topics
Email Sign Up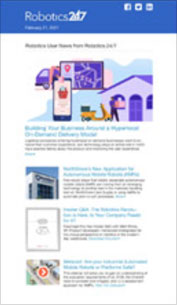 Get news, papers, media and research delivered
Stay up-to-date with news and resources you need to do your job. Research industry trends, compare companies and get market intelligence every week with Robotics 24/7. Subscribe to our robotics user email newsletter and we'll keep you informed and up-to-date.
RC Mowers