CAMBRIDGE, Mass.—At last night's RoboSource event, Venture Café and MassRobotics hosted discussions of how robotics developers, startups, investors, and users can collaborate to ensure they make the most of automation. RoboSource featured three speakers, 15 exhibitors, and over 400 attendees.
"The goal is to get people together from manufacturers, local startups, and large corporates," said Russell Nickerson, engagement liaison at MassRobotics, in his introduction to the event. "It follows the concept of integrators, who help source materials and machinery and who provide engineers and sales expertise. Everyone in this community needs to help one another connect the dots and solve problems."
MassRobotics provides co-working space, networking opportunities, and other resources to nurture the robotics ecosystem in Massachusetts. Venture Café Cambridge provides programming for innovators and entrepreneurs for the Boston area and beyond.
Boston Engineering shares insights into commercialization
The speakers at RoboSource represented a robotics integrator, a startup, and a component supplier.
Mark Smithers, chief technology officer at Boston Engineering Corp., explained that his company provides services to help companies commercialize their technologies. Waltham, Mass.-based Boston Engineeering has centers of excellence around robotics, embedded systems, digital solutions such as augmented reality (AR), controls, and "DFX" or design for manufacturing.
With more than 25 years of experience in working with innovators and federal Small Business Innovation Research (SBIR) grants, Boston Engineering has focused on overcoming hurdles to commercial viability, said Smithers. He outlined challenges at each of the following stages:
Research: Technology may not be ready, and there are plenty of opportunities to fail, Smithers said. However, it's OK to fail early, as long as risk is managed. "Researchers and entrepreneurs will push the limits of technology," he said.
Feasibility prototype: Sometimes, a technology is not convincing, which is why Boston Engineering focuses on DFX in taking products from "presentable" prototypes at Technology Readiness Level (TRL) 6 to commercialization at TRL 9.
Alpha development: A common mistake is not understanding the users' needs, Smithers noted. It's important to think about them and ask during the design phase, he said.
Beta development: Startups need resources to scale, and not just money, said Smithers. Organizations such as MassRobotics can help, he said.
Production: Bringing an innovation into reality requires overcoming uncertainty. "Big business will pull when a technology is believable and commercially viable," Smithers said. He also emphasized the importance of knowing desired production volumes and retaining control of one's own manufacturing capabilities versus fully outsourcing them.
"You need people to help bridge the gaps between ideation and capitalization," said Smithers. "Find subject-matter and DFX experts."
Defining a product with potential customers early on can even lead to product redesign, he added. As with burning capital during design and development, robotics makers should have a sense of timing to steady-state production, Smithers said.
In addition, a modular design can help with future flexibility. Smithers cited the case of an underwater data-collection system that Boston Engineering developed for use by NOAA for hurricane forecasting, the U.S. Navy for mine countermeasures, and anti-submarine warfare.
Boundless Robotics shows new autonomous growing system
Carl Palme, founder and CEO of MassRobotics resident startup Boundless Robotics Inc., had spent 10 years in manufacturing automation and wanted to grow food at home, but he didn't have a green thumb. However, when he asked people about the idea of a robotic system for growing 5% of their own food, Palme found that there wasn't enough demand.
The economics for pesticide-free, organic homegrown cannabis were different. The amount of money that consumers could save was compelling, but many of Palme's male engineer friends felt they could build their own hydroponic systems.
Following Smithers' point about listening to customers, Palme spoke with about 500 people over the course of three years and learned that women would be interested in a cannabis-growing system if it looked nice in a living room and if they could by it for their parents.
He said he redesigned Annaboto and sold 10 units in 2021. The final beta system shipped in summer 2022 with a new lamp, odor mitigation, and a camera capturing growth every 15 minutes so that people could track and share it with a smartphone app.
"You can't treat hardware like software—it takes time, and you can't magically push out upgrades. Making things that work repeatably is really hard," Palme observed. "It's more difficult to pivot, so you want to fail fast and not optimize too soon. You should fall in love with the problem, not the solution."
He also recommended testing products in the field. "Nothing happens in the office," said Palme. "You should also charge for beta tests so that early customers are invested in helping the product succeed."
Boundless Robotics this week unveiled the production version of Annaboto, which will begin shipping next month.
maxon masters small motors
Taunton, Mass.-based maxon precision motors inc. has been providing drive systems for robotic applications since 1961, said Carsten Horn, application engineering manager at the U.S. unit of Switzerland-based maxon group.
Like Smithers and Palme, Horn pointed out that innovators and entrepreneurs should focus on design flexibility and understanding the target application and market.
He recalled that maxon's current product line does not reflect the initial intent of principal shareholder Karl Walter Braun, who wanted to develop a small motor for an electric shaver. While that product didn't succeed, the company successfully pivoted and now has more than 3,000 employees and ships 5 million battery-powered drives a year.
"We focus on smaller actuators used in robots, medical devices, and implants," Horn said. "We also do systems integration and can help with some smaller systems development."
Motors from maxon are also found in space exploration, exoskeletons, and prosthetics, he added. maxon expects some customization around its systems, and it maintains a global research and development organization, said Horn.
"Developers must understand that the technology has to solve a customer's problem," he concluded.
In addition to the speakers' organizations, exhibitors at RoboSource included Camber Development, CliftonLarsonAllen, Cofactr, Danfoss, Dassault Systèmes SolidWorks, igus, Inspiralia Group, Lattice Semiconductor, Mascon, Mitsubishi Electric, Nano Dimension, Newgrange Design, and Ruland Manufacturing.
"We want each of our events to offer something different to help members of the Massachusetts robotics ecosystem," Tom Ryden, executive director of MassRobotics, told Robotics 24/7.
About the Author
Eugene Demaitre
Eugene Demaitre is editorial director of Robotics 24/7. Prior to joining Peerless Media, he was a senior editor at Robotics Business Review and The Robot Report. Demaitre has also worked for BNA (now part of Bloomberg), Computerworld, and TechTarget. He has participated in numerous robotics-related webinars, podcasts, and events worldwide. Follow Eugene:
Follow Robotics 24/7 on Facebook
Article topics
Email Sign Up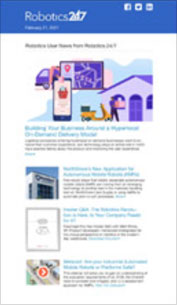 Get news, papers, media and research delivered
Stay up-to-date with news and resources you need to do your job. Research industry trends, compare companies and get market intelligence every week with Robotics 24/7. Subscribe to our robotics user email newsletter and we'll keep you informed and up-to-date.
MassRobotics