BOSTON—At MassRobotics' fifth annual Robot Block Party this weekend, the public had an opportunity to see and touch many of the robots developed and built in Massachusetts. The event was part of RoboBoston, which included a career fair last Friday.
Approximately 5,000 people attended the Robot Block Party, according to Joyce Sidopoulos, co-founder and chief of operations at MassRobotics. Over 760 people registered for the Robotics and AI Technical Career Fair—even more than expected, she added.
The Robot Block Party drew families from Boston's growing Seaport District and beyond.
"We're just grateful to all our partners, and we hope the public takes advantage of this chance to see what's going on in our community," Tom Ryden, executive director of MassRobotics, told Robotics 24/7.
MassRobotics is a Boston-based organization dedicated to nurturing the robotics ecosystem in Massachusetts, with startup and co-working space, networking events, and educational opportunities.
Exhibitors show usefulness of commercial robots
At Universal Robots A/S's table, Christopher Savoia, regional head of the UR+ ecosystem, showed youngsters how to teach a collaborative robot to move through demonstration.
Boston-based Teradyne Inc., which owns Universal Robots, also had a table for its Mobile Industrial Robots ApS and AutoGuide Mobile Robots units. "It's good for the public to see that we're not just testing equipment but also automation," said Nolan Manor, a robotics software engineer at Teradyne.
Danish autonomous mobile robot (AMR) provider Mobile Industrial Robots has been expanding its North American presence. AutoGuide offers tuggers and is working on lifts for custom payloads, said a company representative.
Mitsubishi Electric, a strategic partner of MassRobotics, demonstrated its MELFA FR robot arm. The company, whose U.S. office is in Cambridge, Mass., wanted to show the public how strong the Massachusetts robotics community is for innovation and supporting industry, said James Knauer, field application engineer.
A light robotic arm using Harmonic Drive LLC drives attracted several families. "It's great for kids to see how they can use robots in the future," said Eugen Niselson, a sales engineering manager at Harmonic Drive.
Wilmington, Mass.-based Symbotic Inc., which provides warehouse automation, showed how its software and robotic shuttles can provide dense storage for efficient fulfillment.
Also from Wilmington, Analog Devices Inc. used small autonomous cars to show its semiconductor and communications technology can do.
Vicarious Surgical Inc. had toy robot arms for children to assemble and continued its recruitment efforts from MassRobotics' career fair the day before.
The Waltham, Mass.-based company entered into a special-purpose acquisition company (SPAC) merger last year. It completed the Beta 2 system design of its minimally invasive surgical robot this summer.
On the consumer side, Tertill Corp. fielded several inquiries about its robot for weeding gardens. The technology can help busy people as they return to offices, noted Rory MacKean, co-founder and chief product officer at the North Billerica, Mass., company.
The wedding robot is called Tertill and is sold on the company's website for $349.
"Tertill is a solar-powered weeding robot for vegetable and flower gardens," MacKean said. "It's waterproof, so you can leave it outside all season. Every day, it'll charge itself up using sunlight and drive around avoid any plants."
Mobile systems draw attention at Robot Block Party
Always popular, Watham, Mass.-based Boston Dynamics Inc. had multiple Spot quadrupeds, including two with robot arms on them.
Festo Corp. showed off its BionicOpter and BionicSwifts, which were inspired by dragonflies and swift birds, respectively. Johannes Linzbach, head of the company's research hub in Boston, said the birds were developed as part of the company's Bionic Learning Network.
Within that network, Festo studies animal movements and tries to emulate them with its technology. Linzbach said the birds are helping the company design products for industrial applications.
MassRobotics resident Cleo Robotics showed how its Dronut indoor drone is safe and requires minimal training to pilot. In addition, The MITRE Corp. displayed uncrewed underwater vehicles (UUVs) from General Dynamics.
Piaggio Fast Forward showed how its gita robot can carry a load and follow a user with the push of a button. The gitamini is currently available at $1,850, and the gitaplus will cost $3,475, said engineer Kevin Robb.
Similarly, Segway, which is best known for its scooters, displayed mobile service robots.
GreenSight, another MassRobotics resident, showed how drones and gel-based marine robots can gather information for agriculture, environmental monitoring, and the energy industry.
Ridgefield, Conn.-based Target Arm Inc. discussed how its Tular patented device enables drones to be launched and recovered from moving vehicles. In June, the company won a U.S. Space Force contract for package delivery into space.
R&D displayed at MassRobotics event
Toyota Research Institute (TRI) demonstrated its Punyo bubble gripper, which includes hydraulics and vision-based internal sensors to detect the right pressure for handling fragile objects. For example, it could be used for household tasks such as loading and unloading a dishwasher.
TRI has only 250 to 300 employees nationwide, and its lab in Cambridge, Mass., focuses on manipulation, said research scientist Joseph Masterjohn. With MIT, the institute has developed the Drake model-based design for contact simulation of robot manipulation.
Speaking of the Massachusetts Institute of Technology, its Computer Science and Artificial Intelligence Laboratory (MIT CSAIL) touted its alliances program. CSAIL Alliances offers companies opportunities to engage with its students and researchers, and its membership includes more than 1,200 people.
The institute also showed off one of its four-legged robots. Earlier this year, a version of the robot beat a world record for the being the fastest legged robot.
Onshape Inc. showed how its computer-aided design (CAD) software enables developers to design parts for robots and other systems. A robot designed with Onshape that shot table-tennis balls into a net was popular with small children.
In partnership with PTC, Boston-based Onshape has provided its cloud-based software to MassRobotics resident startups.
Markforged Inc., which recently announced plans to acquire Digital Metal, showed how additive manufacturing of metals and other materials has moved from prototyping to production. The company said it expects to move from Watertown, Mass., to Waltham, Mass., later this year.
Siemens also explained the value of simulation and 3D printing for industrial use.
Educational institutions share robot research
The University of Massachusetts (UMass) Lowell showed Digit, a bipedal robot from Agility Robotics Inc. While Tesla Inc. had revealed the latest version of its Optimus humanoid last week, Digit is already available for research and warehouse use.
UMass Lowell is home to the Human-Robot Interaction (HRI) Lab and the New England Robotics Validation and Experimentation (NERVE) Center. The center is an interdisciplinary facility that evaluates robot capabilities across domains including industrial automation, exoskeletons, and disaster response, explained Holly Yanco, founder of the HRI Lab and director of the NERVE Center.
The Wyss Institute of Biologically Inspired Engineering at Harvard University demonstrated wearable devices for assistive and therapeutic use.
"The goal is to design clothing that can aid people," said James Arnold, a graduate student at Harvard. He showed a vest with inertial measurement unit (IMU) sensors and pneumatics that can help the wearer lift an arm for everyday tasks such as brushing teeth.
The Wyss Institute, a pioneer in soft robotics, also displayed a glove commercialized by Imago Rehab, which spun out of it last year. The glove was designed for neuromuscular rehabilitation.
"Stroke patients can use this glove on a daily basis, rather than wait for sessions with a therapist a few times a week," said Arnold.
Tufts University, whose School of Engineering offers a master's degree in robotic engineering, demonstrated how augmented reality (AR) using a Microsoft Hololens could control a Kinova light collaborative robot arm and a Turtlebot mobile robot.
Tufts also had a Spot legged robot from Boston Dynamics, and MIT CSAIL demonstrated two smaller quadrupeds.
The Institute for Experiential Robotics at Northeastern University showed a rover with a robotic arm, its entry into the 2021 University Rover Challenge. In April, Northeastern won a Research, Innovation, Scholarship, and Entrepreneurship (RISE) award for its robot to extract, melt, and purify water from subsurface ice on Mars.
Editor's note: Cesareo Contreras contributed to this article.
About the Author
Eugene Demaitre
Eugene Demaitre is editorial director of Robotics 24/7. Prior to joining Peerless Media, he was a senior editor at Robotics Business Review and The Robot Report. Demaitre has also worked for BNA (now part of Bloomberg), Computerworld, and TechTarget. He has participated in numerous robotics-related webinars, podcasts, and events worldwide. Follow Eugene:
Follow Robotics 24/7 on Facebook
Article topics
Email Sign Up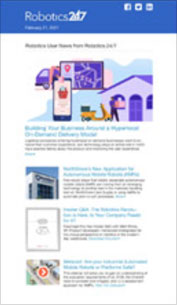 Get news, papers, media and research delivered
Stay up-to-date with news and resources you need to do your job. Research industry trends, compare companies and get market intelligence every week with Robotics 24/7. Subscribe to our robotics user email newsletter and we'll keep you informed and up-to-date.
Eugene Demaitre