The end of the year is the customary time to reflect on achievements and challenges, as well as to look ahead to goals for the year to come. After nearly two years of dealing with the COVID-19 pandemic, supply chain snafus, and shifting demand, multiple industries are looking to robots and automation to improve efficiency and mitigate widespread labor shortages.
Robotics 24/7 asked the following thought leaders among robotics associations, end users, and suppliers about their thoughts:
This week, we start with looking back at some of the biggest robotics trends of 2021. Next week, we'll look at some predictions for 2022.
Robotics achievements unlocked
What was your organization's biggest accomplishment this past year?
Bieller: IFR really achieved a lot in 2021, so it is hard to pick the most important achievement. We managed to keep the robotics community together, without any in-person meetings nor the chance to meet each other at fairs and conferences.
The positive effects were confirmed in October, when we published World Robotics 2021. Despite the global pandemic, robot sales overall grew, and order intake rebounded early in 2021.
The IFR further expanded the visibility and reach of the robotics industry—in the media, in social networks, and in a record number of online events and panel discussions. This visibility was within and beyond the classic stakeholders, decision-makers, policymakers, and investors.
Ryden: This is a difficult question, as MassRobotics achieved a number of milestones this year. We grew the number of resident start-ups in our space by over 50%, and we now house 60+ companies.
We had the opportunity to do some in-person events again this year, and our Robo Boston event drew over 5,000 people. We hosted a number of successful startup challenges, including our Healthcare Robotics Accelerator where we have finalists from the U.S., Canada, Europe, and Asia.
Probably the biggest accomplishment in terms of community impact was the release of our AMR Interoperability Standard this past summer, which has already been shown in operation at a FedEx facility.
Teele: At the ARM Institute, we were able to accomplish much during a challenging pandemic year. However, our biggest accomplishment was the launch of RoboticsCareer.org.
Numerous studies have indicated that lack of skilled labor is the No. 1 reason holding back automation at manufacturers in the U.S.
This free, national resource is designed to help those both entering the workforce as well as incumbent workers better understand the skills and career paths for a role working with robotics in manufacturing, and what actions they can take to start or advance their career. Site visitors can search over 12,000 programs across the U.S. to find those that help them develop these skills for a rewarding career.
Prather: We continued to deploy more robotics into our operations to address the growing boom in e-commerce and a shrinking workforce. From mobile robots to fixed pick-and-place arms, we continue to add more solutions with more partners in 2021. These accomplishments have set us up for even bigger things in 2022.
Glynn: 6 River Systems takes pride in being able to help our loyal customers, which are the heart of our company, navigate not only the increased demand amid the pandemic, but also the ongoing supply chain crisis.
Amidst all this, our team continued to develop innovative products and solutions in 2021 that are now transforming our customers' fulfillment processes. Our team is also tremendously proud of our third annual user conference, FLOW, which brought 1,300 industry professionals together to hear from industry-leading thought leaders through 30 sessions over the course of the two-day virtual conference.
Elazary: I've never been prouder of our team than I am after this year of just amazing growth. This year, inVia almost doubled the number of deployments we had last year, and our team has scaled up to keep up with what looks like will be even greater demand right out of the gate next year. There is nothing more gratifying for all of us than to see our automation systems multiplying and helping our customers deliver e-commerce orders to their customers faster.
A big reason why we were able to grow so much this past year has been our inVia PickerWall product. When we developed it, we were looking for a way to help customers deliver orders faster, and at the same time help their employees work in a way that is more motivating for them.
Instead of demanding that they work robotically to keep up with the robots, we created a workflow where they can work in bursts which comes more naturally to people. The robots keep working nonstop as a tool to help people, not burn them out.
We've seen lots of fundings and acquisitions in the robotics space—do you expect that trend to continue?
Bieller: The service robot industry is developing at a high rate. Many start-up companies appear each year, developing innovative service robot applications and improving existing concepts.
But it is also true that many of these young companies disappear as quickly as they arrived. Some of them are acquired by the incumbents, others are acquired by companies from outside industries wanting to expand into service robotics. Then again, others simply cease to exist because they fail to develop a marketable product or there is insufficient demand for the specific product. This describes a young and growing industry with a rapidly developing technology.
In 2021, we counted a new record of 1,050 companies in the field of service robotics—and we expect the fluctuations for some time. A certain consolidation will be needed for the market to further grow and reach more impact.
Ryden: I do. We have seen some large acquisitions or public offerings by a number of the young robotics companies, such as by Fetch and Berkshire Grey, and these successful exits will spur on more investments.
Teele: We expect this trend to continue, and much of this is because of the pandemic, where robots are increasingly contributing to the movement of goods. Robotics companies, in general, need significant amounts of funding to deliver market-ready solutions, and the market is more than ready to adopt robotics for safety and to compensate for the skills shortage.
Prather: I think we will, but 2021 definitely set the bar very high when it comes to funding and acquisitions in the space.
I think 2022 may be more about alliances and partnerships. That could more partnerships along the lines of Plus One teaming with Locus Robotics to develop loading and unloading applications, to more mobile robotic firms joining the growing interoperability efforts with organizations like MassRobotics or startups like Open Robotics and InOrbit.
Glynn: Absolutely. The increased focus on omnichannel fulfillment accelerated by the pandemic is not going away.
On top of that, consumers now expect delivery quicker than ever before. These external pressures are going to require companies to adapt or fall behind and this will lead to more money pouring into companies developing the solutions that operators are seeking.
Elazary: I do expect we'll see more funding and more consolidation in this space.
Brands and 3PLs [third-party logistics providers] have had to face a perfect storm since the pandemic—fulfill a lot more e-commerce orders with a lot less labor. This created pressures that permanently shifted the landscape, and automation is the only answer for them to keep up. It accelerated both the need for robots and the level of uncertainty they'll face over the next decade.
Mobile robots help on both fronts, because they're so much more flexible than traditional fixed automation. All of that will lead to more mobile robotics companies being built, as well as more legacy companies looking to buy their way into the new technology.
Increasing warehouse automation, interoperability
We've all heard about spiking e-commerce demand and labor shortages, but most warehouses aren't yet automated. What needs to change?
Bieller: There are different factors at play: we often hear from companies that are so busy with their day-to-day business they lack the time and/or resources to tackle the urgently needed automation.
Another reason typically cited is that companies had been testing automation solutions at an earlier stage and did not have a good experience. There is often a certain hesitation to retry, although it would likely turn out as a success.
Some customers face a broad offering by the multitude of players in the market, and it is not always easy to find the best solution for their individual needs. A lack of interoperability could easily feel like a technology lock-in. Last but not least, a lack of skilled labor is also preventing warehouse automation.
Three factors could bring about change:
Broad implementation of interoperability standards
A certain market consolidation
More information on and dedicated training in warehouse automation
Ryden: Only a low percentage of warehouses are using robotics solutions, but based on the growth rates that companies like Locus Robotics and 6 River Systems are experiencing, that will change. Adoption can grow even faster with the continued improvements in the areas of ease of use and ease of installation.
Teele: Two factors are limiting automation – the lack of skilled labor, and the lack of flexibility in customization of robotic activities.
Very large logistics companies can afford to hire and train staff, and have robots perform static roles. Small and medium-size warehouses struggle with finding skilled staff, and need robots that are more easily re-programmable for different tasks.
But there are companies, many within our own consortium, that are working to solve both of these challenges, so we expect to see more solutions for these issues in 2022.
Prather: Reality is going to kick in 2022. End users definitely realize that e-commerce is here to stay and there is no magic bullet to solve the labor shortage. So we will see end users being much more active in looking for automation solutions to address these two issues.
However, this is where reality needs to kick in for automation solution providers. They need to focus on providing solutions that work and address tasks that are ripe for automation. Do not promise solutions you cannot provide, because that will turn end users off.
There are plenty of low-hanging fruit out there; go after them and prove to end users you got this. From there, both providers and end users can work together on addressing the bigger items out there.
Glynn: Companies need to take a hard look at their fulfillment system and picture it a year from now, then picture it again 10 years from now—will the current system hold up? If not, it's time for an upgrade.
Automation is easy to implement and adjust to meet current and future needs. Demand is expected to remain high following the influx of e-commerce customers during the pandemic. The new customers aren't going anywhere and are now accustomed to getting what they need at the click of a button.
Elazary: I think the change has already happened. It was the pandemic. I believe we were on a steady path toward companies eventually automating pre-pandemic, but the urgency and immediacy wasn't there. Companies could still keep up with the demand curve and hire additional labor for a while, but that all changed overnight when demand turned into a tsunami, and labor became a desert.
We're already seeing the change. We have every size company coming to us looking for an automation solution, and they want it ASAP.
Another big topic of discussion in 2021 has been around various interoperability efforts. What should the next steps be?
Bieller: There are so many approaches to tackle interoperability—the ROS [Robot Operating System] community is active on the subject, Mass Robotics developed a standard, VDMA and VDA published a specification, OPC is working on the topic, amongst others.
It will be hard to achieve critical mass and make a sustainable impact. We need large scale implementation and adoption—and this most likely will require collaboration between different parties and a certain consolidation. IFR is happy to engage and facilitate dialogue.
Ryden: One of the things we at MassRobotics are looking at is charging interoperability. Right now, all mobile robots have their own method for charging, and as facilities install robots from a variety of vendors, all those different chargers take up valuable real estate on the floor.
A common charger could be very beneficial in reducing the space needed to keep the robots functioning.
Teele: Interoperability is challenging because of the wide variety of software and hardware solutions that a robot might need to work with.
The next steps should be the identification of common tasks that can benefit a larger range of manufacturers and the creation of some shared AI-based datasets to automate these common tasks.
Prather: Interoperability is here, and it is not going anywhere, but it is starting to enter the "Are you in or not?" phase. This could be the make-or-break part of making interoperability as widespread as many of us want it to be.
We want everybody to have a seat at the interoperability table. We want everyone's voices to be heard. So I expect to see a lot more conversation around how do we do that and ensuring everyone feels like their concerns about interoperability are heard. Hopefully with the return of in-person events, we can have those critical face-to-face conversations.
Glynn: 6 River Systems is a supporter of the ongoing interoperability efforts under way. In fact, we are proud to be part of a Massachusetts-based initiative that supports and is advocating for seamless integration of AMRs [autonomous mobile robots], which we feel is an important next step in achieving this effort.
Ease of integration is key to simplifying the adaptation of automation across the market. These efforts should be implemented not only nationally, but internationally.
Elazary: I believe we need to look at interoperability at a higher level than just how robots from different vendors are systems integrated.
At inVia, we're solving a more macro-level problem of how you ensure that goods flow across the warehouse, as they're handled by people, robots, and other types of equipment. This is a famous computer science problem, called the "Job Shop Problem." How do you make sure that all of the tasks that are being performed in different parts of the warehouse interoperate from a timing perspective, so that there aren't stoppages or idle time?
You need an orchestrating system before you can effectively address interoperability at a micro or individual machine level. The individual integrations will be easier—and add greater value—if the orchestration is in place first.
Editor's note: Robotics 24/7 will have more end-of-year and prediction pieces in the coming weeks.
About the Author
Eugene Demaitre
Eugene Demaitre is editorial director of Robotics 24/7. Prior to joining Peerless Media, he was a senior editor at Robotics Business Review and The Robot Report. Demaitre has also worked for BNA (now part of Bloomberg), Computerworld, and TechTarget. He has participated in numerous robotics-related webinars, podcasts, and events worldwide. Follow Eugene:
Follow Robotics 24/7 on Facebook
Article topics
Email Sign Up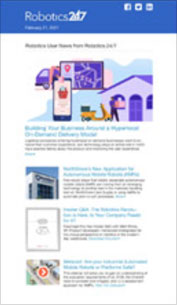 Get news, papers, media and research delivered
Stay up-to-date with news and resources you need to do your job. Research industry trends, compare companies and get market intelligence every week with Robotics 24/7. Subscribe to our robotics user email newsletter and we'll keep you informed and up-to-date.
Getty Images