With a network of over 60 locations across the U.S., SEKO Logistics completed nearly one million White Glove home deliveries last year and expects this figure to double by 2020, as consumers continue to order bulky items online - causing a shift in the market by increasingly expressing the preference for in-home assembly services.
SEKO has also been one of the biggest beneficiaries of the growing reluctance of express and mail carriers to take on shipments such as fitness equipment, furniture, home appliances, big screen televisions, and bicycles.
In some cases, shippers have introduced pricing structures, size limits and surcharges for heavier items to deter such eCommerce customers.
The greater flexibility of SEKO's asset appropriate transportation and logistics solutions – alongside their award-winning software solutions - are now giving the company a significant competitive advantage in the final mile home delivery market. At the end of 2017, SEKO also launched a combined airfreight and final mile service for bulky goods to destinations across the U.S.
James Gagne, President & CEO, says "a combination of SEKO's network, service capability, customer experience, technology and great timing means its sponsorship of Home Delivery World 2018 promises to open up significant new business opportunities with the more than 1,500 retailers attending 'the event' for retail logistics."
"We have been successfully developing our Home Delivery services for several years, so the decision to launch a full assembly solution is a natural progression for us – and it could not be happening at a more opportune time. The interest from retailers, brands, and consumers in value-added home delivery services has never been greater and while the threshold for such deliveries has traditionally been around 150 lbs, this is now moving down further to around 100 lbs, opening up even more opportunities. We're responding to this trend."
Adding a full assembly option, which includes installation, setup, syncing smart devices and removing packaging, to its broad range of home delivery services – Basic, Standard, Threshold, Room of Choice, and White Glove – completes the loop of SEKO's eCommerce home delivery offering for high value and over-sized products. In addition, SEKO also appeals to a growing number of customers with the suite of technology solutions that continues to set SEKO apart from its competitors.
Supported by a 24/7 Customer Service Center to ensure deliveries are monitored around-the-clock, SEKO's entire solution is based on delivering exceptional customer experience at the point of delivery, alongside full visibility and cost efficiency. Their exclusive Interactive Voice Response (IVR) system automatically generates a phone call to each customer to inform them their products have arrived safely at their local SEKO destination station and are available to schedule a convenient delivery time. Next, customers simply use SEKO's online appointment scheduling tool to choose when they want their goods delivered. This fast and easy experience has been proven to result in fewer returns by reducing the window for 'buyer's remorse'.
For retailers, the MySEKO portal provides real-time visibility from vendor sourcing to final delivery and offers a customizable, web-based transportation dashboard that also provides the ability to gain a complete view of their account and activities, book shipments online, track and trace, print bills of lading and shipping labels, and run customized management reports. SEKO also leverages a driver smartphone POD app for real-time updates on deliveries, exceptions and geo-tagging deliveries. The services' track and trace features can be customized with their brand and can also be integrated with their eCommerce storefront, embedded, or simply installed via hotlinks. The tracking pages can also be designed to include their brand.
James Gagne added: "In the Home Delivery market, we've established a reputation for being reliable, flexible, customer-centric and cost-effective. We're able to do that because we're not a company that is locked into rigid schedules. We're able to respond quickly to where the industry is going. Some logistics companies don't want this type of business because it doesn't conform to their rigid operating models but, for SEKO, it enables us to showcase everything we're best at.
"What we offer fits perfectly with the distribution infrastructure of so many U.S. retailers, which still prefer to operate from one central warehouse and find it more advantageous to use air freight, rather than set up regional distribution centers to achieve the necessary speed of delivery. We're excited about the conversations we're going to be having with retailers at Home Delivery World 2018."
Truckers Adding Assembly Service to U.S. Home Deliveries
Large U.S. trucking companies want their delivery people to spend more time in your home.
Seko Logistics, a privately held freight transport and warehousing company with annual revenue of more than $750 million, is rolling out a product assembly service for large and bulky items the company delivers directly to U.S. households.
The service, first reported by Reuters, is part of a growing push by a number of large trucking firms to cash in on rising online purchases for home delivery of products such as furniture, golf simulation machines and medical devices, which require assembly, installation or technical connection work.
Such products are often too unwieldy for the automated package-handling facilities of traditional delivery companies like FedEx Corp or United Parcel Service Inc.
"The interest from retailers, brands, and consumers in value-added home delivery services has never been greater," said Seko Logistics Chief Executive Officer James Gagne.
Gagne has seen the minimum threshold for such deliveries drop over the last two years from around 150 pounds (68.04 kg) to about 100 pounds (45.36 kg).
Seko, which managed roughly 1 million heavyweight home deliveries last year and expects to double that figure by 2020, is not alone in working to expand its "white glove" home delivery services.
Seko competitor XPO Logistics, the largest provider of final-mile deliveries of heavy goods like Best Buy flat-screen televisions and Crate and Barrel furniture in North America, made roughly 13 million such deliveries in 2017 alone. It also handles installation and repair.
Ryder System Inc, known for truck-leasing, bought MXD Group for $120 million earlier this month to expand its presence in final-mile delivery. Last summer, trucker J.B. Hunt said it would buy Special Logistics Dedicated LLC for $136 million.
Home delivery of large products is a fast-growing U.S. retail niche, as consumers get more comfortable with buying bulky items online, but it also involves risks.
For example, a trucking company needs to hire drivers who also have the technical and social skills to go into a customer's home and install or assemble a variety of products. This is a more complex business model than simply dropping off a pallet at an industrial warehouse.
"It can be managed chaos," Seko Logistics Vice President of Marketing Brian Bourke said.
More News: SEKO Logistics Announces Massive Expansion Plan into Mexico with 6 Locations
Related SEKO Logistics Resouces
3 SEKO Logistics eCommerce Retail Case Studies
These 3 e-commerce retail case studies provide insight into how SEKO Logistics improved Danone's internal business efficiency and supply chain visibility, how White Stuff achieved total supply chain management, and how Reiss expanded their overseas logistics operations. Download Now!
---
3 SEKO Logistics eCommerce Case Studies
Providing end-to-end supply chain solutions, enabling eCommerce stores, and freeing up management to focus on creativity, SEKO Logistics addresses the supply chain and logistics needs of London's Portobello Road MOU company, the iconic Lulu brand, and Escalade Sports. Download Now!
---
Top Tips for Going Global
Dave Emerson, Group Sales and Marketing Director at SEKO Logistics, provides some handy hints for retailers, e-tailers and brand owners who are looking to expand their eCommerce presence into new territories. Download Now!
---
Omni-Channel Logistics
Omni-Channel Logistics is all about enabling consumers to experience your brand in exactly the same way from a marketing perspective, regardless of the sales channel - so whether mobile, web, retail or catalog. Download Now!
---
5 Reasons Why White Glove Delivery Offers a Better Heavyweight and Oversized Home Delivery Service
If you still need more convincing, read on for our top five reasons as to why our White Glove Home Delivery Service is the best service for your consumer. Download Now!
---
More SEKO Logistics: White Papers
Article topics
Email Sign Up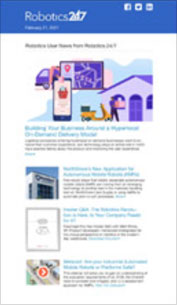 Get news, papers, media and research delivered
Stay up-to-date with news and resources you need to do your job. Research industry trends, compare companies and get market intelligence every week with Robotics 24/7. Subscribe to our robotics user email newsletter and we'll keep you informed and up-to-date.