Not only do autonomous vehicle developers rely on the latest sensors and compute hardware; they also increasingly need software and artificial intelligence that can handle perception and safe navigation. STRADVISION last month rebranded itself as it expands the capabilities of its safety-certified SVNet software.
Founded in 2014, STRADVISION said it is working to accelerate the advent of fully autonomous vehicles with more affordable advanced driver-assist systems (ADAS).
The company said 559,967 vehicles were using SVNet as of June 2022, and 13 OEMs are developing more than 50 models with it. STRADVISION's stated sales goal is to introduce the award-winning software in 50% of the cars produced annually within 10 years.
STRADVISION refocuses on applications, adds execs
In response to market changes, STRADVISION has reorganized its product lineup from the standpoint of applications rather than technology itself. This gives customers direct control over the final performance level for each product, it claimed.
STRADVISION's product lineup includes ProDriver, which delivers performance for safety; the ParkAgent surround-view parking system; ImmersiView for vision positioning and showing the real world; and CompliKit, a data pipeline for more reliable machine learning and performance.
In the past year, STRADVISION has appointed executives including Sunghyun Chang as chief financial officer, Dean Kim as vice president of business, and Jack Sim as chief technology officer. The Seoul, South Korea-based company has also continued its global expansion, with facilities in San Jose, Detroit, Tokyo, and Shanghai, as well as Friedrichshafen and Dusseldorf, Germany.
The company today also announced a reorganization of its account management and sales engineering teams to better support customers. German Etlender has joined STRADVISION's Dusseldorf subsidiary as head of sales engineering, while Yihe Zuo joined as senior solution engineer at its Seoul headquarters.
The new appointments follow the recent hirings of Bapu Kiranagi as solution engineering director and Dean Beckman as sales director at STRADVISION's new unit in Detroit.
Chief Operating Officer Sunny Lee relocated from Seoul to Michigan to lead the company's U.S. expansion. The U.S. CEO replied to the following questions from Robotics 24/7 about STRADVISION's strategy:
How have you settled into the new headquarters in Michigan after moving from South Korea?
Lee: With the Michigan local subsidiary opening, I was very excited to join the U.S. team as CEO to lead our North American business. We've made tremendous progress since then.
STRADVISION USA could get a workshop space in Los Angeles, and we've expanded the team via either locally hiring experienced talent from the Motor City or relocating members from Seoul.
Our most most significant achievement was that we now have very tight partnerships with our valued customers ZF and Aptiv, and we got investment from them.
Personally, I believe my family, including my husband who grew up in Minnesota, is enjoying our life here. My second- and fourth-grader sons are both in soccer and baseball teams. I played pickleball here for the first time and now am really enjoying it.
The Michigan subsidiary opening has been a major step for STRADVISION, allowing us to better develop market opportunities in the U.S. with OEMs, Tier 1 suppliers, semiconductor manufacturers, and others.
Congratulations on closing $88 million in Series C funding in August! Are you continuing to hire staffers, and what specialties are you looking for?
Lee: Thank you very much! The Series C milestone, along with our new local subsidiaries in Michigan and second office in Germany, have been key for obtaining strategic partners and investors while introducing STRADVISION to the North American market.
We've been fortunate to see our global workforce increase 69.2% year over year to over 300 employees worldwide. The Michigan subsidiary is our main location for operations and technology development in the U.S.
We are focused on expanding and strengthening our local business and building a talented engineering team that provides close collaboration and technical support to local customers.
From a business perspective, I am desperately looking for seasoned sales, business development, and marketing people who are familiar with business practices in the automotive industry in both our Michigan and California offices.
As we are in the series production stage with multiple OEMs, I need more engineers who will be close to our customers for prompt support, such as vehicle integration engineers and field application engineers.
Of course, we always need software engineers specialized in computer vision, deep learning, or image processing.
Behind the rebranding
Can you comment on the reasoning behind STRADVISION's rebranding? What are some additional markets you're considering?
Lee: Our rebranding is part of a larger updated company identity for STRADVISION, which is very natural to a company transitioning from Series C to a self-sustaining corporation. This is very much in line with how we're seeing our customer needs and market needs change.
Our goals are to bring AI-based perception both within ADAS and automotive and to even explore its potential outside of automotive. To be clear, we are certainly staying within the ADAS and autonomous driving landscape.
However, we've also evolved our product lineup to be more customer- and application-oriented, where customers can have more direct control over the product's final performance level. Our mission is to provide vision AI for any sector.
The global market for automotive software is anticipated to reach around $84 billion in 2030, per McKinsey & Co. This includes an 11% growth rate in ADAS and autonomous driving, and a 9% growth rate for infotainment.
This has led us to look more into the infotainment software capabilities. In fact, beginning in 2023, we are planning mass-production with a German OEM for infotainment and augmented reality. We'll have more info to share on that soon.
Outside of automotive is also very interesting to STRADVISION. Our vision AI technology can be used as long as our customers have image data from camera sensors.
Autonomous ground vehicles, or AGVs, such as warehouse robots, delivery bots, or service robot, need this capability for logistics and retail applications. Air mobility is another area that we want to pursue.
What does the recent AutoSens 2022 gold award for perception software mean to you?
Lee: We were honored to be recognized for the second year in a row by AutoSens. Having this kind of recognition among our peers in the automotive space is a very important in that it highlights the potential of SVNet for that specific industry. This is essential when pursuing relationships with OEMs and Tier 1s.
SVNet designed to work across hardware
How much work has gone into making SVNet work across more than 14 chipsets? Is that something the automakers are looking for, or does it help you serve multiple companies?
Lee: Regarding chipsets, our goals for SVNet have always been as a solution for any application. Being able to work with and configure to multiple chipsets and sensors gives SVNet and our products flexibility.
The automotive and ADAS space is where we've pioneered our tech software, and as that industry has grown, so too has the need for us to adapt SVNet to serve across the board.
Eventually, STRADVISION wishes to support our customers to choose whatever SoC [system on a chip] for different applications. Often, they stick with one supplier simply because it makes everything easy, since when they change hardware, they need to change software as well.
But if the automotive customers can work with one software supplier while they switch hardware for different product lines—e.g., ADAS versus in-cabin uses—then I believe it brings lots of value to them. Hence, working with diverse SoC platforms brought us more business.
For the "software-defined vehicle," how will you ensure cybersecurity and privacy while still benefiting from the ability to share data?
Lee: For now, the vehicles that run the SVNet software do not have connectivity for the ADAS functions, since the safety factors should be done independently even when network is not available in some remote environments.
But more and more OEMs are considering over-the-air, or OTA, updates of their software, and this will increase the risks of exposure to non-authorized access to SVNet software. We are developing a software module that we can embed into SVNet so that we verify the input data or trials to interact with our SVNet software.
Privacy is trickier. But one of our partners has an interesting technology that blurs the image data so that human beings cannot recognize them but should not influence AI network training. It is still at an early stage, but we believe there will be a technical solution for the privacy issue.
Safety a priority for STRADVISION
Can you describe the process for complying with the ISO 26262 functional safety standard?
Lee: Safety has been the priority for every move we make at STRADVISION. We are careful not to rush innovation if it might compromise any safety.
Working within the automotive space as we have, that industry itself upholds strict and specific standards when it comes to driver and passenger safety. Certifications like ISO 26262, ISO 9001, ASPICE, and SOTIF are just a few of the standards and goals put in place for emerging software like SVNet.
We work directly with automakers, Tier 1s, and OEMs for 360-degree guidance and understanding on the safety approach. We have also built an internal STRADVISION team that embraces a mindset of always prioritizing safety. The automotive industry is always evolving, as are the standards in place.
Does safety certification grant you a competitive advantage?
Lee: We've maintained a proactive approach to not only go for ISO 26262, but always aim as high as possible across standards and certifications. That not only gives us a competitive advantage, but also shows the maturity in our software for more mass production.
Fundamentally, ISO 26262 is about functional safety that addresses possible hazards caused by malfunctioning behavior of electrical and/or electronic systems. From the software side, SVNet should not show a malfunction, but if it happens, then the software should have a module to monitor itself and inform the possibility of malfunction to other parts of the system.
On top of that, vehicle manufacturers often request that SVNet monitors camera sensors so that if images from vision sensors are compromised—such as from a blockage—then the software should inform the other parts of system, too.
Looking ahead to full autonomy
We've been hearing about SAE Level 5 autonomy for several years now, but isn't ADAS more practical?
Lee: Full autonomy is basically that we hire drivers instead of driving ourselves. If you can afford it and prefer not to drive yourself, you can hire a driver, paying some costs.
Once we have the SAE Level 5 autonomy, you'll have more options to hire driving systems, which might be cheaper or more expensive than human drivers, which might be safer or less safe than professional drivers.
While pushing boundaries will help us advance toward safer driving environments, I believe it will take time for autonomous systems to be the most affordable and skilled drivers. Why not to use the same technology for ADAS or other ways while we get there?
When do you think we might see widespread full autonomy?
Lee: Full autonomy on a wide scale is likely still years or even decades away. However, the level of innovation and potential within autonomous driving tech has never been higher.
We've been proud to view our company as a pioneer in this regard. SVNet is already excellent with perceiving different environmental factors for ADAS, and we are pushing forth those capabilities to where there will be even better understanding of the data from diverse external factors. As this continues to progress, it will help lead to better perception for autonomy.
Also, as previously mentioned prior, safety is our company's highest priority. This requires a methodical, always testing/always developing approach. You are correct that ADAS is currently the most practical within automotive, just based on where autonomy innovation stands for the moment, but the longer-term future of autonomy and perception tech for automotive and other industries has never looked brighter.
With autonomous trucks and cars, ADAS, and delivery robots starting to coexist on roads with human-driven vehicles, where do you expect the most progress in the near term? What is the furthest away?
Lee: The biggest interest from human drivers at this moment is in traffic-jam aassistance and parking assistance. These bring a handful benefits on the road, giving a piece of peaceful minds while being stressed out by traffic or a narrow parking spot.
In the longer term, autonomous vehicles will bring the biggest economic value when we get rid of all parking lots. All vehicles will run on the road nonstop other than for maintenance purposes – and the travel time would be reduced because there are no traffic jams.
This requires dynamic communications among autonomous vehicles and everything around them—like digitized traffic lights—to optimize which vehicle is assigned to which route. This is so-called V2X, or vehicle-to-everything communications.
It has been exciting to see these developments recently. However, it is important to recognize that fully autonomous driving and delivery are still very much in early stages of real-world testing and practicality. It's likely we will continue to see human-driven vehicles with autonomous capabilities as the majority for the short term.
Our sights are still very much set on safety and innovation, and we will continue to further develop the SVNet software with the goal of meeting that moment of full autonomy when it comes.
Regarding the more immediate and near terms, we aim to maximize on SVNet's capabilities and business opportunities through infotainment in automotive as well as its potential future across related industries such as aviation, mobility, logistics, and more.
About the Author
Eugene Demaitre
Eugene Demaitre is editorial director of Robotics 24/7. Prior to joining Peerless Media, he was a senior editor at Robotics Business Review and The Robot Report. Demaitre has also worked for BNA (now part of Bloomberg), Computerworld, and TechTarget. He has participated in numerous robotics-related webinars, podcasts, and events worldwide. Follow Eugene:
Follow Robotics 24/7 on Facebook
Article topics
Email Sign Up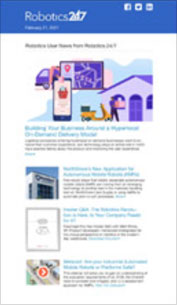 Get news, papers, media and research delivered
Stay up-to-date with news and resources you need to do your job. Research industry trends, compare companies and get market intelligence every week with Robotics 24/7. Subscribe to our robotics user email newsletter and we'll keep you informed and up-to-date.
STRADVISION