The Indy Autonomous Challenge, or IAC, has been a leading event to showcase advances in self-driving cars, with races in Indianapolis; Fort Worth, Texas; and Las Vegas. Yesterday, Team PoliMOVE won its third race in a row at the Las Vegas Motor Speedway in the IAC @ CES 2023.
"This year was a much greater challenge—we saw something that last year we couldn't even imagine: cars interacting properly on track, trying to overtake one another, I would say, in the most safe way that we can aim at on a racetrack," said Andrea Ticozzi, an autonomous racing engineer at PoliMOVE. "We really want to push forward the competition, go for new challenges, and try always to learn something new."
PoliMOVE is the team of Politechnico di Milano and the University of Alabama. The Milan, Italy-based team consists of 12 Ph.D. students and research assistants, supported by about 15 MsC students and three faculty advisors, plus participants from the University of Alabama.
PoliMOVE previously won the IAC at CES in January 2022 and the IAC at the Texas Motor Speedway in November 2022. It also set a land-speed record of 192 mph (309.3 kph) for an autonomous racecar at the space shuttle runway in Florida in April 2022.
Technology refresh continues on racecars
The goal of the IAC @ CES is to advance technologies that can accelerate the commercialization of fully autonomous vehicles and advanced driver-assistance systems (ADAS). The collaborative effort uses motorsports to show how performance and safety can increase and to provide a platform for students to excel in STEM (science, technology, engineering, and mathematics).
The first Indy Autonomous Challenge was held in October 2021 in Indianapolis, with TUM Autonomous Motorsport winning the $1 million top prize. Between each challenge, numerous hardware components are updated, noted the event organizers.
Last week, the Indy Autonomous Challenge announced its premier sponsors, which provided the latest technology refresh of the cars. The hardware was identical, so each of the nine teams had to develop artificial intelligence to fully autonomously sense, steer, and adapt in real time on the track.
ASPIRE, a program of Abu Dhabi's Advanced Technology Research Council, brings together people, resources, and technologies to solve complex challenges.
In addition, Cisco provided networking technology. Luminar has agreed to a three-year partnership with the IAC to transition from Hydra research and development lidar sensors to its Iris series-production sensors. Continental provides 4D radar sensors.
The racecars themselves were built on a Dellara AV-21 chassis, which will be upgraded to the AV-23. The Clemson University International Center for Automotive Research integrated sensors, and Bridgestone supplied the tires.
dSPACE provided simulation and validation technology and the onboard supercomputer, and AWS provided cloud computing and data analytics. The initial 31 university teams used open-source software including the Robot Operating System, or ROS 2.
PoliMOVE pulls ahead in close contest
Yesterday's challenge required racecars to take turns passing one another as leader/defender and follower/passer/attacker for the first time at speeds of 80, 115, and 155 mph (128.7, 185, and 249.4 kph). Six of the nine teams qualified for the head-to-head competition Saturday.
In the run leading into the final race, the car from MIT-PITT-RW team stopped for software and safety reasons, allowing the University of Hawai'i's AI Racing Tech (ART) car to take third place.
MIT-PITT-RW is the team from the Massachusetts Institute of Technology, the University of Pittsburgh, and the Rochester Institute of Technology, and the University of Waterloo (Ontario). It had to rebuild its vehicle after accidental collision a week earlier with a car from TUM, the team from the Technical University of Munich.
In the final round, TUM Autonomous Motorsport's car passed that of PoliMOVE at a distance of under a few feet at more than 115 mph. The teams reached top speeds of 180 mph, a new autonomous speed world record for a racetrack, reported the IAC.
In its final pass, PoliMOVE's vehicle autonomously passed TUM's racecar at 175 mph, but TUM's car later hit "the marbles"—dust and tire fragments—near the outside wall and spun out, allowing PoliMOVE to pull ahead to victory.
TUM's car avoided damage, and the team said that it was proud of its work so far and that the cars were designed to decide for themselves how to proceed in complex, high-speed conditions. Human drivers can observe road conditions, sense tire friction, and judge when to pass, all parts of the challenge for autonomous vehicles.
Team PoliMOVE won a trophy and $25,000, and TUM received a check for $10,000.
Indy Autonomous Challenge to go to Italy
As it continues pushing vehicle frontiers, the Indy Autonomous Challenge last week announced that it has partnered with Milan Monza Motor Show (MIMO) to run autonomous racecars on the Monza F1 Circuit.
"MIMO is the perfect partner to make the transition from ovals to road courses happen," stated Paul Mitchell, president, IAC. "This two-year partnership between IAC and MIMO will allow us to showcase our racecars in exhibition runs in June 2023 as our teams and their AI drivers learn to run on road courses, and then in June 2024, we will return and host our first proper road-course racing competition at Monza, the 'Temple of Speed."
Editor's note: This article has been updated as more information became available. For more coverage of CES 2023, visit Robotics 24/7's special coverage page.
About the Author
Eugene Demaitre
Eugene Demaitre is editorial director of Robotics 24/7. Prior to joining Peerless Media, he was a senior editor at Robotics Business Review and The Robot Report. Demaitre has also worked for BNA (now part of Bloomberg), Computerworld, and TechTarget. He has participated in numerous robotics-related webinars, podcasts, and events worldwide. Follow Eugene:
Follow Robotics 24/7 on Facebook
Article topics
Email Sign Up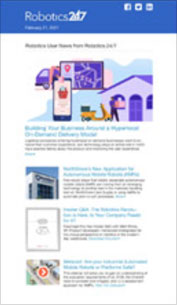 Get news, papers, media and research delivered
Stay up-to-date with news and resources you need to do your job. Research industry trends, compare companies and get market intelligence every week with Robotics 24/7. Subscribe to our robotics user email newsletter and we'll keep you informed and up-to-date.
Indy Autonomous Challenge