At the second Tesla AI Day yesterday, co-founder and CEO Elon Musk and company engineers shared the progress they have made in developing the Optimus humanoid robot since last year.
"I just want to set some expectations," Musk began, addressing public skepticism. "As you know, last year, it was just someone in a robot suit."
This year, the Tesla Bot walked onstage with no mechanical backup to prevent falls. It did so safely, but it wasn't clear how many technicians were nearby piloting and monitoring the android.
The humanoid robot waved to the audience and did some dance moves before moving offstage. Musk noted that the robot uses the same self-driving computer as the Palo Alto, Calif.-based company's cars. He thanked Tesla's staffers for their hard work over the past year.
Tesla trains robot to work in its factories
"The robot can do a lot more than we could show you here," said Musk, who then showed videos of the robot doing things such as picking up boxes in a warehouse and watering a plant in an office.
The rendered view showed that Optimus uses the same process as Tesla's Autopilot self-driving software to identify objects using trained neural networks.
The video also showed the robot grasping objects at an actual workstation in Tesla's factory in Fremont, Calif. The company said it chose human-like hands with six actuators and 11 degrees of freedom, adaptive grasp, and sensor feedback because most objects are designed for human hands.
Tesla developed simulations but then needed to compare them with reality for state estimation, said Anand Swaminathan, staff controls engineer at Tesla. "Reality is way more complex, with vibrations, modes, compliance, and sensor noise," he said. "We compared what we want and reality in order to add corrections."
In addition, Tesla used motion capture to demonstrate key frames and then ran them through its optimization program for grasping and balance.
"We'll be nailing this down in the next few months," Musk said. "We called this model the 'Bumble C,' a rough development robot using semi-off-the-shelf actuators."
Tesla Bot based on self-driving car technology
Tesla said it used several innovations from its automotive line in its humanoid robot, including battery technology, the central computer, and hardware and software security features.
Malcolm Burgess, manager for vehicle dynamics and concept structures at Tesla, described how crash simulations helped the company develop androids. The simulation of a car crash test included 35 million degrees of freedom, as well as every nut, bolt, and spot weld, he noted.
"We can use these capabilities on the robot side to make a model," Burgess said. He described efforts to reduce damage from falls, to optimize components, and reflect stresses on cheaper materials than expensive titanium. Burgess cited the example of a human-inspired knee as a four-bar link joint whose torque was calculated and tested.
Konstantinos Laskaris, staff motor design engineer at Tesla, described how Optimus has 28 actuators, in comparison with two drive units in a car. By comparing torque, speed, and energy needs in an optimization model, the company was able to consolidate actuators into seven types.
Tesla used three rotary and three linear actuators with features for high and low speeds. Laskaris showed a video clip of a Tesla actuator lifting a half-ton, 9-ft., concert grand piano.
Controls and AI a work in progress
The software for Optimus was largely ported over from Autopilot, said Milan Kovac, director of engineering for Autopilot at Tesla. "It's moving from a robot on wheels to legs," he said. "The computer vision networks use the same occupancy network."
The training data was different, Kovac acknowledged. "Locomotion is very different from cars," he said. "We did quite some work on the simulation side."
The neural networks needed to work without GPS for the robot to do things such as navigate and find a charging station. They were trained with high-frequency features tracked across frames to get an estimate of pose and trajectory.
Walking seems easy to humans, but it involves physical awareness of limbs, an energy-efficient gait, balance, and coordinated motion of all limbs, said Felix Sygulla, a humanoid robotics engineer at Tesla.
"The locomotion planning and control stack generates reference trajectories," he said. "We moved to more efficient toe-to-heel stride and center-mass trajectory for the entire system to keep balance."
Tesla also discussed its approaches to artificial intelligence and compute architecture, autonomous vehicles, and power storage and management during AI Day.
Optimus designed for manufacturing at scale
Musk and his colleagues showed a more advanced prototype, which was sleeker but less functional at this point. Optimus uses actuators and batteries designed by Tesla. It can't walk yet, but the speakers said they expect it will be able to do so in a few weeks.
"It's pretty close to what we'll be bringing into production," Musk said. "The goal is to make a useful humanoid robot as quickly as possible."
Version 1 of the Optimus has 28 degrees of freedom, plus a human-like hand with four fingers and an opposable thumb. The company said it chose a cable-based, spring-loaded tendon system mainly for cost, anti-backlash, and passive extension, despite the possibility of wear.
"We designed the robot with the same discipline as for our cars," said Musk. Tesla designed for manufacturing at high volume, low cost, and high reliability, he claimed. It reduced the number of parts, used sophisticated software to optimize the power requirements for each joint, and integrated circuitry into the robot's battery pack.
"You've all seen impressive humanoid robot demonstrations, but they're missing a brain," Musk noted. "They're missing the intelligence to navigate the world, are very expensive, and are made in low volumes. We're looking for the fastest path to a useful robot."
"Optimus is made to be extremely capable, in very high volumes—from thousands to millions of units," he added. "It would cost less than a car—less than $20,000 would be my guess."
Musk details his vision for the future
Among the potential societal benefits of humanoid robots is an increase in productivity, asserted Musk.
"If there's no limit to output per capita, the economy becomes quasi-infinite," he said. "This means a future of abundance, a future where there is no poverty and you can have whatever you want in terms of products and services."
Musk said he wants robots to be viewed as positive and safe. In response to questions, Musk alluded to the idea of the robot eventually getting a personality and skins or outfits for different uses, as well as AI to communicate with users and anticipate their needs.
"I'm not sure where it ends up, but it will be an interesting path," he said. Musk said the fact that Tesla is a publicly traded company makes it accountable to shareholders so that he can't dictate some crazy direction.
While he joked about avoiding Terminator-like dangers, Musk did make ambitious promises about Optimus production and productivity.
"Self-driving cars will have a tremendous impact on the world, improving the productivity of transport by a half-order or an order of magnitude," said Musk. "Optimus has two orders of magnitude potential improvement in economic output—it's not clear what the limit actually even is."
"In the next few weeks, we'll get Optimus up to Bumble C and real use cases at one of our factories," Kovac said. "We're pretty sure we can get this up in the next few months or year."
Musk added that Tesla is looking for talent to work on its robotics and AI in addition to its vehicle efforts. He estimated that Optimus will be available in three to five years.
About the Author
Eugene Demaitre
Eugene Demaitre is editorial director of Robotics 24/7. Prior to joining Peerless Media, he was a senior editor at Robotics Business Review and The Robot Report. Demaitre has also worked for BNA (now part of Bloomberg), Computerworld, and TechTarget. He has participated in numerous robotics-related webinars, podcasts, and events worldwide. Follow Eugene:
Follow Robotics 24/7 on Facebook
Article topics
Email Sign Up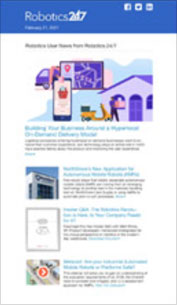 Get news, papers, media and research delivered
Stay up-to-date with news and resources you need to do your job. Research industry trends, compare companies and get market intelligence every week with Robotics 24/7. Subscribe to our robotics user email newsletter and we'll keep you informed and up-to-date.
Tesla, via YouTube