Although it does not appear on this list, Amazon casts a pervasive shadow across the third-party logistics (3PL) market. According to Dick Armstrong, chair of Armstrong & Associates, the No. 1 story in the space is the business-to-consumer (B2C) push in e-commerce.
"It's the first item on everybody's list now, and they're still working out what the impact is on value-added distribution players," Armstrong says. "That's really the impact of Amazon, which is sometimes a distributor and sometimes a 3PL, so it hits some of these companies right in the chops, so to speak."
Armstrong also notes an industry-wide focus on supply chain visibility. Complete, integrated services are becoming paramount for 3PLs, which are working to establish visibility into all locations. These are among the findings of an annual ranking of the Top 20 3PL warehouses supplied to Modern by Armstrong & Associates, a consulting firm specializing in logistics outsourcing.
"At the same time, from the customer side there's is a need to be timely. They're are placing much more emphasis on proper timing," Armstrong says. "For example, I visited a company yesterday that has integrated all of its services and the customers have one contact person. That's where we're going. The customer doesn't want to have to check with John about this and Mary about that. They want one contact who can solve their dilemmas."
In value-added warehousing, many were positioned in terms of verticals like pharmaceutical or automotive. Now, Armstrong says that emphasis on verticals is spreading out into the associated logistics areas. For example, someone doing value-added warehousing and distribution (VAWD) work might also be involved in logistics and contract carriage.
2016 Rank

Third-party logistics provider (3PL)

Headquarters

Warehouse square feet, 2017 (millions)

Warehouse square feet, 2016 (millions)

Percent change

Number of
warehouses (2017)

Number of warehouses (2016)

1

1

Westerville, Ohio

119

115

3.5%

673

417

2

2

Greenwich, Conn.

81.6

65

25.5%

392

322

3

3

Miami, Fla.

43.7

39.5

10.6%

246

276

4

5

Brentwood, Tenn.

38.2

38.2

0%

150

150

5

6

Atlanta, Ga.

38

38

0%

145

145

6

N/A

Cranberry Township, Pa.

34.5

34.5

0%

129

N/A

7

8

Cherry Hill, N.J.

33.5

27.5

21.8%

100

90

8

7

Chattanooga, Tenn.

28

31

-9.7%

90

90

9

9

Irvine, Calif.

26

26

0%

114

113

10

10

Freeport, N.Y.

23.7

23.7

0%

91

91

11

11

Des Plaines, Ill.

23

23

0%

63

63

12

12

Houston, Texas

19.7

18

9.4%

147

90

13

15

Lakeland, Fla.

17.5

17.1

2.3%

75

41

14

14

Alpharetta, Ga.

17.3

17.3

0%

144

144

15

13

Reading, Pa.

16.8

17.4

-3.4%

65

67

16

N/A

Clark, N.J.

16

16

0%

50

N/A

17

17

Jersey City, N.J.

15.6

15.6

0%

83

83

18

19

Piedmont, S.C.

14

14

0%

30

30

19

20

Appleton, Wisc.

14

14

0%

52

52

20

18

Scottsdale, Ariz.

13.7

14

-2.1%

37

35

Source: Armstrong & Associates
"There is a lot of customer pressure now. From the 3PL side of the fence, this business is primarily contracted business," Armstrong explains. "However, the 3PL that has a customer who is 'married' to them in a bunch of different and related logistics activities is not going to go away very easily. These partnerships are much more strategic than they used to be."
Especially in supply chain management, it's much more common to talk about managing the whole supply chain and achieving visibility throughout, Armstrong says. "We're seeing the larger 3PLs build these capabilities," he says, "and in general all the companies on the list have done a good job of keeping up with this trend."
Armstrong says his company is reprising a warehousing study last conducted in 2012, and they are currently in the process of gathering information and rebuilding a database for a report scheduled for a January release. The study's scope has been updated to include questions surrounding the e-commerce boom.
The Top 20
Last year, the list reflected a methodological change that impacted rankings. Going forward, each company's square footage will consist of physical locations in North America, as opposed to total space under management by offices based in North America. In the first apples-to-apples comparison since the methodological change, the list's combined total square footage increased by 4.8%.
In addition, reports submitted to Armstrong by listed companies sometimes include forwarding locations, transportation logistics, or smaller warehouses, which Armstrong & Associates works to identify and remove from consideration. Instead, they ensure the list focuses specifically on warehousing facilities of 100,000 square feet or more. This vetting is an ongoing process, and contributes to changes in the number of locations even as square footage might remain unchanged.
DHL Supply Chain North America (Exel) retains its No. 1 spot on the list with 119 million square feet, a 3.5% increase. The company's addition of more than 150 warehouses is a result of ongoing revisions to its list of qualified locations.
In second place is XPO Logistics, which first appeared on last year's list. In late 2015, XPO acquired Menlo Logistics, which had previously ranked 14th on the list with 21 million square feet. XPO also acquired former third-place finisher Norbert Dentressangle, which in turn acquired Jacobson Companies in mid-2014. XPO's combined space under management now stands at 81.6 million square feet, a 25% increase year over year, and nearly twice that of the next largest 3PL.
Square footage reported by Ryder Supply Chain Solutions grew nearly 11% to 43.7 million square feet in 2017 following 13% growth the previous year, when it moved from fifth to its current position in third place.
In fourth place, the French shipping company Geodis reflects the acquisition of OHL, which ranked seventh on last year's list. Nevertheless, the company reported flat square footage and warehouse totals.
Americold gained one spot to finish in fifth place, and remains the top-ranked cold chain specialist with 38 million square feet. Americold's total is the same as last year, but the company moved up the list after FedEx's acquisition of previous fourth-place Genco in 2015. Reporting as FedEx Supply Chain, the company now manages 34.5 million square feet, enough for a No. 6 spot.
Two years ago, seventh-place NFI Logistics reported 23 million square feet of capacity. Since then, it added 4.5 million square feet in 2016 and again grew more than 20% this year for a total of 33.5 million square feet across 100 warehouses—10 more than last year. The gains were enough to leapfrog Kenco Logistics Services, which reported a 9.7% space reduction with no change in number of warehouses.
After debuting on the list last year in ninth place with 26 million square feet, cold storage provider Lineage Logistics reported no change in square footage.
DB Schenker rounds out the Top 10, with the same space and warehouses reported in 2016.
Again claiming 12th place, CEVA Logistics reported the fourth-highest growth rate on the list, climbing 9.4% to just shy of 20 million square feet. Revised warehouse figures also place its total number of locations at 147.
Saddle Creek posted small gains in square footage across its 75 locations, but given the tight competition in the lower half of the list the company's performance was enough to earn it two ranks, climbing to 13th.
DSV, a newcomer to the list, acquired UTi Worldwide in early 2016, and now occupies 16th place with 16 million square feet.
About the Author
Josh Bond
Josh Bond was Senior Editor for Modern through July 2020, and was formerly Modern's lift truck columnist and associate editor. He has a degree in Journalism from Keene State College and has studied business management at Franklin Pierce University.
Follow Robotics 24/7 on Facebook
Article topics
Email Sign Up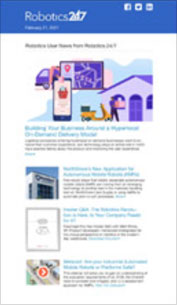 Get news, papers, media and research delivered
Stay up-to-date with news and resources you need to do your job. Research industry trends, compare companies and get market intelligence every week with Robotics 24/7. Subscribe to our robotics user email newsletter and we'll keep you informed and up-to-date.