Unlike current collaborative robots, which are limited in size, speed, and power, robots using Veo Robotics Inc.'s proprietary safety technology can combine industrial capabilities with human-in-the-loop efficiency. The company today announced that it has closed a $14 million funding round, bringing its latest investment to a total of $29 million.
"With the increased need for efficiency improvement in industrial environments, we've seen increasing requirements for safe robot operation in the close presence of humans," stated Patrick Sobalvarro, co-founder and CEO of Veo Robotics.
The Waltham, Mass.-based company said the funding will accelerate its strategy of working with corporate partners to deploy a new class of collaborative systems.
"These integrated workflows involving both robots and employees provide maximum flexibility and ROI [return on investment] for our customers in manufacturing and logistics," Sobalvarro added. "We're working closely with select customers who share our vision for the future of automation. This funding enables us to add a few more partners to our early-adopter program."
"We're not looking for new customers but rather to deepen relationships with existing ones," he told Robotics 24/7.
FreeMove enables people plus robots
Sobalvarro claimed that Veo's flagship FreeMove product is the only 3D intelligent safeguarding system to have received functional safety certification to Performance Level D, or single-digit failures per billion hours of operation. It enables humans to work closely with standard industrial robots from FANUC, Yaskawa Motoman, ABB, Kawasaki, and KUKA.
"The newest generation of intelligent robotic systems work with people, not separately from them," said Clara Vu, co-founder and chief technology officer of Veo. "Unlocking this potential requires a new generation of safety systems—this is Veo's mission, and we're very excited to be taking this next step."
With FreeMove, industrial robots can work at speed but then slow down or stop when a person enters a workcell. Veo Robotics released FreeMove 2.0 Engine in October 2022.
FreeMove is more sophisticated than a standard light curtain because of Veo's perception software and its fail-safe requirement for "never a false negative"—proof of a vacant space rather than proof of human presence, Sobalvarro said. "Our volumetric analysis was built from the ground up," he recalled.
How has demand for more collaborative industrial robots been growing?
"We were hearing about workforce and supply chain problems before the pandemic, but their visibility has increased," said Vu.
Sobalvarro added that manufacturers have learned the value of supply chain diversification and are opening more plants in or near the U.S. and Europe. But they need to maximize their productivity by taking advantage of the precision and repeatability of automation and the cognitive and troubleshooting abilities of human supervisors, he said.
"Robots are fundamentally different from people—we want to enable each to do what they're best at and allow companies to decide which parts of their processes to automate," asserted Vu. "We've already seen this with AMRs [autonomous mobile robots] from 6 River Systems or Locus, where making robots more intelligent has led to more human-machine interaction, not lights-out facilities."
"Cobots showed the value of people plus robots in the same environments, but the industry has other problems to solve," she said. "It's a new way of thinking about machines—augmenting human capabilities."
"You can automate 99%, but it's better if a person can come in for exceptions without shutting down the whole line," Vu noted. "The set of things you can automate completely is always a subset of the things you can automate."
Investors validate Veo Robotics' value
In the past several months, venture capital has been harder for startups to obtain, and many technology companies have laid off workers. The Silicon Valley Bank failure has led some industry observers to question the health of the robotics industry.
However, demand remains strong for systems that serve specific applications or tasks, according to Sobalvarro and Vu.
"The investor community has been supportive when it knows you're serious and understand customer operations," Sobalvarro said. "Shutting down an automotive production line, a fullfillment or palletizing operation, or an ASRS is expensive, so it's no surprise that people are conservative about safety.
"Safety the one thing you can't just DYI," said Vu. "We're partnering more closely with customers now that we have expertise in integration for flexible applications."
"We're lucky to have investors that recognize the importance of safe, practical, state-of-the-art robotics," added Sobalvarro. Veo Robotics has raised $66 million to date.
The Amazon Industrial Innovation Fund, Safar Partners, and Yamaha Motor Ventures Inc. participated in Veo Robotics' latest round. They expressed confidence in the company's approach to advancing automation.
"As investors, we were drawn to Veo Robotics' focus on safety in the workplace," said Matt Peterson, director at Amazon's Industrial Innovation Fund. "Their technology is both collaborative and effective, prioritizing employee wellbeing. We are excited to support Veo Robotics and their vision to design innovative and human-centric robotics."
As a local investor with ties to MIT, Safar Partners was already familiar with Veo Robotics' culture as a "startup for grownups," with values of responsibility and respect, as well as three months of parental leave, noted Vu.
"Veo's innovative technology, which allows for safe and seamless collaboration between humans and robots, has the potential to revolutionize a wide range of industries," said Arunas Chesonis, managing director at Safar Partners. "We're particularly excited about the company's growth potential, as it expands its capabilities and reaches new markets,"
"[Veo's] innovative approach to robotics and their commitment to safety in the workplace have impressed us greatly," said Anish Patel, chief operating officer and managing director of Yamaha Motor Ventures.
"Veo's cutting-edge technology, which combines advanced sensing and computer vision with powerful software, has the potential to transform manufacturing and other industries," he added. "We believe that the team's deep expertise and focus on customer success position Veo Robotics to become a leader in the industry."
About the Author
Eugene Demaitre
Eugene Demaitre is editorial director of Robotics 24/7. Prior to joining Peerless Media, he was a senior editor at Robotics Business Review and The Robot Report. Demaitre has also worked for BNA (now part of Bloomberg), Computerworld, and TechTarget. He has participated in numerous robotics-related webinars, podcasts, and events worldwide. Follow Eugene:
Follow Robotics 24/7 on Facebook
Article topics
Email Sign Up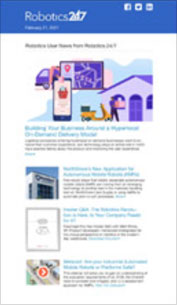 Get news, papers, media and research delivered
Stay up-to-date with news and resources you need to do your job. Research industry trends, compare companies and get market intelligence every week with Robotics 24/7. Subscribe to our robotics user email newsletter and we'll keep you informed and up-to-date.
Veo Robotics