While much attention has focused on the challenges facing warehouse associates and operators, the labor shortage that predated the COVID-19 pandemic has led to improvements in working conditions, according to a study by Zebra Technologies Corp. The global "Warehouse Vision Study" found that companies are investing in ways to better fulfill the needs of both customers and workers.
"We're seeing a positive shift occurring in the supply chain and, specifically, within warehouses," stated Mark Wheeler, director of supply chain solutions at Zebra Technologies. "Most decision makers believe investments in automation far outweigh the risk of doing nothing, and they are becoming more comfortable integrating all sorts of new technologies into their current operations and infrastructure." 
Eighty percent of respondents said the pandemic has prompted them to modernize their warehouse operations, according to Zebra. They expressed interest in wearables, mobile printers, and rugged tablets, as well as mobile dimensioning software to automate parcel and carton measurements, said the company, which provides such systems.
In addition, 27% of warehouse operators have already deployed autonomous mobile robots (AMRs). Within five years, that number is expected to grow to 90%, said Zebra.
Warehouse challenges include volume, recruitment
Azure Knowledge Corp., a third-party research firm, conducted Zebra's Warehousing Vision Study in January and February 2022. It received feedback from over 1,500 decision makers and associates who manage and maintain warehouse or distribution center operations in manufacturing, retail, transportation, logistics, and wholesale distribution across North America, Latin America, Europe, and Asia-Pacific. 
Respondents to the survey said they're expected to maintain inventory accuracy and visibilty while also delivering orders faster than ever. They said their shipping volumes have increased more than 20% over the past two years, and rising transportation costs have affected 40% of warehouse operators.
Between now and 2025, over 80% of operators expect to increase the number of stock-keeping units (SKUs) they carry and the volume of shipped items. This will lead to expanded returns, value-added services, and physical footprints, said Zebra.
While 61% of warehouse operators also want to increase headcount within the next year, recruitment and retention remain big challenges. Over 80% of decision makers said they expect to rely more on automation in the future.
Associates more comfortable with technology
While only 45% of warehouse associates said their employers have increased wages or offered bonuses, 80% said they feel labor shortages have helped them. Technology can make workplaces more attractive, said 92% of warehouse associates. In addition to AMRs for person-to-goods picking and materials handling, many operators will invest in analytics software and faster training, said Zebra.
"As the pace of operations accelerates and workflows become more complex, warehouse operators have found the average time to get workers to full productivity is 4.7 weeks," said James Lawton, vice president and general manager for robotics automation at Zebra.
"Right now, decision makers feel the most important labor initiative is to reduce unnecessary tasks so associates can focus on more customer-centric work," he added. "If warehouse operators automate through AMRs and workflow optimization software, it will be easier to scale operations and meet service-level agreements as customer demands and labor availability fluctuate." 
Nearly 80% of warehouse associates said walking fewer miles per day would make their jobs more enjoyable, even if they had to pick or handle more items. In addition, 65% said they could enable advancement. Many respondents said AMRs could make warehouse jobs less stressful, even though only 41% of decision makers agreed that implementing robots can aid retention. 
"Automation is the great equalizer, especially when labor is constrained or during unexpected surge periods or seasonal peaks when it may be difficult to scale the workforce quickly," added Wheeler. "What's interesting is associates feel more strongly about this than warehouse operators right now." 
Operators expect more automation in next five years 
Eighty-five percent of decision makers said they have implemented mobile technologies so front-line workers can capture each inventory move, and most said they are optimizing the use of their devices to fit the task, safety, and ergonomics.
However, 84% of warehouse associates and 79% decision makers are concerned they will not meet their business objectives without more technology investments, with 92% of associates in transportation and 88% in logistics feeling most strongly.
More than 60% of decision makers responding said they will invest in technologies that increase visibility throughout supply chains over the next five years.  Nine in 10 expect to use more sensor-based technologies such as radio frequency identification (RFID), fixed industrial scanning, and machine vision systems. From asset utilization and integration of technologies and digitalization of workflows, companies will need roadmaps to achieve their goals, noted Zebra.
In terms of regional findings, about 90% of Asia-Pacific decision makers said machine vision or fixed industrial scanning systems would save time and eliminate errors, but only one-quarter are currently using them. European warehouse associates were the most likely, at 85%, to say they would view their employers more positively if provided with mobile devices and technology. 
In Latin America, 96% of associates said implementing technologies such as robotics and wearable devices would help attract and retain workers, the highest of any region. North American decision makers said the pandemic has prompted them to evolve and modernize more quickly. 
Zebra discusses study results
Wheeler replied to the following questions about the report from Robotics 24/7:
While warehouse operators expect to add more technology to augment their human workforces, including wearables and mobile robots, do they feel they have to prepare their staffers for them?
Wheeler: According to the study, 86% of decision makers said that they involve associates in decisions related to automating workflows to ensure acceptance.
The survey shows that associates are more enthusiastic than management about the importance and impact of these technologies to job satisfaction. By reducing the physical effort in the job—in particular, the miles walked each shift—AMRs are typically well-accepted.
Have shipping volumes increased 20% for both brick-and-mortar and e-commerce orders? Is inflation affecting that growth this year?
Wheeler: Our survey question asked what percentage change decision makers have seen in shipping volumes within the last two years in "fulfillment to businesses," "fulfillment to consumers," and retailers "drop ship direct from manufactures."
Ninety percent of respondents experienced an average increase of 23.2% in shipping volume for fulfillment to businesses.
Eighty-six percent cited an average increase of 23.6% in shipping volume for fulfillment to consumers, and 77% of retailers saw an average increase of 22% in shipping volume in drop ship direct from manufacturer.
Source: Zebra Technologies
We also asked retailers how they were responding to the demands and growth of e-commerce in conjunction with the survey, and 67% said they were leveraging front-of-store operations for order fulfillment, and 61% were leveraging back-of-store operations for order fulfillment.
At the time of the survey, we did not ask businesses if they were seeing any effects due to inflation.
Did the study look at micro-fulfillment centers at all?
Wheeler: No, but we did ask retailers about their response to the demands and growth of e-commerce and how they were responding. Sixty-four percent said they plan to open dedicated fulfilment centers close to market.
We also asked about plans for partial and full-facility automation, but not specifically tied to micro-fulfillment. However, some feedback that we received may be an indicator of strategies businesses are deploying to speed up large-volume fulfillment and deliver products to customers in a timely manner.
Today, 14% of decision makers across all industries surveyed say they use partial facility automation, defined as no human involvement in specific workflows, and within five years, 21% plan partial facility automation.
In retail, 10% of decision makers say their organization has partial facility automation today, and within five years, 39% plan to have partial facility automation.
Today, 5% of decision makers across all industries surveyed say they utilize full facility automation, defined as no human involvement in the entire facility, and in five years, 11% plan full facility automation. Looking at retailers' responses, 7% of decision makers say their organization utilizes full facility automation today and within five years, 24% say they plan to utilize full facility automation.
If warehouse operators are looking for more actionable data, does that suggest that fleet management software and adding data-capture capabilities to robots will be areas of interest?
Wheeler: Yes, fleet management of the robots is necessary. FetchCore, for example, provides this function along with others like facility mapping and basic workflow management. [Editor's note: Zebra Technologies acquired Fetch Robotics last year.] AMRs know their location in real-time and can be a source of granular task data.
There is an emerging need for more robot-based data capture. Passive RFID, Bluetooth, and bar-code scanning are already being integrated into workflows.
Is there any evidence of the use of automation leading to higher retention rates?
Wheeler: According to the study, there was a direct correlation between the use of automation technologies and associate job satisfaction. For example, respondents showed overwhelming support:
92% of warehouse associates agree technology advancement will make the warehouse environment more attractive to workers
81% of associates agree AMRs would make warehouse jobs less stressful
83% agreeing they would be more likely to work for an employer that gives associates modern devices versus one that provides older or no devices
86% of associates who have used AMRs cited increased productivity and reduced travel time and walking. In addition, 73% said that they had improved accuracy.
Was North America more in need of modernization than other regions, or has demand accelerated here more than elsewhere?
Wheeler: The survey didn't specifically compare the need to modernize by regions, but the data revealed that 86% of North American decision makers say the pandemic has prompted them to evolve and modernize more quickly, the most of any region.
About the Author
Eugene Demaitre
Eugene Demaitre is editorial director of Robotics 24/7. Prior to joining Peerless Media, he was a senior editor at Robotics Business Review and The Robot Report. Demaitre has also worked for BNA (now part of Bloomberg), Computerworld, and TechTarget. He has participated in numerous robotics-related webinars, podcasts, and events worldwide. Follow Eugene:
Follow Robotics 24/7 on Facebook
Article topics
Email Sign Up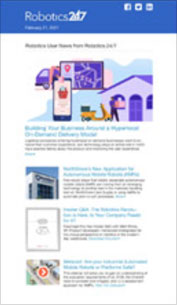 Get news, papers, media and research delivered
Stay up-to-date with news and resources you need to do your job. Research industry trends, compare companies and get market intelligence every week with Robotics 24/7. Subscribe to our robotics user email newsletter and we'll keep you informed and up-to-date.
Business Wire