Is there any real productivity value in making a robot designed like a human? And even if there is, are we anywhere close to commercialized humanoid robots being mass-produced and widely adopted by society?
On Tesla's second AI Day event today, Elon Musk is expected to show off a prototype of the company's Optimus robot. He first showed off the Tesla Bot humanoid in August of last year. There is a lot of speculation (and skepticism) about what Musk will show.
Musk has said his company wants to start producing the robot by 2023. But Tesla is far from the only company making big bets on the technology.
Many companies try their hand at humanoids
Last week, Apptronik announced it was working with NASA to commercialize its humanoid robot, Apollo. The Austin, Texas-based company said it has already completed the first prototype of the robot and plans for "broader commercial availability" by 2023.
"Unlike special-purpose robots that are only capable of a single, repetitive task, Apollo is designed as a general-purpose robot capable of doing a wide range of tasks in dynamic environments," the company said in a statement. "Apollo will benefit workers in industries ranging from logistics, retail, hospitality, aerospace, and beyond."
Some other players making humanoids have also recently made announcements, including Beyond Imagination Inc., Figure, Xiaomi, and Engineered Arts. We also can't forget about Boston Dynamics' Atlas or Agility Robotics' Digit.
That's just scratching the service of the developments going on in the humanoid space, a global market that is estimated to reach sales of $17.32 billion by 2028, according to SkyQuest Technology Consulting.
What are the best uses for humanoid robots?
Nancy Cooke isn't so convinced that humanoids will take off anytime soon and is generally against the idea. She is the former president of the Human Factors and Ergonomics Society (HFES). She has a Ph.D. in cognitive psychology from New Mexico State University and has spent years working with roboticists about the relationships and dynamics that develop when humans and machines work together.
"I believe that robots or AI should be specialized in what they do best, and that's completely against the idea of replicating ourselves," she said. "We know how to reproduce ourselves. We do that well, and we're not that great at doing everything. We need the robots and AI to do the things that we can't do, that they are specialized to do."
Cooke did note that there are some applications where humanoid robots might be beneficial. She pointed to them being used for interacting with autistic children and the elderly.
"Maybe there are some applications like that where we want to replace the humans because there's not enough to go around to do caregiving tasks," said Cooke. She added that she thinks that would be a limited use case.
Cooke said she would be "very surprised" if Musk shows off anything meaningful during his keynote on Friday. Musk has said that the Tesla Bot's technology will based on the company's self-driving technology used in its cars. Cooke sees problems with that approach, given that the artificial intelligence in those vehicles is "definitely imperfect."
"To take AI that is for driving a car and put into some humanoid robot and expect that now you're going to have general AI, I think that's a big mistake," she said. "The knowledge and capabilities to drive a car do not transfer to everything that humans do."
Tesla strives for general-purpose robots
Chris Atkeson, a professor at Carnegie Mellon University's Robotics Institute and Human-Computer Interaction Institute, teaches a course on humanoid robots.
In that class, students are taught a broad view of what's going on in robotics and AI, he said. Atkeson explained that his students learn about a range of different areas of robotics by studying humanoids, from legged locomotion to flexible robot arms.
Atkeson, who has a master's degree in computer science from Harvard University and a Ph.D. in Brain and Cognitive Science from the Massachusetts Institute of Technology, said a central debate among the robotics community is whether general-purpose robots are better than specialized ones.
"Over and over, the task-specific stuff has won," he said.
Humanoid robots are far more expensive to build than more specialized models, Atkeson said. He cited vacuum cleaning robots as an example. Why would someone build a humanoid that cost as much as car when they can buy a Roomba?
Androids pose design challenges
There are also parts of the human body that are hard for engineers to replicate, added Atkeson.
"Humans have very small ankles," he said. "The way we design motors and transmissions, it's really hard to make a robot with svelte ankles."
Another issue is that its difficult to make an android with a similar weight distribution to that of a human, Atkeson said.
He noted that many companies are taking existing machine vision and AI to build new platforms. From Microsoft and Google to Amazon and Facebook, many companies are experimenting with these technologies. The role of the robot maker, then, is deciding what form factor makes the most sense, said Atkeson.
"What you're basically asking is what kind of interface are people going to want to have," he said. "The answer is a stunning diversity of them."
Atkeson said he believes Musk's robotic endeavors will bring publicity to the robotics industry. That being said, he wouldn't be surprised if what Musk's demonstration isn't very impressive.
He commended Musk for being "technologically strong," noting that he is impressed with the work he is doing with Space X.
"Space X has totally blown away everybody else in the rocket business, including the traditional military-industrial complex," said Atkeson. "So, you've got to take that seriously."
Is Musk bringing positive publicity to robotics?
He acknowledged that Musk has made a lot of promises and set goals for himself and his companies that may not come to fruition. Atkeson compared him to the inventor Thomas Edison and said he is very good at getting people's attention.
"I bet the performance of whatever he is going to show is not going to be that great," he said. "Will he get people's attention? Will he continue to grab all the attention that goes into humanoid robots so everybody thinks, 'Wow, that guy's a leader in humanoid robots.' Yeah probably."
"In reality, there are plenty of companies that make humanoid robots that you've never heard about," Atkeson said.
About the Author
Cesareo Contreras
Cesareo Contreras was associate editor at Robotics 24/7. Prior to working at Peerless Media, he was an award-winning reporter at the Metrowest Daily News and Milford Daily News in Massachusetts. Contreras is a graduate of Framingham State University and has a keen interest in the human side of emerging technologies. Follow Cesareo:
Follow Robotics 24/7 on Facebook
Article topics
Email Sign Up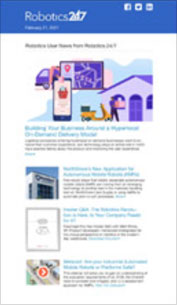 Get news, papers, media and research delivered
Stay up-to-date with news and resources you need to do your job. Research industry trends, compare companies and get market intelligence every week with Robotics 24/7. Subscribe to our robotics user email newsletter and we'll keep you informed and up-to-date.
Tesla