If you're a business that handles pallets containing products, gadgets, etc., then you'll know the importance of palletization and de-palletization. Now, while palletizing might seem easy, what about de-palletizing? While installing robots to do the job, they can be costly and energy-draining.
The solution? Collaborative robots, or "cobots."
Cobots are meant to be more environmentally friendly, energy-efficient, and cheaper than the traditional machinery. So, how do you set up cobot cells for de-palletization?
This brief overview will further explain the importance of cobots, and how you can easily implement them in your de-palletization processes.
Define de-palletization
"De-palletization refers to taking things like gadgets off a pallet," said Danny Thompson, a tech blogger at Write My X and Australia2write. "When pallets come from cargoes, gadgets are taken out when they arrive at a facility."
With that said, how is de-palletizing different from palletizing?
Palletizing refers to gadgets arriving in a certain order, place, and orientation; and workers have full management of all this.
De-palletizing lacks the full management, meaning that time and sample count can be shifted at any time during transit.
"To solve the major downside to de-palletizing, a company must implement a cobot in addition to de-palletization," added Thompson. "Rather than invest in enormous palletizing robots, which can be costly, cobots are cheaper options, and come with more advanced management than regular palletizing."
Compared to palletizing in cell design
De-palletizing may be a world away from palletizing. However, the two processes can meet halfway, and prevents any errors, when you consider the following scenarios:
Any potential unloading challenges during the sending process (i.e., What if there was a way to better negotiate with suppliers on arranging pallets in a particular fashion?)
Looking at any potential things that can happen during transit – items moving around in pallets, any damaged items, any missing items, etc.
Will the various upstream and downstream processes in de-palletization be different every time?
Steps to efficient de-palletization
Setting up a de-palletizing cell is very easy when you know what you are doing.
With collaborative robots, there are relatively few steps needed to achieve a functioning de-palletizing cell. Unlike with conventional automation — which can take months to install — you can set up a cobot in several hours.
Want to get started? Here are some steps for setting up a cobot de-palletizing cell:
Consult your current handbook
First, have a quick look at your handbook on de-palletization. Be sure to read up on the regular step-by-step guide to this process. You'll notice that de-palletization involves many things to consider – input, output, what to observe during the process, etc. By reading up on the de-palletization process in the handbook, you'll get a better idea on how to design your cobot cells in an efficient way.
Evaluate incoming pallets
Second, observe how your pallets arrive out of your suppliers. As you observe this, think about the following:
How the gadgets are stacked on the pallets
How constant the patterns are in the pallets
Any inconsistencies in the pallets, AND
Any other issues that can be overcome with robotics
Evaluate downstream processes
Next, observe how your downstream processes are doing post-de-palletization. These processes will be your robotic's "prospects." In other words, how will the process look like after gadgets are taken out of the pallets?
Utilize worth vs. complexity
The Worth vs. Complexity graph will be an essential part of operating a cobot. This graph allows you to measure how cobots perform in de-palletization. In this way, robotic automation will be mapped out and executed when de-palletizing.
Design a robotic cell
"Once you prep your de-palletization processes for automation, you can design your robotic cell," says Phillip Johnson, a business writer at Case Study Help and Britstudent. "A robotic cell allows your cobot to perform the de-palletizing activities necessary for the processes. While designing a robotic cell doesn't need to be advanced, it's important to have a handbook activity map at hand, in case you need to have a reference nearby."
Initiate integration course
In addition, you'll need to perform your integration course after you design your robotic cell. Here, you'll look at the robotic hardware. If everything in the design checks out good, then you can start programming it into the cobot.
As you can see, cobot integration doesn't require extensive robotics expertise.
Look at the metrics
Finally, observe the metrics for your cobots. Enhance the cell over time by setting up your metrics. These metrics will be important when it comes to the operation of your robotic. In turn, you can use said metrics to see how you can improve your cobots when needed.
Conclusion
Ultimately, de-palletization can be a tedious process in the palleting industry. The good news is, cobots can help make the de-palletizing process less complicated.
As a recap:
Read your handbook.
Evaluate arriving pallets.
Observe your downstreaming processes.
Use the Worth vs. Complexity graph.
Start designing your robotic cell.
Perform an integration course. AND,
Observe your cobot's metrics.
With cobots, de-palletization will be not only less expensive for your company but also more efficient and environmentally friendly.
Good luck
About the author
George J. Newton is a writer and editor at Write My Thesis and Thesis Writing Service. He is also a contributing writer at Nextcoursework.com. As a content writer, he writes articles about robotics, coding, and other tech trends.
Article topics
Email Sign Up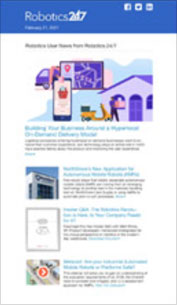 Get news, papers, media and research delivered
Stay up-to-date with news and resources you need to do your job. Research industry trends, compare companies and get market intelligence every week with Robotics 24/7. Subscribe to our robotics user email newsletter and we'll keep you informed and up-to-date.
Universal Robots