As in other industries, warehouse operators are struggling with a tight human labor market. Recent advances in robotics not only offer a way to supplement the work of hard-to-find workers. The technology also offers significant advantages when it comes to priorities like inventory overflow, damage and loss prevention, and safety.
Automation can also increase productivity while reducing operational costs and optimizing space within warehouses. Though an estimated 80% of warehouses have little to no automation, now is the time to consider modernizing to increase process efficiency and decrease the effect of future wage increases. It's also time to enter the realm of those 5% of warehouses using sophisticated automation.
The supply chain industry still needs hard-working, highly qualified people, so we don't envision a warehousing or logistics environment where machines would fully replace people. Businesses that deploy robots to improve key performance metrics while also making the employment experience better will ultimately be the successful ones.
Think outside the warehouse box for robotics
Deploying automation can affect warehouse design and equipment layout, which may require thinking outside the warehouse box to enable more efficient activities and materials movement.
For example, a few years ago, Wagner Logistics opened a large warehouse for a client in the southeastern U.S. The company managed all aspects of storing its paper goods to produce packaging like beer cartons.
At the time, the facility could hold 41,000 pallets in its racks. Due to consumer demand, those pallet positions were no longer enough to match the volume Wagner was handling.
Subsequently, inventory overflow forced the company to put some product on the floor. When volume exceeded capacity, Wagner was forced to consider how to optimize space with the future in mind.
It could look for a larger warehouse, but the cost of additional shuttling, employee attrition, retraining, moving, and occupancy far outweighed the cost of making more efficient use of the space with robotics. Automation allowed Wagner to install new rack locations with less human foot traffic, so the aisles didn't need to be as wide.
Another boost in capacity will come from robots picking up from the drop zone and going directly to the racks. Since the human traffic will be eliminated, Wagner can add more racked locations for pallets.
Outflow will also improve because robots work with the company's warehouse management system (WMS). A mobile robot can pick up all the items that need to go out from a given aisle, even if it's for multiple orders. Eliminating redundant moves like a person running back and forth is the foundation of automation value.
Robots can save inventory, jobs
More than 1,200 pallets go into and out of Wagner's largest warehouse—a 780,000-sq.-ft. facility—each day. Even with a well-trained workforce, there is still damage from miscues, as well as lost inventory from human error.
Continuous improvement is a constant imperative. Conventional wisdom says that, when processes are automated, it happens to the detriment of human employees. But that's not necessarily the case.
When robots are used to supplement manual labor, human workers can benefit in numerous ways. In pre-automation scenarios, people tend to be locked in certain jobs. For example, if you drive a high-lift, you only drive a high-lift. If you drive a forklift, you never get to do the things a high-lift driver does.
But when you automate many of the functions that used to keep people stuck in monotonous jobs, you then open up opportunities for cross-training, which often leads to increased employee morale.
The same person who has always driven a forklift can now learn to drive a high-lift and might also be able to operate roll clamps when needed. When people can contribute more, their earning potential is higher, as is their job satisfaction. In addition, they're more likely to be valued and promoted.
Automation alleviates stress, improves safety
Robots can also make many jobs less stressful. For example, robots can work at height, improving safety and relieving the challenges for people who have acrophobia. Associates can keep their feet on the floor and contribute in numerous other ways.
In addition to increasing efficiency and ergonomics, automated systems allow a warehouse to create robot-only ones and human-robot collaborative environments. Each scenario calls for specific setups.
For example, warehouse designs with robot-only areas can install all racks in the middle of a workspace. Human-driven vehicles would stay on the outskirts of such zones, and staffers would only enter it if necessary to perform maintenance or other limited functions.
Mobile robots and robot arms can reduce heavy lifting and tedious tasks. Even housekeeping is easier and safer because robots don't throw any trash on the floor.
Let robots take the third shift
Most companies recognize that third shift is the least desirable of all shifts, but some employees are given no other option. Wagner Logistics plans to let robots do all the third-shift work. This will allow the best employees to transition to the first or second shift according to their preferences.
On the whole, automation opens up new possibilities for employees while offering to make warehouse operations more efficient and manageable.
As with any technology, robotics and automation require serious thought before investing and implementing it. Warehouse operators need to consider all the ways in which they can improve their operations, from types of robot hardware to orchestration platforms that assign work to the robots and manage workflow.
The technology available today unquestionably gives operators opportunities to take their warehouses to another level.
About the author
Robin Romero is an industrial engineer at Wagner Logistics, a leading supply chain management provider offering distribution center, warehousing, and transportation services across the U.S. since 1946. Wagner said its team provides systems to fit each changing buying habits and each customer's needs at the speed it requires.
Editor's note: This blog is reposted with permission.
Article topics
Email Sign Up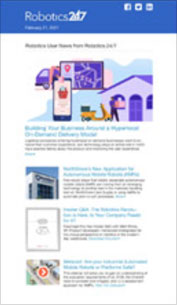 Get news, papers, media and research delivered
Stay up-to-date with news and resources you need to do your job. Research industry trends, compare companies and get market intelligence every week with Robotics 24/7. Subscribe to our robotics user email newsletter and we'll keep you informed and up-to-date.
Linde Material Handling