In today's global marketplace of food logistics, it's vital to recognize that refrigeration, food safety, and food waste are intimately linked. Perishable food, including fruits, vegetables, dairy products, meats and fish products, needs to be kept in a chilled or frozen state along the entire supply chain.
When the safety risk is unknown or not reported, the food may be consumed and cause foodborne illnesses, which have a significant societal cost. According to the scientific and technical information department of The International Institute of Refrigeration (IIR) in Paris, it's estimated that foodborne illnesses cost more than $50 billion annually in the United States and cause more than 120,000 hospitalizations and 3,000 deaths.
"When insufficient refrigeration of perishable food is known and reported, the food is then discarded, thus mitigating concerns about food safety, but creating food waste," observes Jean-Luc Dupont, head of the scientific and technical information department of the IIR.
While IIR is the only independent, intergovernmental science and technology-based organization that promotes knowledge of all refrigeration fields, even larger global entities have recently produced alarming studies on the state of the industry. The United Nations (UN), for example, estimates that each year approximately 1/3 of all food produced for human consumption is wasted, while other reports indicate that food waste accounts for 40% of production.
Similar amounts of food waste recently reported indicate that improvements aimed at reducing waste have been minimal over the last decade. "The annual economic impact of food waste is estimated at $218 billion in the United States, $143 billion in Europe and $27 billion in Canada," says UN supply chain analyst Valérie Masson-Delmotte. "Such an amount is unacceptable, especially given the world's growing population, the saturation of land resources used for agriculture, and the already significant concerns about food security."
Strong partnerships
A discussion on food logistics and improving the cold chain was one of the highlights at last month's USC Annual Global Supply Chain Excellence Summit, where the theme was "Evolution-Revolution-Disruption."
Sharing war stories about the front lines of food services was Carlos Londono, vice president and head of supply chain for Chipotle Mexican Grill, where he is responsible for all aspects of supply chain including direct and indirect procurement, logistics, planning and continuous improvement. "Disruption is a given in our business," he says, "and we've learned that we can't lose sight of risk mitigation every single day. Having reliable transport partners is essential, and necessary for us to fortify food safety protocols and procedures, and to optimize our operations."
Chipotle's past problems have stemmed from a variety of issues, Londono admits. While the E. Coli and salmonella outbreaks of a couple of years ago were attributed to contaminated raw produce or inadequate cooking, other incidents have been attributed to flaws in transportation management and temperature control. "We've established very strong, long-term relationships with key suppliers since then," he says. "The contribution from these partners has allowed Chipotle to further strengthen our values-based approach."
Digital supply chain tracking tools have also been part of Chipotle's rebuilding strategy as well, as the company tracks its produce from the farm to the restaurants using FoodLogiQ software to provide more visibility.
Drones enter the cold chain fray
A new generation of transport providers may be making some forms of temperature control systems irrelevant, say officials at the upstart drone company Flytrex.
Along with the drone services firm Causey Aviation Unmanned, Flytrex has received approval from the Federal Aviation Administration (FAA) to begin its on-demand, unmanned food delivery via commercial drones for local residents in Holly Springs, N.C.
"Given the expediency of drones for food delivery, Flytrex requires no additional technology to preserve perishable cargo," says Yariv Bash, CEO and co-founder of Flytrex. "Once up and running, flight time from pick up to drop off is within a few minutes, and faster than any alternative."
Pending the approved proposal, Flytrex drones will operate along one predetermined delivery route, connecting a distribution center at Holly Springs Towne Center, a shopping destination owned and operated by Kite Realty Group, with a single delivery point at Ting Park, a nearby outdoor sports and recreation hub. The flight route crosses over Route 55, and will fly primarily over unpopulated areas, avoiding flights over adjacent neighborhoods.
Although this hardly represents a threat to traditional cargo airlines and last-mile trucking companies, the innovation is gaining traction with shippers serving small regional markets.
Google's parent company Alphabet, for example, has the FAA's blessing to begin food delivery in Virginia using the same drone technology it now uses for food logistics in Australia.
Amazon introduced its Prime Air delivery drone last June, with the intent to deliver food from the Amazon platform.
Finally, Uber Eats is testing the first-ever commercial application of drone food delivery in high-density urban areas. The initial customer tests will showcase what the future of food logistics may look like for millions of consumers worldwide.
Ryan Hammer, corporate vice president and president of Golden State Foods, was also on hand for the discussion. He notes that his logistics operation recently partnered with IBM to pilot a solution that combines radio-frequency identification (RFID) to automatically track fresh beef's movement. "Thanks to some innovative planning with IBM, we're using Internet of Things [IoT] devices to monitor its temperature," he says. "Then we use blockchain to orchestrate the business rules between parties in the global supply chain."
For Sean Burke, chief commercial officer for Echo Global Logistics, operational efficiencies play an equally important role, particularly when it comes to the shipping of fresh produce. "Shippers should plan ahead with carriers and 3PL partners for the produce season regardless of location," he says. "Because most contractual pricing has explicit or assumed capacity per week and per day, shippers should verify capacity commitments and plan their transportation accordingly."
Allowing for extra lead time and providing accurate volume information are critical to avoiding tender rejections and minimizing costs, adds Burke. "Another option for shippers is to adopt a 'peak' or 'produce season' approach to pricing throughout the year to navigate the high transportation demand around this time," he concludes.
Technical considerations
Meanwhile, changes within the food logistics industry are "rampant," observes Oceasoft, a firm that designs and develops software and Cloud-based technology for monitoring temperature, humidity and other critical physical parameters.
"These improvements are simply spurred on by the need to deliver goods even faster to consumers while accommodating even stricter regulations by agencies like the U.S. Food and Drug Administration [FDA]," says Laurent Rousseau, chairman and CEO of Oceasoft. "For many companies, these shifts are introducing additional challenges in food cold chain management."
For today's global logistics managers moving temperature-sensitive freight, "carrier choice" should be considered a top priority, says Rousseau. "While many businesses focus on the expense of their choice, they learn in a short amount of time that a low-cost carrier may be mismanaging products, causing spoilage and in some cases, incurring fines from overseeing agencies," he says.
Data is also a critical part of food cold chain management, adds Rousseau, yet 75% of food waste occurs during production and distribution, indicating a substantial gap in communication and supervision by the parties involved. "That's why federal agencies, such as the FDA, are demanding the extensive collection and analysis of electronic records," he adds.
Finally, with wireless technology, notably IoT, it's now feasible for shippers to track the condition of their products from beginning to end. "Bluetooth temperature data loggers, for example, are often sent with shipments as they provide real-time status updates to you and your courier's drivers," observes Rousseau.
Cutting-edge technology has also entered cold chain food storage facilities. Newer temperature-controlled warehouses, for example, feature self-contained refrigeration units offering increased energy efficiency and zero water requirements, plus convenient monitoring systems that use wireless data loggers.
"Amazon's entry into the food sector signals a shift in how consumers receive their groceries—it also represents a new challenge in food cold chain management," Rousseau concludes. "While solutions to this movement are underway, it's inevitable that infrastructure must be improved and streamlined to deliver food that's safe, fresh and compliant with domestic and international agencies."
About the Author
Patrick Burnson
Mr. Burnson is a widely-published writer and editor specializing in international trade, global logistics, and supply chain management. He is based in San Francisco, where he provides a Pacific Rim perspective on industry trends and forecasts.
Follow Robotics 24/7 on Facebook
About the Author
Patrick Burnson
Mr. Burnson is a widely-published writer and editor specializing in international trade, global logistics, and supply chain management. He is based in San Francisco, where he provides a Pacific Rim perspective on industry trends and forecasts.
Follow Robotics 24/7 on Facebook
Article topics
Email Sign Up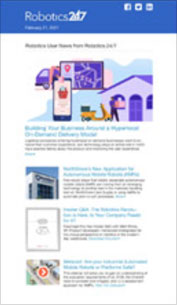 Get news, papers, media and research delivered
Stay up-to-date with news and resources you need to do your job. Research industry trends, compare companies and get market intelligence every week with Robotics 24/7. Subscribe to our robotics user email newsletter and we'll keep you informed and up-to-date.