During a recent visit to MassRobotics headquarters at 12 Channel St. in Boston's Seaport District, Robotics 24/7 got a chance to catch up with more than a dozen resident startups making interesting technologies.
MassRobotics is a non-profit collaborative effort to nurture the Massachusetts robotics ecosystem, which includes more than 350 companies, as well as academic institutions, government agencies, and research organizations. The Massachusetts Technology Leadership Council (MassTLC) established a robotics cluster in 2004, and it launched MassRobotics in 2015.
Here's a breakdown of some of the most interesting innovations we saw.
Cleo Robotics launches indoor drone
Cleo Robotics Inc. recently launched an unmanned aerial vehicle (UAV) for indoor use called the Dronut X1. Founded in 2018, the company aims to serve law enforcement, defense, and enterprise customers for inspections and monitoring applications.
"If somebody wants to inspect a pressure vessel or a tank, instead of sending a person into a confined space, they'd rather send a drone in to capture data or see a hard-to-reach area," said Omar Eleryan, CEO at Cleo Robotics.
Eleryan claimed that the Dronut is unique because it's the first inducted-fan UAV.
Cleo Robotics' website described the Dronut X1 as "the world's first bi-rotor ducted drone powered by our patented thrust vectoring technology. With no exposed propellers and a compact design that can fit in the palm of your hand, the Dronut can safely fly where no other drone has flown before."
"We didn't invent this technology," Eleryan said. "It's been around since like the 1950s, but we're the first company to commercialize it."
Southie Autonomy simplifies contract packaging
Southie Autonomy is trying to make the process of using warehouse automation simpler though its Southie App software.
Jay M. Wong, head of software at Southie Autonomy, compared automation to personal computing. In the early days, computers were solely used for several specific tasks, and you had to be an expert to use one, he said. Over time, the barrier of entry became smaller and smaller, with software and hardware advancements geared toward accommodating everyday people.
That's what the team at Southie is trying to do for warehouse automation, Wong said. The company's robots and software can automate palletizing, kitting, and package assembly.
The Southie App interface is designed to be dead simple to use, said Wong. The home screen is made up of just two large, rounded start and stop buttons, but the app has enough granularity to give users more options to configure workflows, troubleshoot, teach, and more, he said.
The company was founded in 2017 and operates out of MassRobotics' co-working space. Third-party logistics providers (3PL) are currently operating two of its systems, and Southie Autonomy said it expects to have several dozen or so more in use by the end of the year.
RailPod inspects railroads
RailPod makes automated devices to inspect railroad tracks for obstructions, loose fasteners, and clearance levels for large payloads such as wind turbines.
"The concept is we bring a variety of different inspection technologies into one platform automated to do a series of analytics, predictive maintenance work, and specific applications," said CEO Brendan English.
Founded in 2014, the company has around 150 customers in the U.S., Canada, and Brazil.
RailPod said it uses lidar, GPS technologies, and more to track geometric measurements, horizontal wear, vertical wear, internal rail flaws, and utility asset mapping.
English said the rail pod helps railroad inspections be more efficient.
"Here in the States, there are over 200,000 miles of railroad tracks that have to be inspected approximately twice a week," he said. "That inspection has to occur with human beings."
MVP robots huddle up
When the head football coach at Dartmouth College decided to eliminate tackling from practices, he turned to the school's engineering team. A group of athletes in a senior capstone program decided to design a prototype tackling machine.
When they graduated in 2015, they started a company based on the prototype, according to Ryan McManus, director of sales and marketing at MVP Robotics.
The tackling robot weighs 160 lb., works on grass and turf, and is remote-controlled. It can travel up to 16 miles per hour.
At Dartmouth College, the robot decreased football related concussions by 58%.
While it was designed to be used for football, the robot is also now being used for other sports and by the military for target practice.
Ras Labs makes grippers more sensitive
Taking advantage of an electroactive polymer, Ras Labs has developed sensors to give industrial robotic grippers a sense of touch. CEO Peter N. Vicars said the company's proprietary sensors embedded in polymer can understand the shape, size, and density of an object. This provides rigid grippers greater sensitivity so they can rival soft grippers for handling fragile products while maintaining industrial robot speed and precision, he said.
Vicars added that because the gripper is able to better understand what it is holding, users don't need to change out the tools as often on their robots.
"That is dollars and cents to those gripping companies," he said. "In a variable picking application, they can do this without a tool change."
Ras Labs recently added support for both pneumatic and electric grippers, and the company is getting feedback from customers at four trial sites and incorporating it back into the product.
Vicars said he hopes to sell the sensors more broadly in the next three to four months.
Hathaway Robotics 3D-prints AMRs
Hathaway Robotics 3D-prints carbon-fiber autonomous mobile robots (AMRs) for warehouse and manufacturing facilities. It has sold its customizable AMRs to three meat-packing companies, said Murat Terzi, founder and CEO of Hathaway Robotics.
The company also makes medical smart-screen devices. It said its medical devices have been bought by several hospitals, as well as MIT.
MatrixSpace designs a smarter drone
Matthew King, vice president of autonomous systems at MatrixSpace Inc., said his company is developing an "AI software defined sensing and autonomous response platform" for drones.
King said it starts with the company's millimeter-wave radar and mesh network device, which he claimed no other autonomous drone making company has developed.
"This has an AI sensor-fusion and perception layer that feeds into the mission autonomy engine onboard the drone that enables it to execute any mission that's programmed into it," King said.
"Whether that is scanning a power line, searching for an object in a wooded environment, using onboard sensors like thermal and radar, or whether that's doing 3D scanning of a building or object for photogrammetry, the mission platform is very modular and open in that our user interface allows a person to program in any of these behaviors into these drones," he added.
King said the company just closed its seed round and has many prospective customers.
The company started out of Northeastern University and is based out of Northeastern's Innovation campus in Burlington, Mass.
Scalable Robotics
Scalable Robotics provides a layer that runs on top of existing commercial off-the-shelf hardware to enable industrial robots to be more easily programmed "for continuous processes such as arc welding or painting," according to MassRobotics.
The startup recently conducted a successful demonstration at Newport News, Va., where the U.S. Navy is facing a shortage of skilled welders in its shipyards.
Welders were able to use Scalable Robotics' code-free point-and-click system to quickly instruct a robot to conduct multiple precision welds, said Tom Fuhlbrigge, founder and CEO.
Two MassRobotics residents team up
Black-I Robotics Inc. and Ascend Robotics joined forces to develop what they are called the "first mobile autonomous heavy-lift arm system for logistics and manufacturing applications."
The partners showed off the mobile manipulator at MODEX 2022. Black-I-Robotics said it worked with Ascend Robotics' vision technology to "develop an AI-based integrated package with multiple sensors and cameras featuring 2D and 3D live data streams and other electronics that enable the arm to 'see' a workplace and and avoid any and all objects."
Black-I-Robotics said the arm can lift objects weighing up to 100 lb., nearly twice that of other similar systems, said Brian Hart, president and CEO. The company is looking to partner with AMR providers, he added.
About the Author
Cesareo Contreras
Cesareo Contreras was associate editor at Robotics 24/7. Prior to working at Peerless Media, he was an award-winning reporter at the Metrowest Daily News and Milford Daily News in Massachusetts. Contreras is a graduate of Framingham State University and has a keen interest in the human side of emerging technologies. Follow Cesareo:
Follow Robotics 24/7 on Facebook
Article topics
Email Sign Up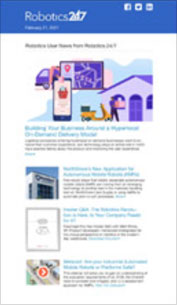 Get news, papers, media and research delivered
Stay up-to-date with news and resources you need to do your job. Research industry trends, compare companies and get market intelligence every week with Robotics 24/7. Subscribe to our robotics user email newsletter and we'll keep you informed and up-to-date.
Cesareo Contreras