The Advanced Robotics for Manufacturing, or ARM Institute, today announced its final 22-01 Technology Project Call. The public-private partnership is seeking proposals for systems combining machine learning and robotics for the manufacturing and defense industries.
Teams must be members of the ARM Institute to be eligible for consideration in the program, which totals $10 million. The institute is a national resource for maintaining U.S. competitiveness through robotics and workforce development. It is part of the Manufacturing USA network and is funded in part by the U.S. Department of Defense.
"We ran seven project calls in 2020, and we've transitioned to 26 project calls," said Jay Douglass, chief operating officer of the ARM Institute. "Projects have ranged from robots for sewing, sanding and grinding metals, and sorting fish to PCR testing for COVID-19."
"We typically see three types of project teams," he told Robotics 24/7 during a recent visit to ARM's headquarters in Pittsburgh. "There are the standard vertical teams, involving robotics vendors. Then there are the horizontal ones, such as aerospace manufacturers working on wire harnesses. Finally, there are the non-standard, pre-competitive ones, such as small startups or groups within universities and larger companies."
ARM project call includes new features
The ARM Institute's latest project call is different from its predecessors, noted Livia Rice, senior outreach manager for the organization. Project teams can now request up to $1 million per project, with a minimum 1:1 cost share required for all submissions.
While the project submission process involves a number of milestones, the two major phases for 22-01 include concept papers, followed by presentations to the ARM Institute's panel of reviewers.
In addition, the project call includes new and expanded topic areas, with an increased focus on artificial intelligence for robotic manufacturing systems.
Topic areas expand
The ARM Institute listed the following areas in its project call:
Adaptive real-time path planning and control: A successful solution would convey a technical approach or methodology that enables advanced manufacturing robots to adjust a path or trajectory to variations that may occur in the system or process, said the institute.
Human action and intention prediction: A successful project would initiate the development of robots to assist humans in an efficient manner and prevent mistakes and accidents. For example example, the technology could enable a human to work on a very technical task while a robot or multiple robots assist in collecting tools, cleaning, or simply performing value-added, non-essential tasks commonly required in a manufacturing environment.
Robot learning: ARM is seeking the development of models and methods to enable a robot to learn a manufacturing task from a human or another robot.
Feature and pose recognition and estimation: A project could develop robotic contextual awareness of a manufacturing task, component, process, and perhaps other activities within a facility to enable and anticipate the next process step and be capable of supporting it.
Virtual commissioning of advanced robots: ARM cited a need to reduce the risk of commissioning new robots and accelerate the deployment of automation in manufacturing. Part of qualifying an automation system for production is commissioning the equipment through a series of tests. When done at installation time, any defects in the system can be costly to troubleshoot and resolve.
Simulation environments can be useful, but they struggle to replicate realistic manufacturing environments that include non-ideal performance of equipment, products, and sensors, it added.
AI and data for advanced manufacturing systems: To catalyze the adoption of AI in robots for manufacturing, the development of structures, standards, and practices for managing data is essential, noted ARM. This includes the development of benchmarks, test methods, and metrics to characterize the performance of robots using AI algorithms and associated data.
Multi-agent motion planning and tasking for discrete and continuous manufacturing processes: This includes the development of real-time robotic awareness of other robots and agents. Systems must also be capable of providing cooperative motion and tasking, as well as error recovery of one or more agents within a multi-agent setting.
Virtual masking for advanced coating applications: Advanced coatings used in aerospace and on ground vehicles typically require masking. The process is labor-intensive and provides inconstant results and quality depending on the application and process variability, said the ARM Institute.
Coating applications are typically energy-intensive, produce emissions that present safety and environmental concerns, yield excessive material waste, and often result in rework. A successful technology development project would eliminate or significantly reduce the necessity for masking for advanced coating applications and significantly improve the current processes, said ARM.
Submission timeline
The ARM Institute will host a public webinar on Wednesday, July 27, at 2:00 p.m. EDT to provide an overview of its project call, outline the new two-step process, and answer attendee questions. A recording of the meeting will be available to registrants, and ARM members will have exclusive access to the virtual Tech Day held on July 13.
The full project call document is available at the ARM Institute's website. Concept papers are due on Aug. 12, 2022, and invitations for the presentations phase will be released around Aug. 19.
The submission deadline for presentations and supporting documents is Sept. 19, and the team presentations will be the week of Sept. 26. The institute said it expects to release its final selections and begin sub-award negotiations on or about Sept. 30.
The sub-award execution deadline and award expiration date is Nov. 1, which is also the target start date for projects.
Article topics
Email Sign Up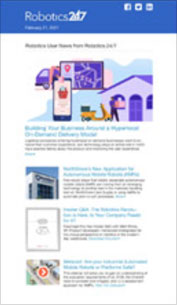 Get news, papers, media and research delivered
Stay up-to-date with news and resources you need to do your job. Research industry trends, compare companies and get market intelligence every week with Robotics 24/7. Subscribe to our robotics user email newsletter and we'll keep you informed and up-to-date.
ARM Institute