The future of automation was very much in focus at the Automatica trade show last month. Over 570 exhibitors from 35 countries and more than 28,000 visitors from around 75 countries made their way to the robotics and automation trade show in Munich, Germany, according to trade show organizers.
In terms of keynotes, panel discussions, presentations and live demonstrations, there were more than 150 of them.
Here are some insights from the show, which took place from June 21 to 24 at the Trade Fair Center Messe.
Industrial automation growing
By 2026, the industrial automation market in Europe, the Middle East, and South Africa and Africa will be worth $51.4 billion, Peng-San Cau, LV vice president of Emerging Markets & Symphoni at ATS Automation, said during a session looking at the future of automation. Much of that money will come from manufacturers, who are looking to automation to build flexibility, increase resilience, and lower risk.
"Prior to COVID, automation met lower costs. After COVID, automation means flexibility and resiliency." she said. "Consumer demand for personalized unique products and services will not change due to COVID or any other short-term disruption. They are impatient for a business to design the latest products and build the machines and the process to bring those new products to market cheaply."
"And as these demands recur more and more frequently, you as manufacturers need the agility in your equipment to shorten time to market," Cau added. "In other words, in the modern world, agility is speed. Finally, agility wins today because of the reality of automation itself."
Automation is following an evolutionary path similar to that of computers
Cau compared automation's growth path to computers.
"The first modern computers were built to break communication codes in wartime," she said. "They were simple machines that allow humans to do a greater number of mathematical calculation quickly. And though they become smaller, faster, and more reliable, it took decades for us to understand the true promise of computers as they become more and more agile."
There are a few different ways that automation could evolve from its present state, Cau said.
"Are machines going to become more specialized and product specific?" she asked. "Or is each one going to become capable of an ever-increasing number of tasks while going at a faster rate? Are we going to continue to build machine for single purposes are we going to incorporate Industry 4.0, where data drives design and information powers decision-making? Whatever comes next the future of automation is agility."
"When I think about the successful factories of the future, I don't see a maze of custom machinery snaking around huge factories. I see standardized digital solutions," she added. "That take up less floor space, with less mechanical parts and is faster and more precise."
Automation systems that are modular and scalable reduce waste and are "good for the environment," Cau said.
"I see a machine that can do one can do more than one thing and do it quickly, she added. "I see agile automation at the core of manufacturers sustainability strategy, modular and flexible solution means in more efficient intelligent and sustainable process for automated manufacturing."
"Usually, single-purpose machines take a factory space which eventually ends up in landfills," said Cau. "Agile automation is the very essence of sustainability."
Siemens explains 'autonomous factory of the future' concept
Matthias Loskyll, Siemens' director of autonomous factory and industrial AI, discussed in a session on the autonomous factory and AI that "the autonomous factory" will be designed by and for people
"The autonomous factory is our vision of the production of the future," Loskyll said. For such a factory to manufacture products on demand, there must me interaction with the supply chain, which delivers raw materials to the receiving area. Using AI technologies for object detection, automated transportation systems will load and unload materials.
Some more complex tasks will need to be handled by multiple machines, with "central intelligence" optimizing the overall production process together with interplant logistics processes, assigning machines with the adequate skills.
"But even the most intelligent systems using AI could reach certain limits," Loskyll cautioned. "For example, if they are not confident about a certain prediction, they will ask for help. This is a feedback loop between human and machine to give feedback to the system and let it learn continuously. So that's just a snippet of our vision of the autonomous factory of the future."
Intelligent systems will work closely with humans
Loskyll reminded the audience there will be an interaction between intelligent systems and human beings.
"There will be tasks that only can be taken over by humans because the human is in the end, unbeatable in terms of creativity in terms of problem-solving skills, in particular in situations that you haven't experienced before," Loskyll said. "It's all about the interplay between artificial intelligence and the right-hand side, where you have intelligent algorithmics, you have super-fast processing power [that] can process huge amounts of data."
"They are inside you a few minutes diligence, creativity and problem-solving skills, bringing these things together really getting the interplay done," he said. "This will be the next level of automation that we can achieve."
Robots will be critical in the autonomous factory, Loskyll added. An increasing number of intelligent robots are coming into various industry verticals.
Siemens uses robots for material handling. Other manufacturers, distribution centers and logistics centers are also increasing their use of robots, Loskyll said.
Yet there is room for growth for picking robots, which some in e-commerce don't trust for handling different objects. But with AI and computer vision, these robots – in use in many locations already – can calculate the optimal grasping point for every arbitrary object, even unseen objects at runtime, Loskyll said.
"This means you can throw any object that you want with a camera attached to the robot arm with the AI model, calculating behind the robot will be able to trust this object and to handle it and put it into the box," Loskyll added.
Siemens demonstrated such an operation at its booth at the trade show.
About the Author
Phil Britt
Britt owns S&P Enterprises and is a technology writer who lives in the greater Chicago area. In addition to Robotics 24/7, he has written for financial services and business publications, including magazines, newsletters, conference dailies, and Web sites.
Follow Robotics 24/7 on Facebook
Article topics
Email Sign Up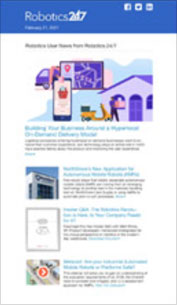 Get news, papers, media and research delivered
Stay up-to-date with news and resources you need to do your job. Research industry trends, compare companies and get market intelligence every week with Robotics 24/7. Subscribe to our robotics user email newsletter and we'll keep you informed and up-to-date.
Automatica