Years ago and before broadband, a domestic brokerage company we considered buying had a clever gimmick going where they offered a free PC and dial-up modem to small companies where the shipping clerk could enter data on a simple shipping questionnaire and then the PC would dial up the brokerage.
The broker would book the load and send back a filled-out Bill of Lading. Thus the shipper needed very little transportation knowledge.
Does this sound like an early version of Uber to you? Like Uber, the shipper was locked into the brokerage as the program was exclusive.
The shipper would just list "500 lbs. of toys to Chicago," and the carrier would be scheduled to pick up the load. Of course, the broker would make the selection and collect a very high margin.
In the end, we ended up not buying the firm, but it was an education on how the freight brokerage business worked.
The tools today are different, but the model is the same. Small shippers with little or no transportation knowledge rely on third parties to guide them through complex pricing models and a variety of possible carriers.
However, the problem with the high margin end of almost all business is that innovation - especially that which continuously emerges from the Internet - is disrupting more and more specialist businesses where there are premium earnings.
Shippers and third-party logistics providers (3PLs) are absorbing brokerage functionality with help of software and instant connectivity, perhaps without realizing it. As the less-than-truckload (LTL) business gets "Uberized" through new non-NMFC pricing and Internet-based bookings apps, the need for a broker middleman is diminished.
Read: Armstrong Highlights the Inaccuracy of the Term "Uber for Trucking"
My broker friends tell me that the death of the transport intermediary has been predicted before; however, they are still here. I, like others before me, say that this time it's different. I forecast that brokerage margins will be squeezed to the point that they become untenable as stand-alone companies and instead become functions of 3PLs or a part of a shipper's interactive transportation management system (TMS).
The last decade's improvements in TMS capability have provided load consolidation for individual shippers and sometimes with other 3PL clients. Until new pricing models came along, brokers still had better discounts than many small shippers - and thus could promise these shippers a break in LTL while collecting double-digit markups.
Now, shippers can work with apps and network connections to collaborate with carriers to take advantage of operational savings opportunities on a daily basis.
With recently developed dimensional pricing models that do not require NMFC classifications, combined with apps that can tender and confirm loads, the need for intermediaries connecting the parties is reduced.
The shippers or a 3PL's TMS that's has been tweaked for dynamic interaction with carriers with Uber-style apps will connect directly.
However, this is not changing overnight, so shippers have time to re-engineer their transport contracting and operations practices.
But as previously reported in Logistics Management, there are numerous Silicon Valley players jumping in to capture the margins traditionally enjoyed by brokers.
With all this unfolding in front of our eyes, there are four things shippers can do now.
First: Investigate the new technologies that enable dynamic pricing and contracting. They are available on a subscription basis.
Second: Know your freight characteristics, network and best service providers.
Third: Understand the cost factors for carriers and where the pricing levers are.
Fourth: Learn and practice collaborative contracting with emphasis on being a good customer with high ratings from service providers.
Technology provides opportunity, but shippers need to stay on top of their game to improve cost and service while eliminating the middleman.
Related Article: Putting the Ever Expanding Truckload Brokerage Business into Perspective

View and Download Related White Papers
Article topics
Email Sign Up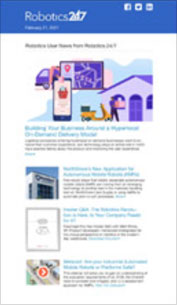 Get news, papers, media and research delivered
Stay up-to-date with news and resources you need to do your job. Research industry trends, compare companies and get market intelligence every week with Robotics 24/7. Subscribe to our robotics user email newsletter and we'll keep you informed and up-to-date.