Micro-fulfillment is on everyone's lips these days, or so it seems. Major supermarket chains including Kroger, Walmart, and H-E-B have started micro-fulfillment center projects, tapping automation companies that offer robotic, high-density storage and picking systems, which can be placed inside a store or a so-called "dark store" that fulfills online orders for a compact geographic area.
But for all the attention on the micro-fulfillment center (MFC) trend to date, it's mainly taking hold in grocery. It does, however, overlap with the concept of hyperlocal fulfillment, which almost every retailer or e-commerce brand is trying to achieve in some form. The "hyper-local" concept overlaps with other fulfillment network approaches when the aim is enabling next-day or two-day deliveries, including providers of technology-driven warehousing services, also known as "on-demand" warehousing.
Micro-fulfillment and on-demand warehousing aren't the same thing, but they do both address the need to meet consumer expectations for rapid online order fulfillment. Whether micro-fulfillment will gain much traction outside of grocery remains to be seen.
In e-grocery, there are some unique order and service-level requirements. Online shoppers typically want same-day home or curbside delivery for groceries, and you may have 40 items in a customer order, which is higher than in most other retail segments. By contrast, consumers may be fine with one- or two-day delivery for many other types of goods, though expectations tend to be rising.
On-demand fulfillment network providers do offer technology, especially software tools that help determine where to hold inventory and in what quantities. If the goal is to get online retail orders to customer concentrations quickly, without worrying about building out fulfillment infrastructure, these providers are a part of the picture.
Micro-fulfillment vs. hyper-local fulfillment
In the grocery sector, the term "micro-fulfillment" generally refers to automated MFCs, typically in the back of a store or attached to it. The "dark store" functions as an automated MFC to serve a ring of nearby consumers and non-automated stores. MFCs typically use robotic, high-density storage and picking systems, as well as some major warehouse automation providers.
The MFC market has high growth potential, according to Logistics IQ. It predicted that the market will reach $10 billion by 2026 at a compound annual growth rate (CAGR) of 60% between 2020 and 2026.
Grocery is going to be the main contributor for this market, but general merchandise and other industries may pursue the model, said Logistics IQ. The analyst firm reported that that MFC automation typically ranges between 5,000 to 25,000 sq. ft. of space.
To date, several major grocery retailers have deployed a handful of automated MFCs, though some have aggressive plans for more, including Walmart, which announced in January that it would be deploying dozens of what it called "market fulfillment centers," tapping various technology partners, including Alert Innovation, Dematic, and Fabric.
Tel Aviv, Israel-based Fabric also runs an automated MFC for Super-pharm, and it recently announced a second MFC project with the drugstore chain and health and beauty retailer.
"Hyper-local" is a somewhat broader term centering on the need to position inventory very close to customer concentrations for rapid fulfillment. If the aim of a merchant is to quickly establish fulfillment reach and enable one- or two-day deliveries, that brings in other trends like providers of on-demand warehousing services.
Think of the service-level needed as a key demarcation point. Hyper-local fulfillment with a same-day service goal is essentially the same as the micro-fulfillment concept.
More than 3PLs
Companies offering warehousing on-demand or cloud logistics networks vary in focus, but they are more than a loose combination of third-party logistics (3PL) facilities, since they typically offer cloud-based software that helps manage inventory levels and positioning, as well as other aspects of order-fulfillment activity for merchants.
While traditional 3PLs are a proven way to expand fulfillment reach, with a technology-driven logistics network, there is no need to make arrangements with multiple 3PLs to achieve the needed reach, said Sean Henry, co-founder and CEO of Stord Inc. The cloud-based, distributed logistics network provider works with warehouse partners to offer more than 400 facilities to e-commerce brands or to retailers looking to position goods close to customer concentrations.
"If you look at traditional 3PLs, they are constrained to the buildings they own or operate and their tech stack," Henry said. "The constraint there for the retailers or brands is that if you need dozens of warehouses across the country, close to your end consumers."
"In this case, you're trying to piece together how to work with multiple 3PLs and how to distribute your volume across them, given different pricing or different minimum commitments you have with them," he said. "And you're also trying to figure out the tech stack issues at the same time, integrating your e-commerce channels and inventory data across 10 or 20 warehouses run by different partners."
With Atlanta-based Stord's network, one point of integration exists for the retailer or e-commerce seller, plus supply chain software that can be used to rebalance inventory within the nodes being used, added Henry. The software also provides distributed order management and order-allocation logic to decide which of the nodes in its network, or combination of nodes, is best to fill incoming orders. In addition, Stord has carriers in its network to facilitate delivery.
"We overlay our network with software that acts like an operating system for our customers and their distribution," Henry said. "This operating system is a distributed inventory and order orchestration system for deciding how to optimally place specific SKUs [stock-keeping units] across the nodes in their network, and how to optimally route the orders against the inventory."
"We're showing [the merchants] their real-time inventory levels across all the nodes that they have with Stord, but also giving them active advice about how to rebalance that inventory, achieve optimal service levels for their customers, and reduce their transportation costs based on where that inventory is being ordered from most," he said.
Building your own warehousing on demand
Providers of on-demand warehousing have differing models. While Stord partners with smaller and regional 3PLs for sites, others are building out their own warehouses. For example, ShipBob Inc. describes itself as a tech-driven 3PL and as a cloud-based logistics platform designed for small and midsized businesses to provide rapid fulfillment capabilities. The Chicago-based company has a network of 16 fulfillment centers and is adding about one per month.
According to Divey Gulati, co-founder of ShipBob, the sites use the company's custom-developed warehouse management system (WMS), and software that the retailers or digital brands can use to gain insight on inventory trends and fulfillment performance.
"Essentially, we provide them with a source of truth for their orders and their inventory, based on our software capabilities," said Gulati.
Many of ShipBob's customers are e-commerce brands that don't have stores and have contractors who make their products. Such brands typically use e-commerce software from vendors like Shopify or Big Commerce, but they don't want to get into the business of building out their own distribution network or managing multiple 3PLs. They do want analytics and insight into inventory strategy and how that matches up with their demand patterns, said Gulati.
"They can monitor order-fulfillment trends and how much inventory they have left, and also benefit from analytics," he said. "With our analytics, they can see where their customers are, and then the software recommends the best fulfillment center locations for them to use in our network to optimize for both transit time and cost."
Within ShipBob's network, its distribution centers (DCs) are not heavily automated, though software technology and wireless handhelds are used to direct picking, packing, and shipping activities.
"We are super heavy on the use of software and analytics," says Gulati. "We wanted to focus on software capabilities first, because we're expanding so fast."
Ware2Go, a provider of on-demand fulfillment and warehousing, also layers software functionality into its services to benefit the merchants and online brands who use it, as well as to help the warehouse partners who carry out the fulfillment. This software platform is called FulfillmentVu, and it combines warehouse management, order management, and transportation management functions.
The Atlanta-based UPS company also offers a free app called NetworkVu, which analyzes a merchant's sales and transit data using machine learning to recommend ideal warehouse placements to maximize delivery speeds within ground networks.
For merchants looking to reliably fulfill next-day orders and to be able to fine-tune inventories, such software-driven insights will help with customer satisfaction and their bottom line, explained Patrick Cadic, chief revenue officer at Ware2Go.
"We help [merchants] with insights into their fulfillment processes, and that can improve their unit level economics, but the larger benefit is how the platform ensures a consistent level of customer experience, and consistent outcomes, for their customers," he said. "That is where the real value comes in."
Mall-based hubs
A different sort of platform for retail fulfillment has emerged that leverages unused space in shopping malls for a variety of fulfillment services. Fillogic bills itself as a logistics-as-a-service platform for retail. The New York-based company places "micro-hubs" within mall properties to perform a variety of services, mainly using technology such as WMS to direct efficient and accurate pick and pack, but foregoing high-density MFC automation.
"We take under-utilized space at shopping malls—not every shopping mall, but with the right shopping mall partners—and convert them into tech-enabled micro-distribution hubs," said Bill Thayer, co-founder and co-CEO of Fillogic. "We provide a variety of value-added, differentiated services at these locations. E-commerce pick and pack is a big part of what we do right now, but it also includes receiving optimization, forward staging of inventory, outbound shipment optimization, and reverse logistics."
For general retail, which lacks the high units-per-transaction (TPU) found in grocery, having some software capabilities at the hubs to direct work and ensure accuracy makes the most sense, said Thayer, rather than trying to shrink down high-density warehouse automation.
Fillogic has developed its own WMS for its hubs, and it has proprietary software for routing and shipping management, he explained. These software tools, plus the location of the hubs, are key to the effectiveness of the Fillogic platform, said Thayer. He did not rule out adding some mobile robots in the future.
"We live in the last mile because we are operating from these shopping malls," said Thayer. "We are providing retailers with multiple services from the best physical locations, close to the target consumer concentrations everybody wants to reach."
Most retail stores weren't designed to act as mini-DCs for e-commerce fulfillment, he said, so it's a better idea to create small, technology-enabled fulfillment hubs that can aggregate fulfillment operations and capacity for multiple retailers within the mall.
As of April 2021, Fillogic already had eight micro-hubs operating at mall locations in Connecticut, New York, New Jersey, and Pennsylvania, with plans to have 30 across the country by the end of this year.
The value comes not just from the physical locations of the hubs, but also from the software. "We call ourselves an operations-enabled technology company," said Thayer. "The power comes from the connectivity in the software, from the network of hubs we offer, and also from the operations and services we provide."
"Our perspective is that retail is not dead—it's just in transformation," he said. "That transformation is going to be in flux for a couple of years, but if you have a good technology platform for logistics and sound operations, you're going to be much more successful in adapting to how that transformation plays out."
Automation's play
The demand side characteristics that make MFC automation attractive in grocery are not found in most other types of retail, noted Colman Roche, vice president of e-commerce and retail industries at Swisslog, which provides MFC automation for customers such as H-E-B Grocery Co. For one thing, most consumers need groceries once or twice a week in comparison with apparel or home electronics, which are bought less frequently.
The other big differences is that in grocery, the typical number of units per customer order ranges between 28 to 38 items, and many consumers want same-day curbside or home delivery for groceries, Roche said.
Most non-grocery retail outlets don't have the order characteristics found at big supermarkets, making MFC automation within retail shops a tougher proposition to justify, said Roche.
"The sheer quantities in terms of number of lines per typical order, is vastly higher in grocery than with your typical online order," he said. "There are just some striking differences between grocery and non-grocery that influence why grocers are moving first with micro-fulfillment."
Some goods-to-person mobile robots are well-suited to facilities with low ceilings and odd-sized, larger products like coats or other bigger apparel items, said Roche. For example, Swisslog's CarryPick system uses mobile robots that transport mobile storage units to a picking station. The compartments in these racks are configurable, which would allow them to handle oddly shaped or bigger items, as well as smaller, more uniform items.
Some business-model innovation may lead general retail to use some MFCs and automation, such smaller metro-area fulfillment centers, to accelerate rapid fulfillment of online retail orders to homes or nearby stores.
Small fulfillment centers in shopping malls could create the volume of picking activity that makes MFC automation attractive. In Thailand, Swisslog has deployed a small—500-bin— AutoStore system for TRUE, a mobile network provider, inside of a branding shop in Bangkok. The shop is in a high-end shopping mall, and the system stores and picks goods for customers buying mobile phones or accessories.
Swisslog has deployed AutoStore solutions that are smaller than those found in larger DCs. However, they still might hold 12,000 SKUs, or as many as 30,000 SKUs, with some MFCs filling 3,000 customer orders a week. Others are capable of more filling more than 30,000 customer orders per week.
Whether general retailers will jump into MFCs and automation remains to be seen, but it needs to be justified by dramatically faster, more efficient picking than could be done manually. Other potential benefits include freeing up store aisle space for in-store shoppers, rather than disrupting the store experience with a bunch of workers trying to fill online orders from shelves.
"I think the whole retail industry is watching what is happening in grocery with micro-fulfillment and trying to learn as much as possible from that," said Roche.
Steve Simonson, a vice president at Tompkins Solutions, agreed that MFC automation makes sense for some stores or locations because of order complexity, volumes, and service-level requirements in grocery orders. For general retail, MFC automation can be a stretch, since shoppers sometimes only buy a couple of items, he said.
"If the volumes aren't there, the automation may not make sense," Simonson said, adding that if there was a more hub-and-spoke model or a large retail store with enough volume, MFC automation might bring payback.
Tompkins Robotics, a sibling company to Tompkins, offers the t-Sort sortation robot for MFCs. However, even if a small retail store doesn't have the volume for such automation, a retailer could outfit a regional DC with t-Sort to sort each-level items for store replenishment or to support direct-to-consumer order fulfillment, said Simonson.
In regional DCs, mobile robotic sortation has enough "many to one" sorting volumes to bring rapid payback and efficiently replenish stores at the item level for goods like health and beauty products, hardware items, or many other goods that are labor-intensive to sort manually.
Even if a retailer finds its stores don't call for MFC automation, the same type of robotics could help with the ultimate aim of faster fulfillment at regional DCs, many of which struggle in finding enough labor, said Simonson.
"The warehouse industry is starved for employees," he said. "The average wage rate is going up, and it is just very difficult to fill those open positions, so companies are addressing this need by using automation. That is the bigger trend we are seeing a lot of in retail distribution."
About the Author
Roberto Michel
Roberto Michel, senior editor for Modern, has covered manufacturing and supply chain management trends since 1996, mainly as a former staff editor and former contributor at Manufacturing Business Technology. He has been a contributor to Modern since 2004. He has worked on numerous show dailies, including at ProMat, the North American Material Handling Logistics show, and National Manufacturing Week. You can reach him at: rmichel@peerlessmedia.com.
Follow Robotics 24/7 on Facebook
Article topics
Email Sign Up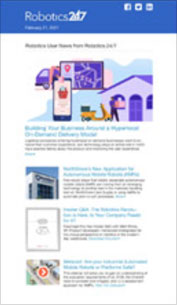 Get news, papers, media and research delivered
Stay up-to-date with news and resources you need to do your job. Research industry trends, compare companies and get market intelligence every week with Robotics 24/7. Subscribe to our robotics user email newsletter and we'll keep you informed and up-to-date.
Swisslog