In yesterday's Indy Autonomous Challenge, university teams from around the world raced fully autonomous cars at the Indianapolis Motor Speedway. As much can be learned from the teams that didn't complete the competition as from the winner. In the case of the MIT-PITT-RW team, the "scrappy undergrads" were not able to finish the race, but their experience was valuable to the students and autonomous vehicle research.
Leading into the event, the University of Pittsburgh team faced challenges including developing software that could handle perception and steering at high speeds, getting funding, and working with partners across the country.
Nayana Suvarna, a senior undergraduate at the University of Pittsburgh, was the youngest and only female co-captain at the Indy Autonomous Challenge (IAC). She does not have a driver's license, but she is studying computer engineering and robotics software. Suvarna spoke with Robotics 24/7 about the preparations for the event.
"We started out by ourselves in February 2020," she said. "It was a big effort to fund the $1.2 million competition vehicle. Sponsors brought it down to $300,000."
The Pitt students set a deadline for themselves of October 2020, and they were able to identify partners at the Massachusetts Institute of Technology and other schools.
"We later brought in more students from the Rochester Institute of Technology and the University of Waterloo in Toronto," said Suvarna. "One unique aspect of our team is that it was entirely student-led. All the other teams had professors on site. I worked with Andrew Tresansky from MIT to manage people."
"We figured out how to manage the teams, technology, and business across locations during the pandemic," she added. "We raised all our money by going directly to sponsors, not to the schools." The team was ultimately known as MIT-PITT-RW.
From simulation to reality
Unlike the autonomous mobile robots in warehouses or most self-driving cars currently being developed, the IAC vehicles had to see via sensors including Luminar Technologies lidars and maneuver at speeds faster than most autonomy algorithms can process the information. Extensive simulation was required.
"Our objective was to make things with safety, robustness, and reliability," Suvarna said. "To make sure our stack is repeatable and not crash, we were more conservative, trailing other vehicles rather than being more aggressive."
"We're confident—we had the function to pass," she said. "In the simulated run in May, we placed fourth out of 17 teams."
"Once you transition from test cases to critical situations on the road, everything goes out the window," added Suvarna. "In simulation, you have the ground truth of GPS and other vehicles, but all that goes away when you move to real vehicles."
Where the software meets the road
With help from numerous corporate sponsors and partners, the IAC teams collaborated on a common hardware and software platform before developing their own controls. The Dallara cars had 326 horsepower and four cylinders, as well as a special clutch for smooth autonomous shifting.
"Everyone was collaborative—the more capable the cars can be, the better for all of us," Suvarna said. "The base vehicle software stack took us to 30 mph, and then we built up. If we had a problem, we could pull people from other teams."
"As soon as you turn a car on, it doesn't work magically," she said. "There's some degree of uncertainty with estimating where things are at a higher level."
"At a lower level, these are complex systems, so getting everything to work is very satisfying," said Suvarna. "We had a testing team in Indianapolis from the end of July to the end of August before classes resumed. We'd have multiple track days per week at the practice track near the IMS [Indianapolis Motor Speedway]."
From the track back to class, robotics careers
The vehicles ran on the IMS at speeds passing 150 mph in two 2.5-mi. laps and then had to autonomously avoid obstacles during a non-timed portion of the race. Because of rain on Oct. 22, not every team was able to make practice runs.
When asked before the IAC whether she hoped to win, Suvarna said, "Our mentality was that it would be nice, but it's more important to make a good experience and to foster more interest."
"It looks like we had a GPS failure," said Tresansky after the crash. Team TUM (Technische Universität München, or the Technical University of Munich in Germany) ultimately won, with an average speed of 135.944 mph during the two-lap "shootout."
"Since we're undergraduate students, our main objective was to ensure our car does a good job. People can see what students can do if you give them the autonomy," noted Suvarna. "Regardless of how the race goes, we've already won. We had 20 to 30 people who knew little or nothing about lidar and autonomy doing Ph.D.-level research. We've made tremendous progress."
"The University of Pittsburgh doesn't have a formal robotics program, so our main opportunity is our club," she said. "We've been able to shine a spotlight on the need for robotics classes. We're working with our faculty advisor on a robotics track. We've been able to supplement our education with research at labs at Carnegie Mellon University, which has welcomed us with open arms."
"If you want to work in robotics, you can take multiple paths to that goal," she said. "Pittsburgh has lots of robotics companies and ways to gain industry experience versus research alone. The Pittsburgh robotics community is a tremendous resource."
What are Suvarna's plans for after the Indy Autonomous Challenge? "I'll be graduating in December and then applying to grad schools and jobs," she said. "I definitely want to stay in the robotics and autonomy space."
About the Author
Eugene Demaitre
Eugene Demaitre is editorial director of Robotics 24/7. Prior to joining Peerless Media, he was a senior editor at Robotics Business Review and The Robot Report. Demaitre has also worked for BNA (now part of Bloomberg), Computerworld, and TechTarget. He has participated in numerous robotics-related webinars, podcasts, and events worldwide. Follow Eugene:
Follow Robotics 24/7 on Facebook
Article topics
Email Sign Up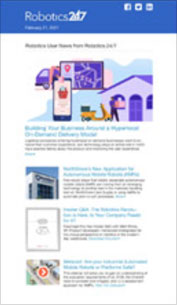 Get news, papers, media and research delivered
Stay up-to-date with news and resources you need to do your job. Research industry trends, compare companies and get market intelligence every week with Robotics 24/7. Subscribe to our robotics user email newsletter and we'll keep you informed and up-to-date.
Indy Autonomous Challenge