Few pieces of modern hardware have inspired as much excitement as the drone.
While nonmilitary unmanned aerial vehicles (UAVs) were initially marketed as purely recreational gadgets, it has not taken long for entrepreneurs and industrial giants to seize on the endless possibilities they offer.
Annual sales in the United States are expected to reach seven million units by 2020, and many are already predicting a future in which drones reshape our cities – through remote delivery of goods, airborne surveillance, or as yet unforeseen applications.
Yet one possibility has captured our collective imagination more than any other: the idea that drones will soon be moving people over cities en masse.
Might flying taxis one day pluck us from our front gardens and delicately plop us down outside the cinema or our favorite restaurant?
Before we mentally hail the next air cab, let's consider what it would actually mean if the skies were filled with swarms of miniature helicopters ferrying people to their next destination.
Though drones will have many important uses in the future, I do not believe moving people around cities will, or should, be one of them.
The dream of unmanned aerial transportation is not new. When Fritz Lang created the futuristic cityscape for his groundbreaking 1927 film, Metropolis, he filled its skies with vertiginous towers and compact flying vehicles.
Then, in the early 1960s, the Hanna-Barbera animation studio produced The Jetsons, a cartoon series following the escapades of a futuristic all-American family. In the opening credits the family whizzes around Orbit City in a hover car that folds up into a briefcase, which George, the family patriarch, then carries into his office. In 1982, the science-fiction blockbuster Blade Runner featured flying police cars called "spinners."
Today, a version of such make-believe futures would seem tantalizingly within reach. Uber is investing in flying car technology. Earlier this year, Airbus launched Pop.Up, a vertical takeoff and landing concept vehicle for personal mobility. And in a venture that promises "flight for all," German start-up Volocopter has designed the 2X, a miniature helicopter with 18 rotors that will begin test flights in Dubai later this year.
All of this suggests that urbanites will soon be zipping around urban airspace like George Jetson, right? Wrong!
Despite big investments and bigger promises, there are physical and practical reasons why it is highly unlikely that our cities will be filled with airborne people movers anytime soon.
First, let's consider the physics. Anyone who has stood near a helicopter taking off will understand that a lot of energy is required to lift a heavy object vertically into the air. Drone rotors are essentially big fans, pushing air down to create upward propulsion. There is no way to achieve lift without creating a vast amount of both noise and air disturbance.
Residents of New York City know this well. Complaints about noise from one of the city's main helipads on the Hudson River led to increased regulation of tour operators. Yet, even before that legislation, there were fewer than 5,000 tourist flights per month. Imagine if all of the city's eight million residents took even one flight every few weeks: the city would become unlivable.
Other factors that should curb our enthusiasm are more technological. Even with dramatically improved batteries extending drones' range, the crush of vehicles needed to move large numbers of people overhead would present a daunting safety hazard.
Uber Teams with NASA on 'Flying Car' Project
Following the hiring of a NASA engineer to develop flying cars earlier this year, Uber has announced that by 2020, it plans to launch at least a few flying cars in Los Angeles, with a real commercial service to follow a few years later.
The company has insisted that it wants to help build an ecosystem that makes a flying service possible and Uber's chief product officer, Jeff Holden, said in a statement.
"UberAIR will be performing far more flights over cities on a daily basis than has ever been done before. Doing this safely and efficiently is going to require a foundational change in airspace management technologies."
In order to execute this new service, Uber has also announced it's helping NASA develop its Unmanned Traffic System for Unmanned Aerial Systems, and while the vehicles themselves haven't been finalized.
Uber is also working with respected aerospace partners at Embraer, Bell Helicopter, Pipistrel, Aurora Flight Sciences and Mooney Aviation to construct the vehicles.
Modern cars may be dangerous, but a dead battery or a broken rotor blade in a flying taxi would cause a heavy vehicle to fall onto a densely populated area. And we still don't know whether such drones could be protected from hackers, terrorists, or other criminals, or how air traffic control systems might guide people safely.
Drones will still have a transformative impact on how future populations live, do business, and interact. Small UAVs have already proven their potential across diverse fields – from humanitarian-aid delivery to security.
Drones transcend geographical barriers without the need for large-scale physical infrastructure and can bring isolated communities into close contact with the rest of the world.
In Brazil, for example, the government is deploying camera-equipped drones to inspect remote agricultural producers suspected of breaking labor laws. And drones are already monitoring air quality and providing support during health emergencies.
But urban mobility is not an appropriate application for UAV technology. The problems of mass transportation can be fixed with our feet planted firmly on the ground – and long before flying taxis are even a viable alternative.
With improvements to digital networks and real-time data, autonomous cars, trucks, and boats – like the Roboat that colleagues and I are prototyping in Amsterdam – can be made fast and effective enough for all our needs. And staying on the ground will obviate the need for networks of new infrastructure, like costly "vertiports."
Society's enduring dream of whizzing over a city in private flying cars has long captured the imagination of filmmakers – and now even some investors.
For practical reasons large and small, however, it is a vision that will remain the stuff of fantasy.
Source: World Economic Forum
About the Author
An architect and engineer by training, Carlo Ratti practices in Italy and teaches at the Massachusetts Institute of Technology, where he directs the Senseable City Lab. Ratti has co-authored over 200 publications and holds several patents. He has been included in Esquire Magazine's Best and Brightest list, and in Blueprint Magazine's 25 People who will Change the World of Design.
Related Article: Is Amazon Creating Self-Driving Cars for Delivery?
Related White Papers
The Future Isn't What It Used To Be
According to predictions made a few decades ago, current travel should involve self-driving automobiles, jetpacks and flying cars, with space transport a common occurrence. Download Now!
---
Parcel Delivery: The Future of Last Mile
Currently subject to significant disruption, last-mile delivery, especially of parcels, is getting a great deal of attention in the media and from investors, and rightfully so. Download Now!
---
Drone Technology: Clarity from Above
According PwC's study on the commercial applications of drone technology, the emerging global market for business services using drones is valued at over $127 billion. Download Now!
---
Fast-Forwarding to a Future of On-Demand Urban Air Transportation
This white paper delves into these challenges for achieving a successful VTOL transportation market, with an eye to surmounting them as quickly as possible, as well as our view on rider experience requirements. Download Now!
Article topics
Email Sign Up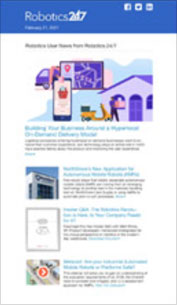 Get news, papers, media and research delivered
Stay up-to-date with news and resources you need to do your job. Research industry trends, compare companies and get market intelligence every week with Robotics 24/7. Subscribe to our robotics user email newsletter and we'll keep you informed and up-to-date.